Rivals250 WR Malcolm Johnson previews his commitment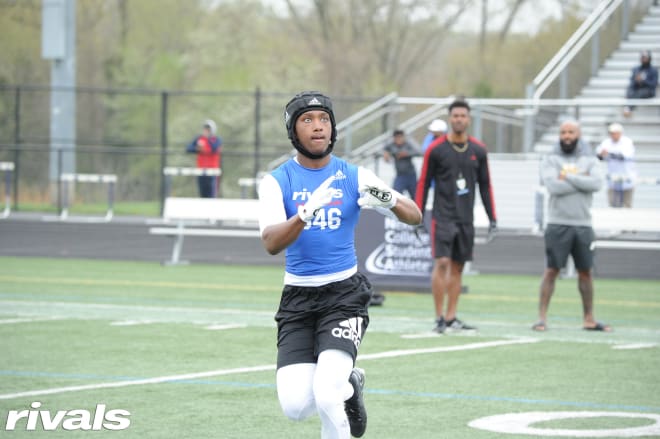 Rivals250 wide receiver Malcolm Johnson is set to announce his commitment tomorrow at 10am. The Alexandria (Va.) St. Stephens St. Agnes speedster is only considering five schools, all from the SEC, and each are hoping they've done enough to land his commitment.
IN HIS OWN WORDS...
Alabama: "I really like their offense and what they have done in the past being able to spread the ball around to multiple receivers," Johnson said. "They develop guys too and that's really impressive."
Auburn: "It's a great town and coach Burns and I have a great relationship," he said. "I feel like I can talk to him on and off the field. Their new offensive coordinator is going to be doing something special with their offense."
Florida: "The Gators have a top ten school in academics and a top ten program on the field," said Johnson. "That really stands out."
Georgia: "Coach Hankton and I have a really strong relationship," he said. "I can talk to him on and off the field about anything. Coach Monken and his offensive is going to be special."
LSU: "We saw it last year with how great their offense was and will continue to be," Johnson said. "That was huge for me."
On visiting these schools in the last two weeks: "It was a long drive," he said. "We couldn't do as much because of the dead period but I kind of got a feel for the town. We just looked around the campuses and stuff like that. That was a tremendous advantage for me and my family."
On the biggest factor in his recruitment: "I feel like the big factor is a team knowing how to use me," said Johnson. "Not a lot of offenses know how to use speed receivers and get a receiver like me the ball, whether it's down the field or as early as possible."
RIVALS' REACTION...
There are fast players and then there are players with game-changing speed. Johnson is the latter. Last winter Johnson ran a blistering 6.26 second in the 55-meter and as a sophomore he ran an outdoor 10.3 second 100-meter time at a track meet in Cuba. All five schools have a huge need for a player like Johnson but the three that seem to have made their way to the front of the pack are Alabama, Auburn, and Georgia. Auburn's success with a football and track star like Anthony Schwartz has to give the Tigers confidence but Alabama has shown their ability to showcase receivers with elite speed in their offense. Georgia has been desperately trying to bring in top receivers like Johnson for years and the opportunity for plenty of early playing time is a big factor. Look for Johnson commitment at 10am on Friday, which will likely be streamed live on his Instagram account.