Rivals250 defensive tackle Dallas Walker commits to Texas A&M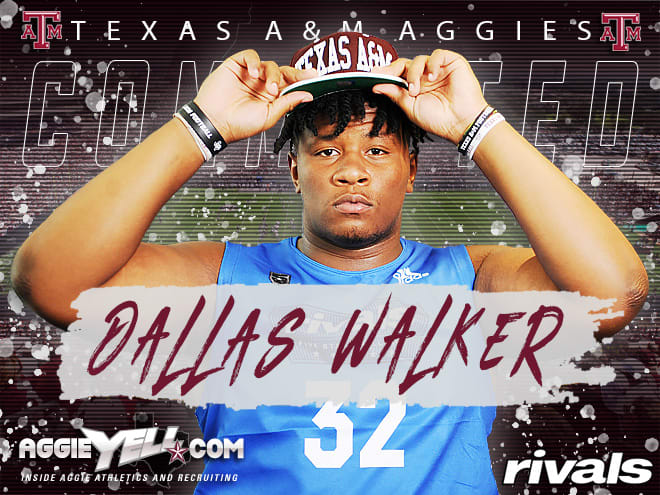 THE LATEST
ATLANTA - Rivals250 defensive tackle Dallas Walker surprised when he decided to cut his list of options to three on Monday and he made another surprising decision when announced his commitment to Texas A&M on Tuesday. The decision capped a whirlwind courtship between the pair as Walker went from adding an offer from the Aggies in early May to taking an official visit a month later and then committing this week. Rivals.com caught up with Walker to break down why he chose the Aggies.
IN HIS WORDS
"I went down there for the visit and I just fell in love with the school, the team and everything like that. I'm excited to get a chance to play in the SEC. I love the competition, especially in the SEC West. I get to play Alabama every year and compete against other great teams."
When did you know you wanted to commit: "I 90 percent knew it the day I left there that I was going to commit. But there were some things that I needed to think about and talk about with my family and once I did that I was ready."
Fit: "I've done my research about Coach (Mike) Elko, about Coach Jimbo (Fisher) and the defense and the program in general and I know it's the place for me. I should be able to come in and compete and hopefully get to play early."

Family factor: "My mom loves Texas A&M. She couldn't stop talking about it after we took the visit. She was comparing it to everywhere else and she said it was the best place I think she's gong to move out there once I get there. My dad lives in Dallas and I have some other family there, too.Everyone will be able to come see me."
Bond with fellow Smyrna, Tenn. native Ikenna Okeke: "We talked about it a lot. We spent the whole weekend own there with him. He showed me around and told me about what it's like to transition from Tennessee to Texas and he had nothing but good things to say. Hopefully we get a chance to play together."
RIVALS REACTION
Walker is a huge addition for the Aggies, both literally and figuratively. He continues a pipeline of Tennessee defensive players to College Station, following in the footsteps of Tyrel Dodson and the aforementioned Okeke. While the Aggies obviously prioritize Texas to find talent, spreading into the SEC footprint to add other talent is also important. As far as how he could impact the Aggies defense, Walker is a big body to plug in the middle of the defense and he's athletic enough to that he can stay on the field for all four downs if needed.