Rivals250: Best of the rest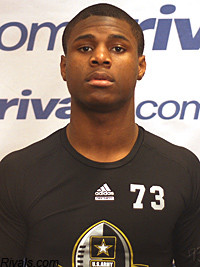 The top 100 football players in the 2012 class were ranked and released by Rivals.com on Monday, and now it's time to divulge the
initial Rivals250
, a list that will surely see many changes leading up to National Signing Day in February.
Thirty-four players from Florida made the cut, along with 30 players each from California and Texas. Georgia and Ohio each have 14 prospects and Louisiana is the only other state with double-digit recruits, coming in at 10.
The first player outside the top 100 is Dallas (Texas) Skyline outside linebacker
Peter Jinkens
, who committed to
Texas
in February. Midlands recruiting analyst
Brian Perroni
said even though Jinkens didn't play much at that position in his junior season, he has a bright future there at the next level.
"He was pressed into duty at running back for Skyline," Perroni said. "However, he has shown the ability to rush off the edge as well as cover the running back and tight end in pass coverage at several camps this spring. He needs to add some weight without losing his speed and if he does, he has a chance to be an impact player early in his career."
Checking in at No. 102 is
Germone Hopper
, a 6-foot athlete from Charlotte (N.C.) Phillip O. Berry Academy of Technology, who earned the wide receiver MVP award at the North Carolina VTO Camp. Hopper has already committed to
Clemson
.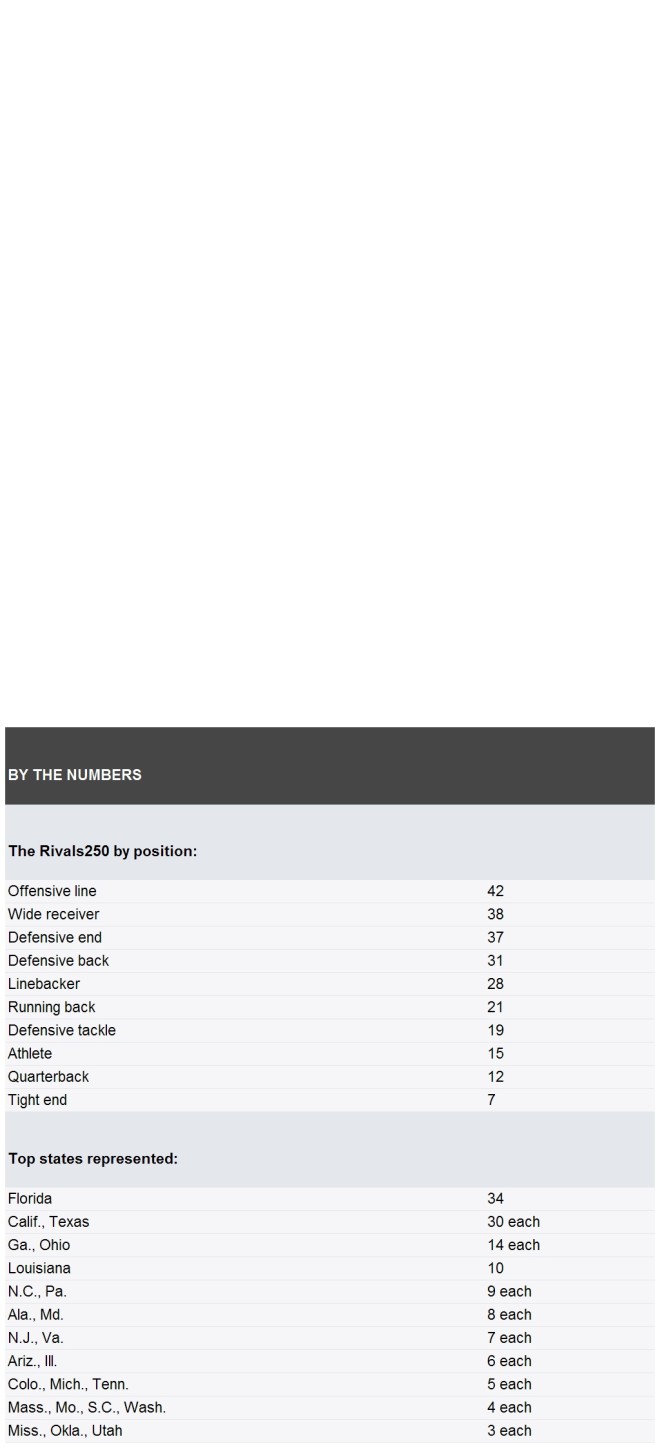 "Hopper has exceptional quickness on the field and gets off the line of scrimmage with ease despite not being the biggest wideout in the country," Rivals.com national analyst Mike Farrell said.
"With this ability, he can play outside or slot and his route running is so precise he is able to gain separation with ease. He also has great hands and makes tough catches, especially in traffic or along the sideline with his body control. If he were slightly bigger, he'd be much higher but he has a great chance to push into the top 100 before all is said and done."
"I saw Tuerk in person a few weeks ago and there aren't many offensive linemen who look that impressive," Rivals.com West Coast analyst Adam Gorney said. "Tuerk started slowly, picking up offers this spring, and now he pretty much has every team on the West Coast recruiting him. He has lots of options and many more offers could come soon."
The first state of Florida prospect outside the top 100 is Miami Gulliver Prep cornerback
Amos Leggett
, who committed to
Miami
in early February. Florida analyst
Chris Nee
saw Leggett on a 7-on-7 workout this spring and came away impressed.
"Leggett is a talented defensive back with good size, great athleticism and, most of all, outstanding instincts," Nee said.
"At the South Florida Express tryouts earlier this spring, he exhibited great closing speed on the ball, the ability to be dominant in press coverage, but most of all great ball skills. He has the versatility to play at the cornerback or safety spot in college."
"Alford doesn't appear to have many holes in his game," Southeast analyst Keith Niebuhr said. "For starters, he can make all the throws, whether he's in the pocket or rolling out. He shows particularly good touch on deep passes.
"Alford's also an exceptional runner, and when he keeps the football he looks like a running back. He has great field vision, makes good cuts and is fast. He also has the ability to find that extra gear. For what it's worth, he's also believed to be a solid baseball prospect."
Other highlights dotting the 250 list include Stone Mountain (Ga.) Stephenson's
Mike Davis
, who earned the running back MVP at the Athens NIKE Camp, McPherson (Kan.) pro-style quarterback and
TCU
commit
Tyler Matthews
, who threw 30 touchdowns and three interceptions last season and Warminster (Pa.) Archbishop Wood Catholic tight end
Colin Thompson
, who recently committed to
Florida
.
[rl]