Rivals100 Update: Four new five-stars, QBs remain on top
MORE: Updated Rivals100 rankings | Risers and sliders
The latest Rivals100 for the class of 2018 has been released with four new five-star prospects and four prospects losing that coveted fifth star. And, as expected, the top two quarterbacks in the country remain Nos. 1-2 in the overall rankings.
The Rivals100 is led by Cartersville, Ga. signal caller Trevor Lawrence, a Clemson commitment, and Kennesaw (Ga.) Harrison dual-threat Justin Fields, a Georgia commitment. Quarterbacks have never finished a recruiting cycle ranked 1-2 in the history of Rivals.com, and it will take some effort to displace them before our final 2018 ranking in January.
There was a bit of shifting after Lawrence and Fields, as our No. 1 wide receiver, Amon-Ra St. Brown from Santa Ana (Calif.) Mater Dei, moved up a spot to No. 3 and Clemson commitment Xavier Thomas, a defensive end out of Bradenton (Fla.) IMG Academy, moved up to No. 4. Harrisburg (Pa.) Central Dauphin defensive end Micah Parsons also moved up a spot to No. 5 overall while Plantation (Fla.) American Heritage cornerback Patrick Surtain slid three spots to No. 6.
The biggest shifts occurred with the new five-stars as Rome (Ga.) defensive end Adam Anderson, A Georgia commitment, moved up 61 spots to No. 13 in the country and Baltimore (Md.) St. Frances defensive end Eyabi Anoma moved up 75 spots to No. 24. Making smaller jumps but earning that key fifth star were Bradenton (Fla.) IMG Academy cornerback Brendan Radley-Hiles, who moved up 13 spots to No. 17, and Bellflower (Calif.) St. John Bosco defensive back and Ohio State commitment Jaiden Woodbey moved up nine spots to No. 26.
For Radley-Hiles and Woodbey, a fifth star had been discussed numerous times but we wanted to see how they did during their senior season. Obviously, both prospects passed the test. As for Anderson and Anoma, they took amazing strides during their senior years to push up to five-star status.
Falling from the five-star ranks are Franklin (Ga.) Heard County quarterback Emory Jones, an Ohio State commitment, New Orleans (La.) Landry-Walker wide receiver Devonta Jason, a Kansas commitment, Bradenton (Fla.) IMG Academy defensive tackle Taron Vincent, an Ohio State commitment, and Long Beach (Calif.) Poly uncommitted wide receiver Jalen Hall.
For those that fell, it often came down to comparison to the next level of player at their position. Jones hasn't progressed nearly as much as the two quarterbacks ahead of him and Hall has fallen behind many wide receivers when it comes to burst, separation and ball skills. Jason's speed has always been a question and that hasn't increased as we had hoped. Vincent isn't the biggest defensive tackle and his senior season was far below the level of his junior year.
Our regional analysts break down their reasons for the five-star movement below.
NEW FIVE-STARS
"Anderson has really taken his game to another level and he still has so much room to grow. He has one of the best first steps off the ball and he closes on quarterbacks in a hurry. He has added weight, he stands up better to the run and he is only going to get bigger, stronger and better technically. The Georgia commitment has future NFL first-rounder written all over him." – Chad Simmons, Rivals.com Southeast Recruiting Analyst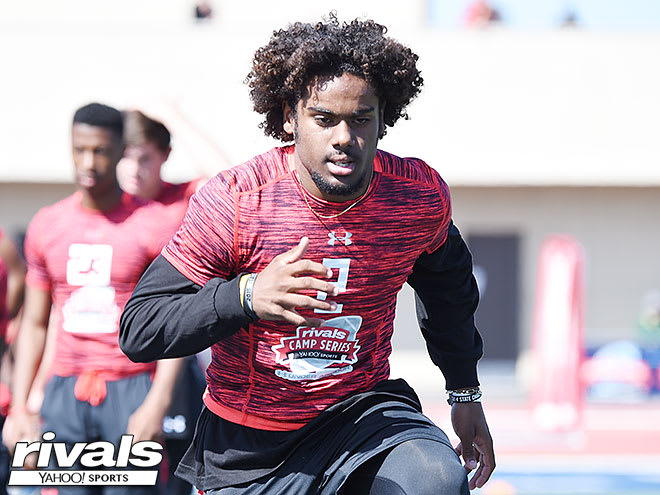 "Radley-Hiles' size remains a concern but at this juncture you can't argue with the results. The one-time Nebraska commit is a special athlete and was as consistent as any prospect in America this season. He impacted games in a number of ways all season long. Clemson and Oklahoma are heavily involved with him, but UCLA could come on late under Chip Kelly." – Rob Cassidy, Rivals.com Florida Recruiting Analyst
"There are few players in the country that have Anoma's upside. He is still learning his position but projects as a hybrid defensive end/outside linebacker. Anoma's aggressiveness, athleticism and relentlessness are off the charts. He's a dominant force off the edge for his team and was the best player on the field in every game. It will be interesting to see how he plays against the competition at the Under Armour All-America Game in January. Alabama, Michigan and Maryland are the top three contenders for Anoma but a few other schools remain in the picture." – Adam Friedman, Rivals.com Mid-Atlantic Recruiting Analyst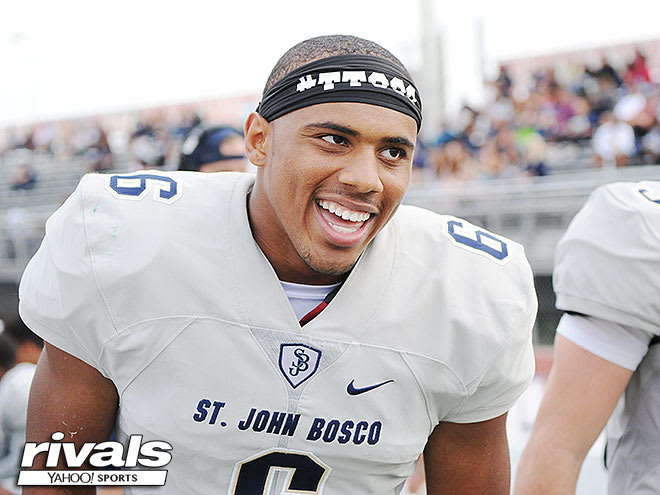 "The thing that stands out most about Woodbey's game is that he's always in the right position to make a play and then he has the confidence and athleticism to go make it. Whether that's tipping a pass, picking the ball off or making a big tackle, Woodbey is always around the ball. He continues to develop physically, he's hyper-focused on being an excellent defensive back and he has all the skills to be a big-time player on the next level. He remains committed to Ohio State but USC and Oklahoma keep pushing him." – Adam Gorney, Rivals.com National Recruiting Analyst
LOST FIFTH STAR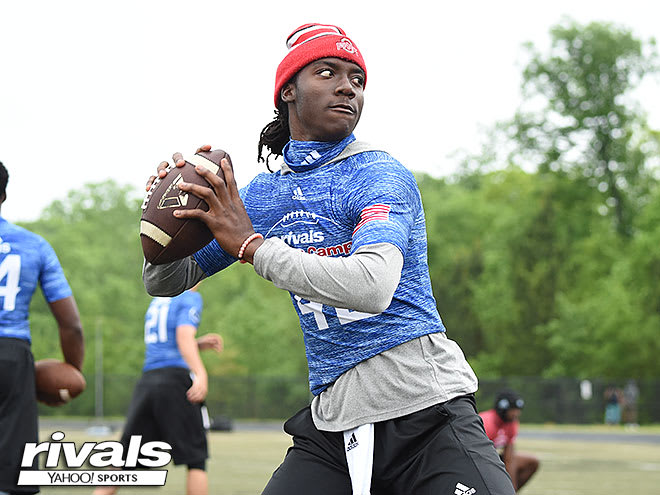 "Jones has been a top recruit since he was a freshman, so he has been watched closely the last three years. He is a quarterback who has a lot to like, but he needs to develop, and really get to that next level as a passer. He can drive the ball down the field and he can buy time with his legs, but how he improves his accuracy will determine just how good the Ohio State commitment is on the next level." – Simmons
"We still love Jason's potential as a college player and he had another quality season, but concerns still exist about whether or not he's much closer to his ceiling than other elite wide receivers so we decided to slide him down just a bit. The Kansas commit still has an uncanny ability to go up and get the ball but the questions about his speed is the main reason he didn't hold his spot as a five-star." – Woody Wommack, Rivals.com Southeast Recruiting Analyst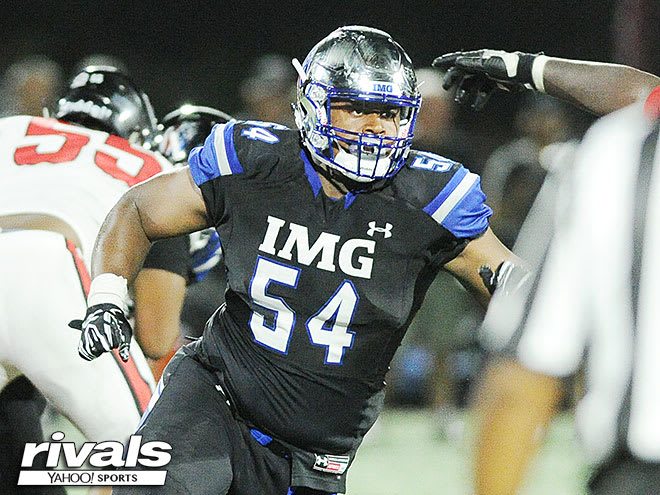 "Vincent has impressive upside but his build isn't perfect and he didn't dominate games at IMG the way we'd hoped. Obviously, he's still a high-level prospect with monstrous upside, but he hasn't developed into the game-changing force of nature we'd hoped. If you're going to lack ideal size, you need to be more effective." – Cassidy
"Hall has special ability but others have caught up with him since his freshman and sophomore years. Hall has not shown the athleticism needed to be considered one of the top receivers in this class. He does not separate well from top cornerbacks who can stay stride for stride with him on the deep ball and Hall loses too many 50-50 battles. I still think he can be a special receiver but he needs to work on his speed and his focus to go out and dominate on every single play. Oregon, Nebraska, LSU, Florida and others remain involved." – Gorney