Rivals100 Five-Star Challenge: Top wide receivers/tight ends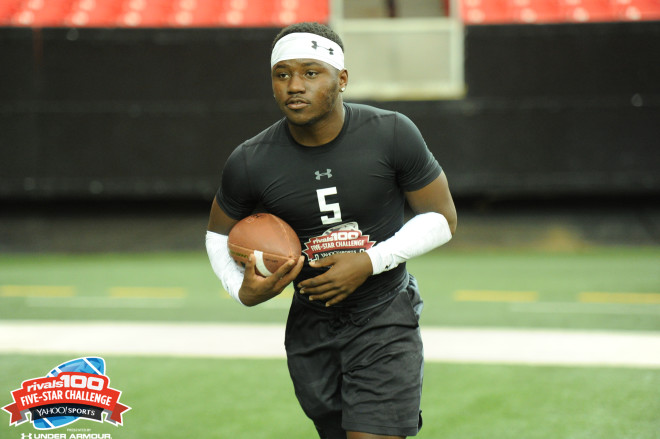 ATLANTA – The wide receiver group at this year's Rivals100 Five-Star Challenge Presented by Under Armour didn't lack for depth or size. Different prospects shined at different moments during the camp, as a number of players had their respective moments in the sun. Below are the top 10 performances from pass catchers during Saturday's event.
RELATED: Top QBs | Top RBs | Farrell Awards | Media Day | Video interviews | All-Offense | Full Coverage
Recruiting wrap: Lindsey is considering USC, Oregon and Nebraska.
Performance: Lindsey's speed is what sets him apart and it the same story Saturday. He shined in 7-on-7 work, as he turned a number of short passes into long gains for his team. Lindsey also shined in the morning one-on-one session and routinely ran by defensive backs on his way to long catches. Lindsey's consistency is what set him apart and allowed him to win the day's wide receiver MVP award.
Recruiting wrap: Stanford, Alabama, Michigan, Notre Dame and UCLA make up Black's current top five.
Performance: Black was the second-most consistent wide receiver at the event and managed to shine in both the morning and the evening sessions. Black's length allowed him to grab a couple of overthrown balls and his crisp routes allowed him to create gobs of separation on intermediate routes. There were faster wide receivers at the camp, but few were as consistent downfield.
Recruiting wrap: Jeudy has always been high on Alabama, but Florida, Miami and Notre dame remain involved.
Performance: Jeudy was easily the best wide receiver during the morning session. He dominated one-on-one work and caught a number of deep balls. He took a step back during the evening session and was nowhere to be found for large chunks of time. That said, the four-star wide receiver looked the part of a five-star prospect for at least half the day. Jeudy's acceleration makes him special, but his size is certainly a perk as well.
Recruiting wrap: Harley is hoping to grab an offer from USC at the Trojans' upcoming camp. West Virginia, Miami and Michigan are also players in his recruitment.
Performance: Harley shined in the morning session before taking a few steps back in 7-on-7. His speed and acceleration are what set him apart, as his calling card was the deep ball. Harley is in the midst of a breakout offseason that has seen him impress at nearly every camp he's attended. Harley needs to add muscle, but that didn't stop him from being difficult to cover at the Five-Star Challenge.
Recruiting wrap: LSU and Alabama seem to be the most likely landing spots for Smith, but a number of other schools are still involved.
Performance: Smith has decent size. He shined on jump balls and a handful of deep passes down the sideline. Smith has strong hands and wrestled a ball or two away from a defender.
Recruiting wrap: Nixon is committed to Tennessee
Performance: Nixon is undersized, but he beat a number of bigger defensive backs during the camp. When you consider the fact that he was a late addition and got next to no notice of his inclusion, the performance becomes more impressive. Nixon is speedy with strong hands.
Recruiting wrap: Ohio State leads for Grimes, but Florida and Florida State are also in the picture.
Performance: A five-star prospect, Grimes turned in five-star worthy performance in the early session but fell victim to blisters in the evening. His socks were bloody as he continued to compete at half speed. He was relatively quiet at night, but his morning performance was enough to land him on this list.
Recruiting wrap: Thompson has a number of Pac-12 offers and seems to like the idea of Oregon at this juncture.
Performance: Thompson is wiry with solid length and the agility that comes with his limited weight. He made a couple of impressive catches during one-on-one work and was one of his team's most consistent options in the 7-on-7 portion of the camp.
Recruiting wrap: Dotson plans to announce his choice in the near future. Penn State and Michigan State have the inside track.
Performance: Dotson takes advantage of his size against smaller linebackers. His route-running isn't polished, but he was effective in 7-on-7, where he provided his team with a reliable target over the middle and downfield.
Recruiting wrap: White is committed to Ohio State
Performance: White made his living over the middle at the event. His cuts are sharp and he's quick out of his breaks. His muscular build certainly helps as well, as he was hard to jam at the line. White was one of the more physical receivers in attendance.