Rivals100 Five-Star Challenge: Top linebackers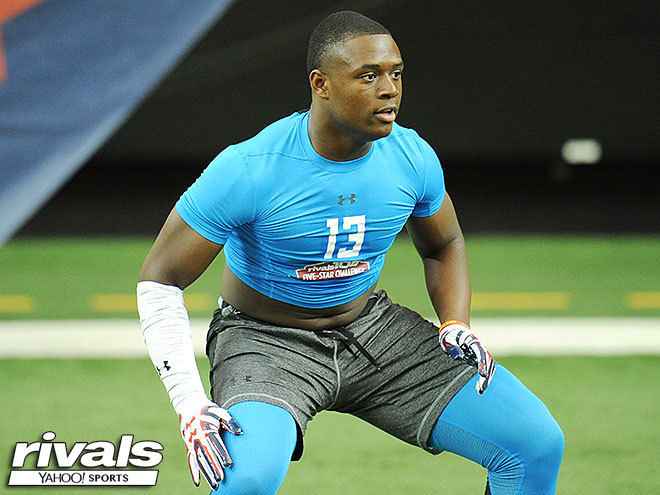 Recruiting wrap: Oregon, Cal, Miami, Oklahoma, Ole Miss, Texs A&M and Notre Dame round out Phillips' top seven, and a decision is not expected soon.
Performance: Phillips was the most consistent and most productive linebacker throughout the Five-Star Challenge and battled on each rep whether it was during 1-on-1s or 7-on-7. The four-star diagnosed routes really well, especially wheel routes from running backs during 1-on-1s. He didn't let many players cross his face in the middle and when they did, Phillips was usually there to knock down passes. He was also physical at the line against tight ends, which was impressive.
Recruiting wrap: Cowan is committed to Alabama.
Performance: Cowan was arguably the best-looking linebacker and one of the best-looking overall prospects at the Five-Star Challenge. He's all of 6-foot-4 and 220 pounds, chiseled with muscle, and he moves well for his size. One of the concerns coming into the Five-Star was how Cowan would cover in space, especially on deep routes by running backs, and he held up just fine. He's physical and has good speed and playing downhill in Tuscaloosa will be his specialty.
Recruiting wrap: Texas, TCU, Oklahoma, LSU, Alabama, Ohio State, UCLA and Michigan are some of the schools Browning lists in his top 10. Browning's father played for the Horned Frogs.
Performance: Browning, the top-rated outside linebacker, did an excellent job of forcing running backs to the outside and not letting them cross him up to the inside. That way Browning had a chance to stay and run with the back as the ball was in the air and to make a play on it. On the rare occasions that running backs got to the inside on him, the five-star did a fantastic job of using his strength and long arms to knock down passes.
Recruiting wrap: Hunter is committed to Georgia.
Performance: Hunter is excellent down the field in coverage and closes surprisingly fast on running backs on wheel routes or seam routes, especially if the ball is a split-second late. The four-star prospect does not get fooled on routes very often, which makes it easier for him to diagnose what the back is going to do. In 7-on-7, he was also valuable in coverage.
Recruiting wrap: Britt still has a long list of suitors but it seems like he's most serious about Auburn and Georgia at this point.
Performance: Britt is an aggressive, physical linebacker who likes to be challenged and likes to talk it up a little bit to make things more interesting. He jams at the line and doesn't let running backs easily get into their routes, and then the four-star showed the ability to run and cover. Sometimes, Britt gets beat late in the rep, but it's only because he's aggressive and trying to make a big interception or pass deflection.
Recruiting wrap: The former UCLA commit is still looking at the Bruins along with Nebraska, Notre Dame, Texas A&M, Florida, Oregon and others.
Performance: Johnson has tremendous length and covers like a defensive back. The four-star prospect is not going to be the most physical linebacker at the line of scrimmage, but he can turn and run with any running back and receiver. And if he's close to the play Johnson can get after the ball because of his long arms and athleticism.
Recruiting wrap: Penn State is considered a frontrunner for Bauer, but things could get really interesting if Notre Dame offers.
Performance: Bauer had a pick in 7-on-7 and made a bunch of other impressive plays in coverage, reading the quarterback well and then stepping in front of passes. The 2018 inside linebacker did have some deficiencies when it came to covering the really fast running back group, but so did other linebackers throughout the day.
Recruiting wrap: The one-time LSU commit has Alabama, Florida, Georgia, Texas, UCLA and others in the mix. The Tigers cannot be counted out, either.
Performance: Moses did a nice job in coverage and when he could turn and run with running backs or players in the slot the five-star did an admirable job. He does have a difficult time sometimes changing direction and reading where the play is going, and that's where he was a step late to some plays.