Rivals100 Five-Star Challenge: Takeaways from Lone Star State
Texas prospects were among the most discussed during the Rivals100 Five-Star Challenge presented by adidas last weekend for their play as much as their recruitments. Recruiting analyst Nick Krueger gives his thoughts and observations after seeing them all in action last weekend.
THE TEXAS DEFENSIVE BACKS ARE FOR REAL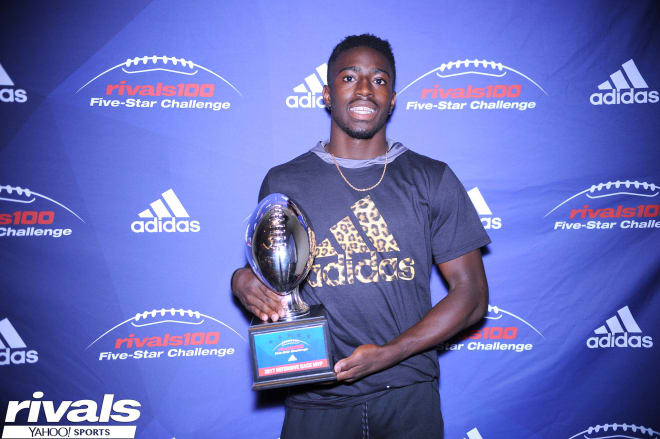 Texas had more players at this year's Rivals100 Five-Star Challenge than any other state, and within that group, the largest contingent was the defensive backs. Everyone expected Anthony Cook to be strong -- and he was -- but D'Shawn Jamison was especially impressive and took the camp's DB MVP honors. Jalen Green and Leon O'Neal both had nice days and Verone McKinley had some moments as well. Class of 2019 DB Anfernee Orji didn't show me enough to make me think he still might not have a future at linebacker. But he and his brother, Alston, are cut from the same cloth and are just too big, strong and athletic not to be impactful players somewhere on a defense.

THEO WEASE IS A MAN ON A MISSION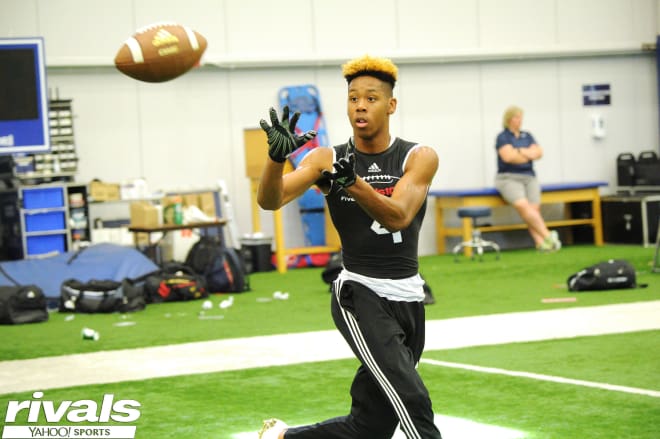 Theo Wease was not happy when his 7-on-7 team was bounced in the semifinals by another team led by fellow 2019 receiver Jaden Haselwood. Although Rivals has yet to rank 2019 prospects in order, Haselwood is a five-star recruit, while Wease is currently a four-star. He defiantly declared that he didn't think Haselwood had it over on him, and that he's coming for the top spot in the country at wide receiver. Wease showed his versatility and impressed with how slick he could be shaking defenders, so the potential of him proving to be right definitely looks like a possibility.

JUST HOW GOOD IS QB GRANT GUNNELL?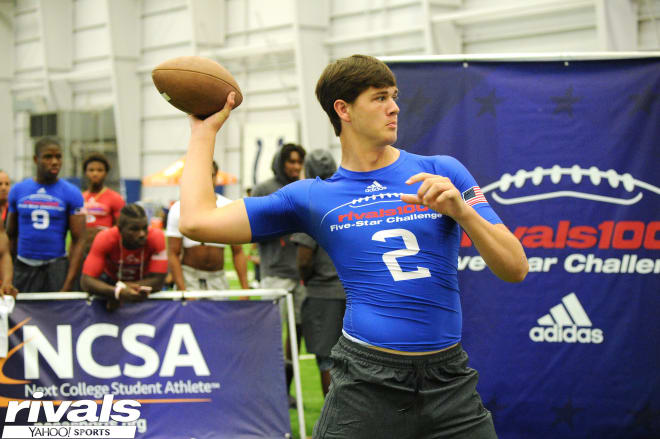 One of the players that I know I am going to be talking about a lot with the other analysts is 2019 quarterback Grant Gunnell – his talent and potential. I don't think that the other analysts have quite bought-in on him yet, but over the course of the next two seasons, he's going to continue to get more comfortable, which will let him show off his natural ability. I had to remind a few of my coworkers that he doesn't have the same level of experience playing as many of his peers, so for him to be in the place he's in as a high four-star prospect and a commit to Texas A&M is pretty impressive. He didn't exactly create a ton of memorable moments, but he threw well all day and was judicious with his passes in 7-on-7.


LONGHORNS AT THE FOREFRONT OF IN-STATE RECRUITING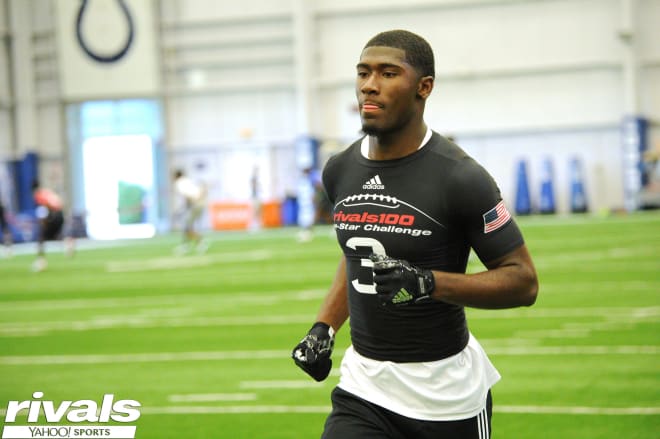 Although Cook, Green and Jamison won't announce their commitments until the end of fall, Texas is in the top few for each of them. Al'Vonte Woodard will have a decision before the end of summer, and he and Brennan Eagles both hold Texas high on their list as well. For all the nice commits Texas has picked up recently, many didn't participate in a Rivals event this spring and therefore missed the chance to play in Indy. But if the Longhorns hit on all the recruits just in this paragraph, Tom Herman should feel like he's heading into his first game as Texas head coach 1-0.


RECRUITS HAVEN'T WRITTEN OFF AGGIES OR SOONERS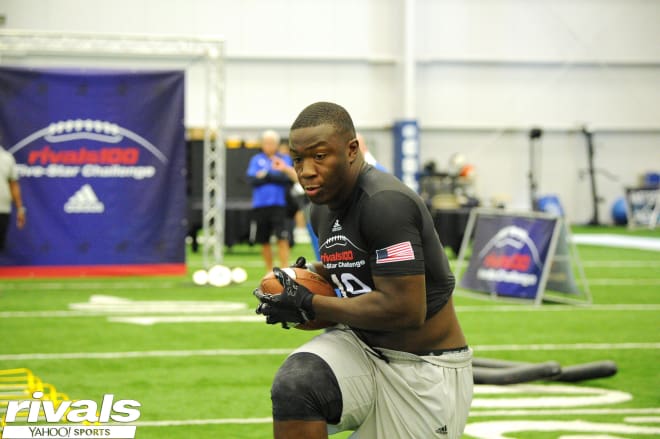 No doubt some negative recruiting has or will be done against Texas A&M in light of all the speculation around Kevin Sumlin, but I have the feeling both O'Nean and Gunnell genuinely plan on sticking with A&M unless something really over-the-top happens to change their minds. Furthermore, players like Wease and Woodard are both seriously considering A&M, and Rivals250 linebacker Chad Bailey said he's hoping to pick up an offer from the Aggies at some point as well. Meanwhile, many prospects were very complimentary of the move of Lincoln Riley to head coach at Oklahoma, but maybe the craziest twist in the story was the flip of Texas commit Ron Tatum (who was a late scratch from the Five-Star Challenge) to the Sooners after Stoops' announcement.


WHO WOULD WIN BETWEEN REGIONAL FIVE-STAR CHALLENGE PLAYERS AND  FAST 7v7?
For those that aren't familiar, Fast 7v7 (Houston) is one of the nation's top 7-on-7 teams. A number of the players at the Five-Star Challenge have played in tournaments with Fast, but they have a deep roster that could work around replacing the guys that would represent Team Rivals in this scenario. A few players might have to join Team Rivals from Louisiana just to fill out the offense, but Fast QB Casey Thompson comes from out-of-state, so I'll allow it. The rosters would look something like this:

TEAM RIVALS
| POSITION | PLAYERS | | | |
| --- | --- | --- | --- | --- |
| Quarterback | Grant Gunnell | Jalen Mayden | | |
| WR (outside) | Brennan Eagles | Theo Wease | Devonta Jason* | Ja'Marr Chase* |
| WR (inside) | Al'Vonte Woodard | Devonta Lee* | | |
| Linebacker | Chad Bailey | Alston Orji | | |
| Cornerback | Anthony Cook | Jalen Green | D'Shawn Jamison | Verone McKinley |
| Safety | Leon O'Neal | Anfernee Orji | | |
FAST 7V7
| POSITION | PLAYERS | | | |
| --- | --- | --- | --- | --- |
| Quarterback | Casey Thompson | Xayvion West | | |
| WR (outside) | Joshua Moore | Caleb Chapman | Bryson Jackson | |
| RB/WR (inside) | Jaylen Waddle | Ta'Zhawn Henry | Jah'Marae Sheread | |
| LB/Dime | Caden Sterns | | | |
| Cornerback | Starrland Baldwin | TayJon Martin | Ainias Smith | Erick Hallett |
| Safety | Taye Barber | Jordan Moore | Ladarius Anthony | |
The edge would probably fall with Team Rivals just because of the defensive backs Fast loses to its opponent, but even then, it's close. Adding the Louisiana receivers is also stacking the deck for Team Rivals, but I could still see these two teams stealing wins back and forth from each other regularly.