Rivals100 Five-Star Challenge: Ten takeaways for West region
INDIANAPOLIS – After a weekend of great competition, the 2017 edition of the Rivals100 Five-Star Challenge presented by adidas is officially in the books. With so much on-field action and so much recruiting news coming out of Media Day, there's plenty to digest. Today we look at the West region and the biggest takeaways that will stay with us after the event.
RELATED: Southeast takeaways | Midwest | Mid-Atlantic | Farrell Awards
USC COULD LOAD UP
This has been stated before but it's worth mentioning again – USC could be in line for landing an absolutely blockbuster class loaded with many of the top prospects in California and elsewhere, some who were at the Five-Star Challenge.
Three commits, five-star quarterback Matt Corral and four-star linebacker Raymond Scott along with 2019 four-star LB pledge De'Gabriel Floyd, were in Indianapolis. A lot of top targets like four-star CB Isaac Taylor-Stuart, who was fantastic all weekend, and four-star linebacker Solomon Tuliaupupu, were there as well. After winning the Rose Bowl, there is a lot of momentum heading into this season on the recruiting trail. Another big year could mean the Trojans load up in a significant way.
ST. BROWN DOMINATES AGAIN
There has not been one time in the last year – since the start of Amon-Ra St. Brown's junior season – where he has not absolutely dominated an event and the same was true at the Five-Star Challenge this past weekend.
What I love about the Santa Ana (Calif.) Mater Dei five-star receiver is his killer instinct, that internal drive to want to prove himself every time he's on the field. He never backs down, never takes a play off and because of that St. Brown proved he's without question the best receiver in this class and one of the best overall prospects.
According to St. Brown, some coaches at the event compared him to a young Hines Ward. Another Pittsburgh Steelers receiver comes to mind – Antonio Brown. As for his recruitment, it's going to be really interesting. USC, Stanford and Notre Dame are major contenders. His brothers, Osiris and Equanimeous, play for the Cardinal and Irish, respectively. I wouldn't count out Michigan, Ohio State and others.
After the event, St. Brown's dad was raving about how talented five-star QB and top overall prospect Trevor Lawrence is and how it would be great if Amon-Ra could play with Lawrence in college. Clemson has not been on St. Brown's radar, but that could be an interesting turn of events.
CORRAL'S COMMITMENT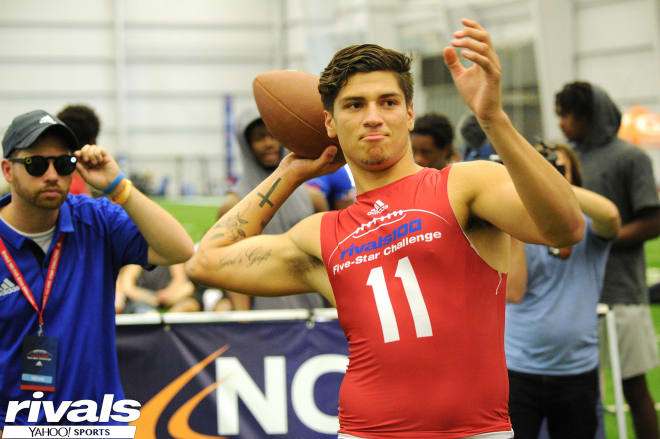 There have been a lot of rumors this offseason that while five-star quarterback Matt Corral remains committed to USC, he's serious about Georgia and possibly Alabama as well. But the feeling I get is that the Trojans don't have too much to worry about.
The Long Beach (Calif.) Poly standout said it has always been a dream to play at USC and the path to the starting job seems to be much smoother with the Trojans than at Georgia, where sophomore five-star Jacob Eason and freshman five-star Jake Fromm are already on the roster. Other schools might continue to pursue Corral and he won't hesitate taking visits, but my guess is that USC keeps the five-star in this recruiting class.
TAYLOR-STUART IS THE MAN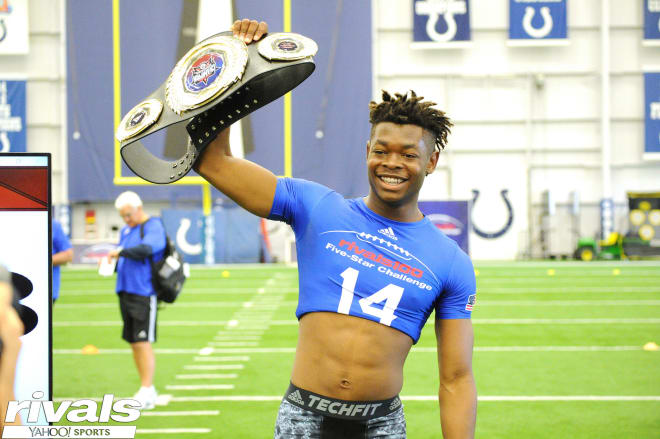 Isaac Taylor-Stuart is one of the best cornerbacks in the country and he backed it up in a big way at the Five-Star Challenge. First, he took home the Fastest on the Field honors, running a laser-timed 4.44 in the 40-yard dash. Then he looked great in one-on-ones and 7-on-7 and solidified his rep as a possible five-star candidate. USC seems to be a quiet frontrunner for the high four-star from San Diego (Calif.) St. Augustine, but he wants to visit Ohio State, LSU and others, so anything can still happen.
DEDICH HAD IMPRESSIVE DAY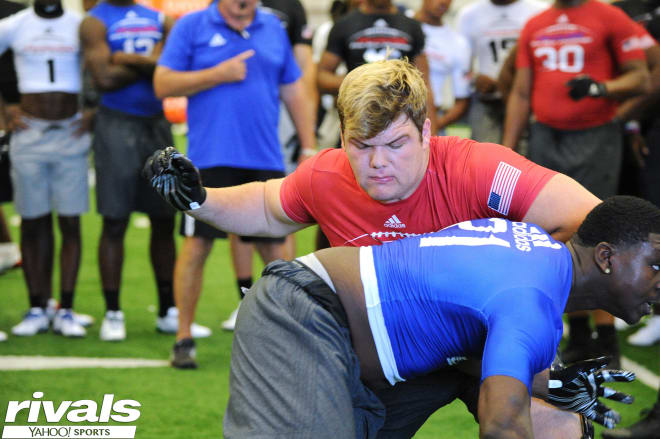 Justin Dedich had an excellent performance at the Five-Star Challenge and proved he's one of the best interior offensive linemen in this class. According to a source, some schools have concerns about Dedich's height, but that is a little bit of nitpicking because the four-star can battle and beat any defensive lineman. He has great feet, he's powerful, tough and doesn't back down to a challenge. Washington, UCLA and USC are smartly involved in his recruitment and some school is going to get an outstanding lineman in this class.
SEWELL IS INTRIGUING PROSPECT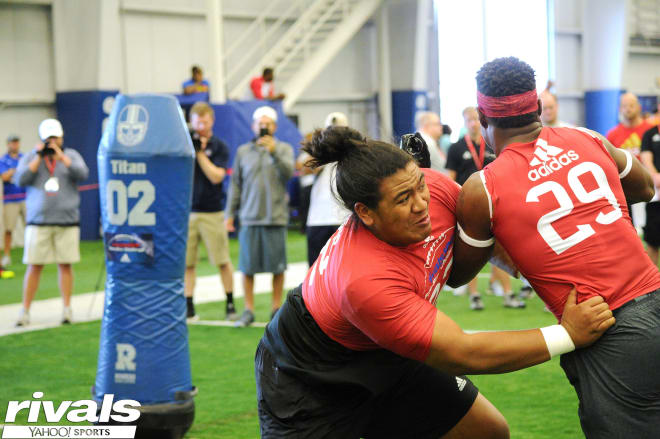 Penei Sewell is a really interesting prospect on and off the field. First, the four-star offensive tackle is massive at 6-foot-5 and 340 pounds. At that size, too, Sewell has proven he can play offensive tackle, he's light enough on his feet and athletic enough to stay outside and handle edge rushers.
Even more interesting is his recruitment. Alabama has emerged as a major contender for Sewell especially after a recent visit to Tuscaloosa. The other school that Sewell said he's seriously considering: Nevada. That's because two of his brothers play for the Wolf Pack and there is legitimate interest in joining them. USC, Oklahoma and others remain in the mix, too.
OHIO STATE COULD GET HAUL
If things fall the right way for Ohio State out West, the Buckeyes could be in a for a huge haul of talent in the 2018 class. Four-star defensive back Jaiden Woodbey is already committed. Coach Urban Meyer and his staff are heavily pursuing St. Brown, Taylor-Stuart, Tuliaupupu, 2019 four-star DB Chris Steele and others in the region. Last recruiting cycle, the Buckeyes went to Las Vegas Bishop Gorman and landed some serious talent. California could be ripe for the Big Ten powerhouse this time around.

SCOTT LOOKING AROUND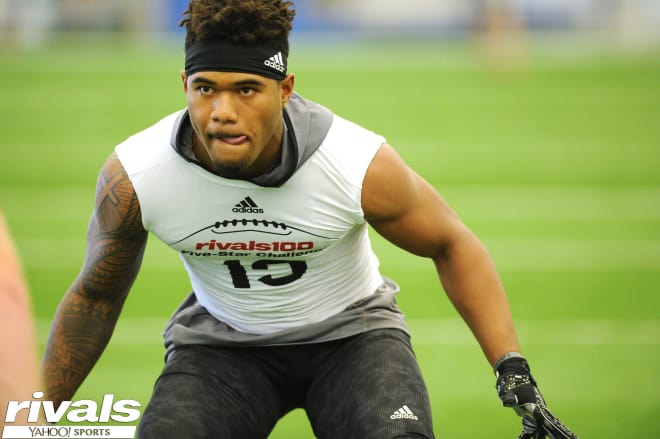 Raymond Scott has been committed to USC for a long time and his commitment probably sticks, but the Trojans are going to have to work for it.
The Harbor City (Calif.) Narbonne recruit loved his trip to Oklahoma and even with Bob Stoops' surprising retirement, it shouldn't negatively influence Scott when it comes to the Sooners. Georgia had been pursuing him hard, but the Bulldogs have seemed to slow down. No matter. Michigan and Nebraska have really ramped up efforts recently and he'll probably visit both Big Ten schools. Watch out for the Huskers, especially since assistant Donte Williams, who has tremendous L.A. connections, is recruiting the Narbonne linebacker.
STEELE REALLY IMPRESSED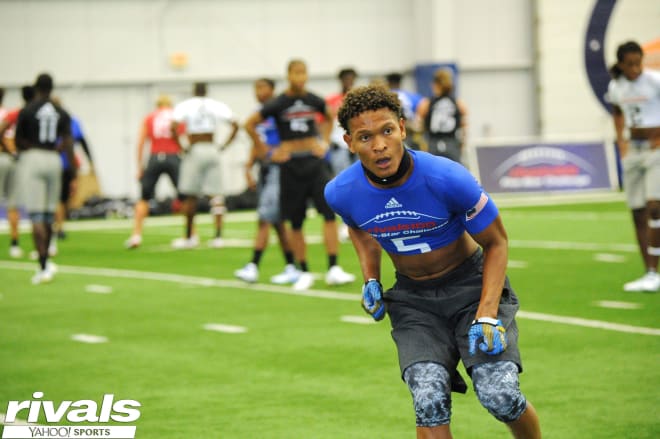 I've really liked Chris Steele this offseason and think he's one of the best defensive backs in the West, but now I absolutely see why so many top programs are pursuing the 2019 four-star UCLA commit. Steele has length, moves fluidly and defended some of the top receivers.
The Bruins have his pledge and his relationships with coach Jim Mora and position coach Demetrice Martin are playing a big role here. But watch out for Stanford, LSU, Alabama, Ohio State and now Michigan. All those schools have offered and the Bellflower (Calif.) St. John Bosco recruit is planning visits this summer.
WILLIAMS HAS ELITE BALL SKILLS
Gardena (Calif.) Serra is always loaded with top talent – Adoree' Jackson, Marqise Lee, Robert Woods to name a few in recent years – and Max Williams could be a special prospect there as well. He was terrific against some of the nation's elite receivers and held his own for a 2019 prospect. There is no getting around the fact that Williams is undersized and that could be a concern. But it didn't slow him down one bit at the Five-Star Challenge. USC, LSU, Nebraska and others are in the mix early.