Rivals100 Five-Star Challenge: Opening session highlights
ATLANTA – The early session of the Rivals100 Five-Star Challenge Presented by Under Armour is in the books Saturday at the Georgia Dome. Here are some things we learned prior to the evening 7on7 session.

MARVIN WILSON IS HUMAN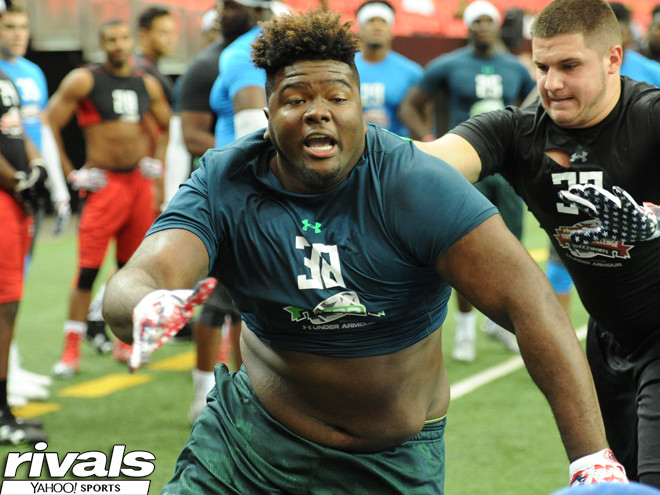 The top-rated player is usually unstoppable because of his power, speed and his unrelenting motor but he was stonewalled a few times during one-on-ones and did not take over all the time like every other event.

Wilson had many good moments mainly because he's so competitive with a non-stop attitude. He bull-rushed his way to lots of success but there were definitely times where he was driven back or slowed down, something we haven't seen much of up to this point.
The day is far from over. There are plenty more one-on-ones this evening and the Houston Episcopal star has never been one to slow down one bit.
JEUDY MAKES A STATEMENT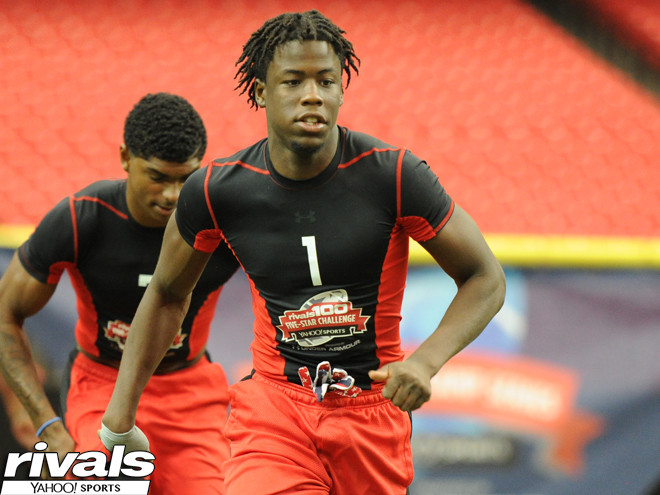 Two other Florida receivers are rated higher than Jeudy in the state but after this session's performance the Deerfield Beach standout made a big-time statement by absolutely dominating the one-on-one portion.

Five-star Trevon Grimes, the nation's top receiver, was solid and made all kinds of catches. Five-star James Robinson had lots of grabs as well even if he isn't a sharp route runner.
But Jeudy had the most dominant performance.
No defensive back could stay with him. Many were not even close. The four-star really took over, showed tremendous speed, great hands and was unstoppable throughout the entire session.
O-LINEMEN SHOW UP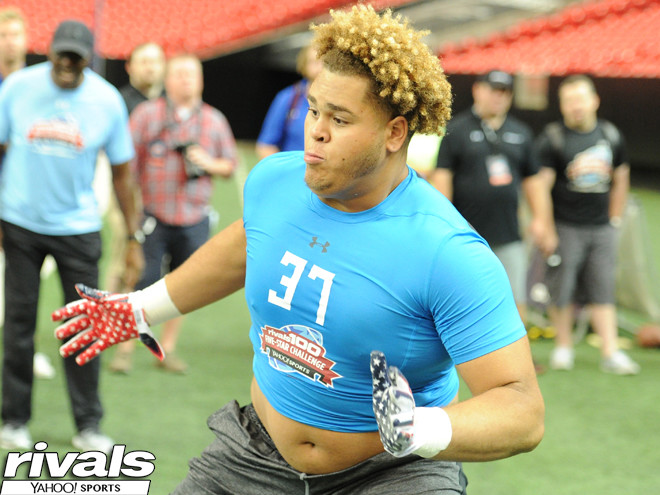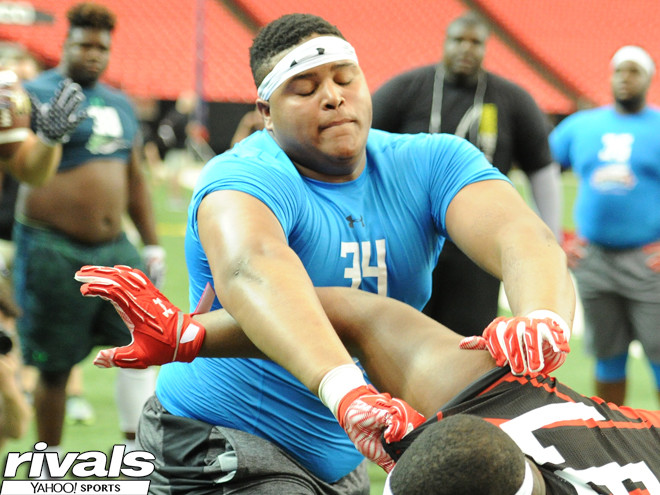 Backing up his five-star ranking, offensive tackle Jedrick Wills was outstanding. He was patient, he was tough, he locked up speedy and powerful defensive ends, and looked the part of one of the nation's top players.

The Lexington (Ky.) Lafayette recruit was not the only one.
Maryland Heights (Mo.) Pattonville's Marquis Hayes was phenomenal at offensive guard with great punch, feet and power. Four-star Alabama commit Alex Leatherwood, Miami pledge Navaughn Donaldson and Georgia commit Netori Johnson all more than held their own as well.
HARLEY, LINDSEY FASTEST WRs
Mike Harley is a blaze running down the sidelines, torching defensive backs and catching up to overthrown balls. He's a big play just waiting to happen.

The Fort Lauderdale (Fla.) St. Thomas Aquinas four-star receiver was a deep threat throughout the early session as he blazed by everybody and caught a bunch of deep balls.
When corners tried to jam him at the line, Harley slipped it and got open. When they backed off, Harley made a snap move and caught shorter passes. Every route was sharp and the four-star showed off great hands.
Four-star receiver Tyjon Lindsey was right there as well. The Corona (Calif.) Centennial recruit is a little thicker so he handles getting jammed even better but he's also great at slipping the close physical play and getting open deep. Especially late in his route with the ball coming, Lindsey separates even more and makes it look easy most times.
SMALL DBs LOOKING GOOD
Trajan Bandy might only be a generous 5-foot-10 and 178 pounds but he's a tough, competitive, fantastic cornerback who never bites on moves, stays stride-for-stride with the best receivers and almost never gets beaten by more than a step.

Time after time, the four-star Oklahoma commit knocked down passes, rerouted receivers, stepped in front of passes and generally shut everybody down.
The same could be said for four-star Thomas Graham from Rancho Cucamonga, Calif. The former USC commit has such great footwork and ability to break on passes with outstanding balance all over the field. Receivers couldn't break free on deep balls and Graham is so pesky. He was like a shadow all day on every route imaginable.
YOUNG GUNS COMING UP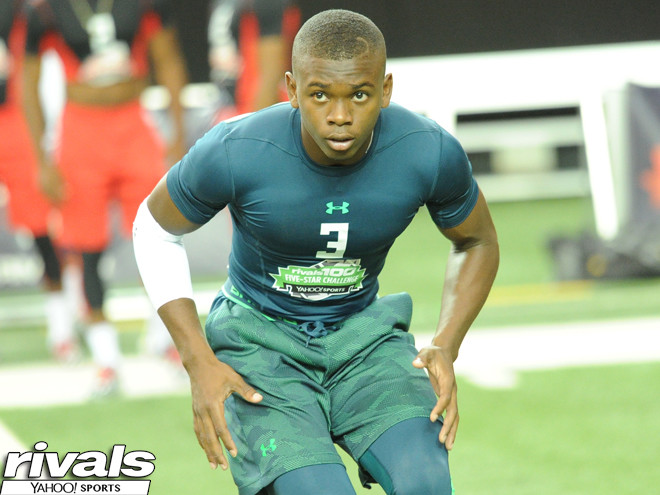 There are not a ton of 2018 prospects at the Five-Star Challenge but many who showed up, showed out in the early session.

Arguably nobody was better than the Texas duo of B.J. Foster (Angleton) and Anthony Cook (Houston Lamar), who completely shut down receivers in one-on-ones, used great size and athleticism to make plays and take over. Foster was especially good, time after time knocking away passes and staying right with receivers.
Bellflower (Calif.) St. John Bosco four-star athlete Jaiden Woodbey and five-star receiver Jalen Hall from Los Angeles Augustus Hawkins really shined. Woodbey was great at defensive back, locking up receivers and showing off good speed. Hall has outstanding size, stretches the field and makes tough catches.
Two other 2018 recruits who had an impressive early session were 2018 cornerback Al Blades from Fort Lauderdale St. Thomas Aquinas. He messed around a little at receiver but he's special as a defensive back with great length, timing on the ball and the ability to poke away nearly every pass.
St. Louis Chaminade defensive tackle Trevor Trout had his moments as well, beating some top interior linemen with speed and a good deal of power. There are some quality, huge offensive guards here but Trout routinely found his way into the backfield.