Rivals Underclassmen Challenge: Rankings impact from Atlanta
ATLANTA - The Rivals Underclassmen Challenge on Friday gave us an up-close look at many highly ranked players in the 2024 class. Here's a look at a few of those players and how their performances on Friday might impact their rankings when new Rivals250 comes out later this week.
HIGH-END QUARTERBACKS MAKE THEIR MARK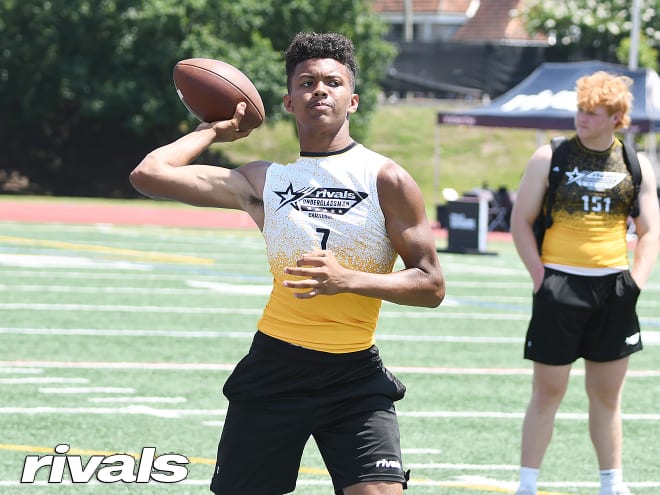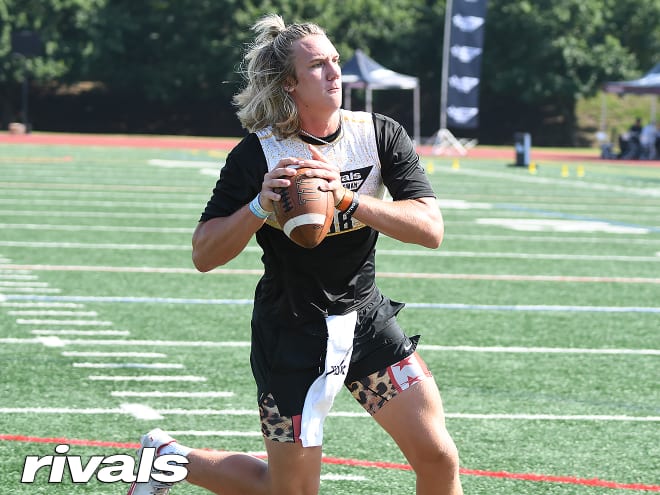 These type of events are a great way to compare quarterbacks on a level playing field and their performances will be used as a benchmark as the evaluation process goes forward. Alabama native Kamari McClellan was the highest-ranked quarterback on the field and he lived up to that title. He nearly won the long toss competition and had the most consistent performance during the position drills and 1-on-1 portions of the camp. McClellan has gotten a bit taller and has added some mass but there is still a long way to go before he could physically hold up in the college game. His performance this fall will play a major role in deciding whether or not he jumps into the upper echelon of 2024 quarterbacks.
Texas native Mabrey Mettauer sits just behind McClellan in the Rivals250. His performance was cut a little short because he had an early flight out that day but he showed off many of the traits that make him one of the top quarterbacks in the class. Mettauer has great size and arm strength but was a little inconsistent during position drills. He started to really come on during 1-on-1s but had to leave for the airport. Mettauer has a bit of a wind-up throwing motion which he'll need to tighten up and that will really help when throwing timing routes.
Myles Jackson, another 2024 Rivals250 quarterback, had a very solid day on Friday. He doesn't have overly impressive arm strength but he is accurate and seemed very comfortable throwing to receivers he was unfamiliar with. Jackson excelled throwing crossing routes and timing routes towards the sideline as well. He did a nice job throwing his receivers open and making it difficult for defensive backs to make a play on the ball.
*****
RECEIVERS GALORE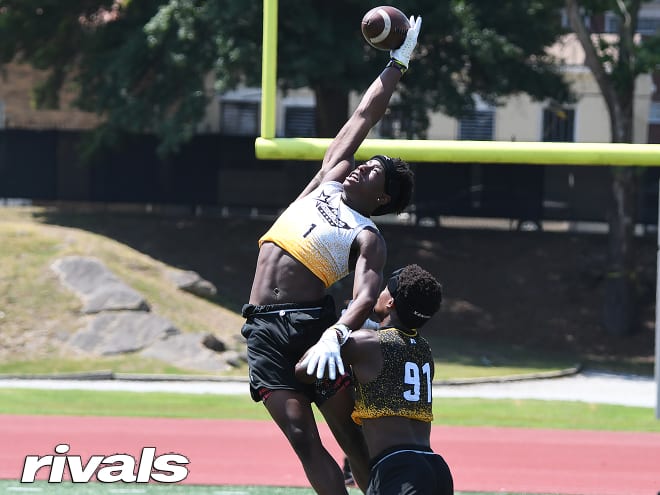 Receiver was the deepest position at the camp and multiple members of the 2024 Rivals250 shined but it was actually unranked receiver Kyan Berry-Johnson that made the play of the day. His one-handed catch against tight coverage along the sideline had everybody in attendance talking. I'Marion Stewart and Noreel White were so sudden as route runners and created a lot of separation using their ability to accelerate to top speed in the blink of an eye.
Micah Gilbert and Jeremiah McClellan are bigger receivers and used that size to their advantage. Their ability to catch the ball away from their body helped both of them have a lot of success on Friday. The receiver rankings in the 2024 class will see a lot of changes when they are updated with new additions but each of these receivers should feel good about where they stand after Friday's performance.
*****
PRINGLE'S PUZZLING PERFORMANCE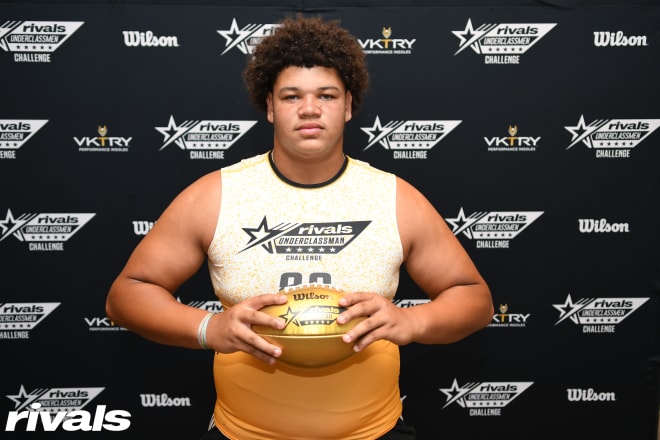 Rivals100 offensive lineman Kam Pringle has been one of the better linemen prospects we've seen this spring so his performance in Atlanta was surprising. Rated as a tackle, Pringle played mostly on the interior of the offensive line and struggled to find his groove. He's a massive prospect but that didn't help him as much as you would think.
Pringle got caught guessing how the defensive lineman would attack and he was off balance as a result. Towards the end of 1-on-1s Pringle moved back to tackle and looked more comfortable but he still hadn't returned to the form we were hoping for coming into the camp. There's still a long way to go for him and plenty of time to develop the finer points of his game but this week wasn't his best showing.
*****
PIERRE-LOUIS SHINES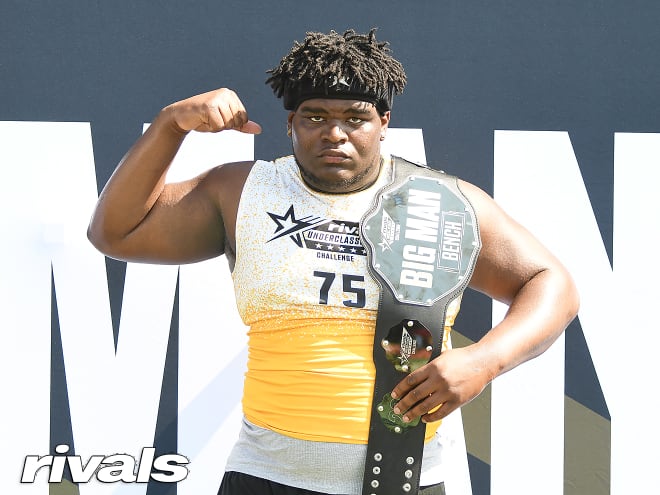 You can be sure of one thing as the 2024 rankings update gets closer - Eddy Pierre-Louis will see a significant rise. We've already written extensively about how impressive his performance on Friday was and he still has areas of his game to improve. Pierre-Louis measured in at 6-foot-4 with an 80-inch wingspan and showed out outstanding strength winning the bench press competition with 26 reps of 225-pounds. He even has room to fill out his frame more despite tipping the scales at what looked like a fairly lean 327-pounds.
*****
STONE WAS SOLID
David Stone is such an intriguing prospect on the defensive line. Currently at No. 10 in the 2024 Rivals250, Stone has a skillset that could see him end up at defensive end or defensive tackle at the next level but he looked more comfortable rushing the passer off the edge. He has an 81-inch wingspan and knows how to use that length to his advantage when fending off would-be blockers.
Stone seems to have solid playing strength and did a nice job of using his leverage to knock offensive linemen off balance but his overall strength is still a bit of a question mark. While he does have time to continue to hone his game for the next level, Stone probably needs to show some additional development before he reaches the level of a five-star.