Rivals Recap: Three showdowns in the DMV
Three games on Friday and Saturday in the DMV were loaded with big time prospects and interesting matchups. Baltimore (Md.) St. Frances beat Virginia Beach (Va.) Bishop Sullivan 28-21 on Friday night. Saturday started with Washington (D.C) St. John's College High's 39-22 victory over conference rival Olney (Md.) Good Counsel. Owings Mills (Md.) McDonogh beat St. Catharines (On.) Canada Prep 36-20.
I was impressed with ...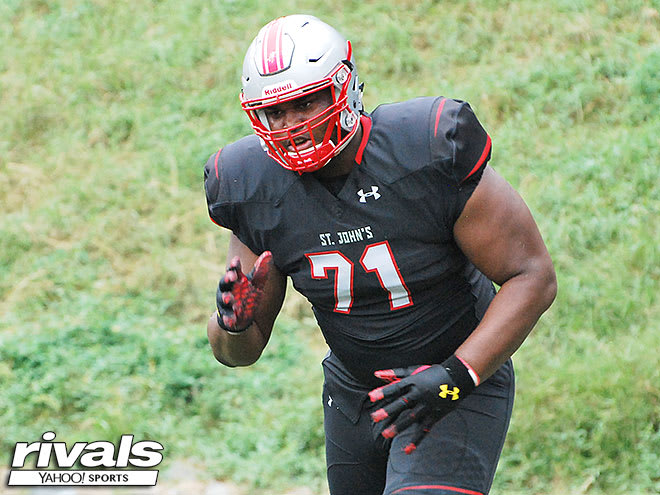 The marquee matchup of the weekend was St. John's Rivals100 Auburn offensive line commit Calvin Ashley playing Rivals 250 Good Counsel defensive and Joshua Paschal. Each player won some plays and lost some plays, but overall it was pretty even. On running plays, Ashley looked like he edged out Paschal mainly by walling him off and not so much pushing him backwards. Paschal just had a hard time getting around the massive Ashley. On passing downs, Ashley did a very good job of getting into his set quickly, but Paschal beat him around the edge a couple of times and did have a sack or two. Overall, it was a very even matchup and both players have some things they can improve upon.

Even though the talent laden Bishop Sullivan team took their second straight loss, its two best players still had excellent games. Florida State Rivals100 running bank commit Khalan Laborn pounded the football early in the game and didn't let up. He didn't break off as many big runs as he has in the past, but did have a great 53-yard touchdown, making a few defenders miss in route to the end zone.
Junior linebacker Teradja Mitchell was probably the most physical player on the field. The Rivals250 star blitzed a lot from his inside linebacker position and really gave offense linemen a hard time. There were a few plays where he came on a blitz and pushed the offensive lineman five yards into the backfield before making the tackle for loss. He did the same to fullbacks who tried to block him and still made plays in the backfield. Mitchell did well dropping into zone coverage and took away a lot of the options for the quarterback and always seem to be around the ball on running plays. The St. John's defense really gave Good Counsel a difficult time on passing downs and did a lot of good things against the interior of its offense line.

Defensive ends Tyree Johnson and Kofi Wardlow did a very good job getting pressure from the outside, racking up a couple of sacks and even a safety. That pressure made it very easy for linebackers Shane Lee and Ryan Vessels, as well as safety Darryl McDaniel, to create turnovers and make tackles on short passes. Defensive tackle and Maryland commit Camaron Spence started off the game very well, almost dominating the Good Counsel offensive line and making a number of plays in the backfield.

Eyabi Anoma is a name to remember. The 2018 prospect from St. Frances dominated the Bishop Sullivan offensive line. The 6-foot-2, 225-pound defensive end has great length and used his explosiveness to beat offensive linemen at the snap of the ball. Technically, Anoma is still very raw, but he played with good leverage and had a nonstop motor that made it hard for Bishop Sullivan quarterback Tyler DeSue to keep plays alive. Tennessee and Maryland have already shown some interest in Anoma and offers will come soon.
I was surprised by ...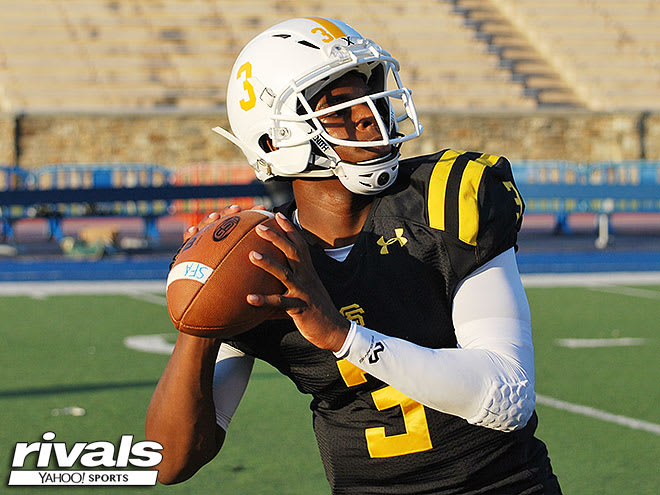 The St. Frances offense has been a work in progress, but it looked like it was starting to click during the Bishop Sullivan game. Quarterback Isaiah Robinson has shown mechanical development and is clearly growing more and more comfortable in this new offense. Robinson's favorite target was 2018 wide receiver Tyree Henry, who already holds a handful of offers. Henry, who isn't 100 percent healthy, is a long-striding runner, is very strong, did a great job separating from defensive backs and knows how to correctly high-point the ball. Temple running back commit Gary Brightwell is very explosive and has an edge about him. He fought for extra yards and showed good speed in the open field.

The loaded defensive backfield of Bishop Sullivan got torched. Virginia Tech commit Tahj Capehart made some good plays from his safety position but could have had two or three interceptions instead of just one. West Virginia safety commit Chris Hunt was hampered by cramps and didn't make many notable plays. Virginia Tech 2019 defensive back commit Tayvion Land and standout 2020 defensive back prospect Sheridan Jones were in position to make plays on the ball throughout the night but were out-muscled and boxed out by the bigger, stronger St. Frances wide receivers. Overall, the Bishop Sullivan defensive backfield is young and very talented. They will bounce back and develop as the years go on.

Even with the good play by Paschal and 2018 Rivals250 defensive end Tyler Baylor, I thought the Good Counsel defense would play better against the explosive St John's offense. Rivals100 Maryland quarterback commit Kasim Hill and standout 2019 running backs Joachim Bangda and Keilan Robinson gashed the Good Counsel defense, running downhill and breaking tackles to get to the edge of defense. Good Counsel has a lot of young talent that will develop over the next year or two, but the normally stout interior of its defense gave up some big plays.
Other notes ...
The late game on Saturday night featured Maryland offensive line commit Jordan McNair, 2018 Rivals100 defensive tackle PJ Mustipher and Virginia Tech 2018 quarterback commit Dejuan Ellis. McDonogh looked a bit sluggish out of the gates, but senior running back Mylique Mcgriff put the team on his back. Aided by key blocks from McNair, Mcgriff broke off yards in chunks to help wake his team up. Mustipher made his fair share of plays, but battled constant double teams throughout the night. Ellis had an up-and-down performance, but his elite speed really bailed him out of trouble on a number of occasions. Watch out for 2019 defensive tackle D'von Ellies. He could turn out to be a big-time prospect.

Talented Tennessee defensive line commits Breyon Gaddy and Brandon Gaddy are usually pretty effective for Bishop Sullivan and can be counted on to make a few outstanding plays each game. However, the St. Frances quick passing game and outside running scheme made it hard for the Gaddys to get too involved. One other note on Breyon Gaddy: he has the leg to be a punter in college. He was kicking some at least 50 yards downfield with pretty good hang time.

Not to get lost in the shuffle, St. Frances linebacker, Sam Thomas, defensive lineman B'ahmad Miller and new Syracuse commit Jonathan Kingsley played a very good game. Thomas and Kinglsey made plays all over the field and did an admirable job of bottling up Laborn as much as they could. Keep an eye out for 2019 offensive lineman Darrian Dalcourt. He has the size and athleticism to develop into an exceptional offensive lineman.
Good Counsel tried to mount a comeback in the third and early fourth quarters of their game at St. John's on Saturday thanks in large part to running back Mohamed Ibrahim. He grinded out tough yards all day, but his best run came on a long touchdown run where he ran over two defenders en route to the end zone.