Rivals Recap: Five-stars take the stage in New Jersey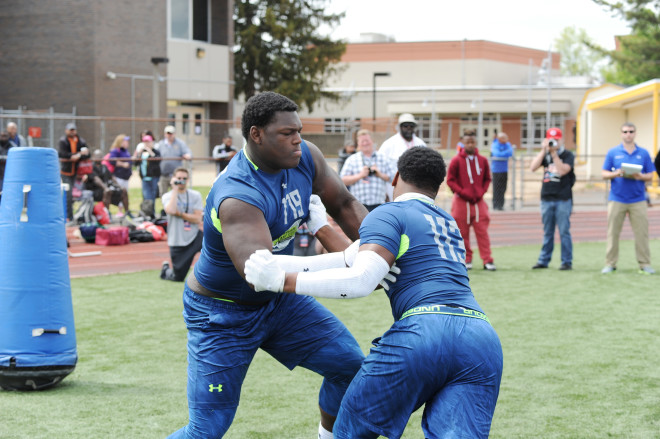 WE WERE IMPRESSED BY...
Isaiah Wilson is a massive human being but he's comfortable with his size, moves well, uses his hands really well and swallows up any defensive linemen trying to go straight at him. The five-star and top-rated offensive tackle was challenged by a bevy of different linemen trying to use speed, power or a combination of both, and not much worked. The Brooklyn Poly Prep standout also moved inside for some reps and did just as well, taking over on almost every rep during the camp.
Composed, confident and really skilled, Hunter Johnson showed why he's a five-star quarterback and No. 1 at his position. The Clemson commit is quick into his drops, has great balance, spins the ball incredibly well and can make all the throws. Johnson is effortless on the short routes and puts the deep ball right on the money as the wide receiver stays in stride. Johnson had another great day and backed up his ranking no problem.
D'Andre Swift is a compact, balanced running back with phenomenal speed and really impressive ball skills. In a camp setting, the four-star from Philadelphia St. Joseph's can't really show off too much but he found ways anyway, burning linebackers in one-on-ones and even lining up at receiver to take routes. Swift has a thick lower body but it doesn't take away from his speed at all. He's sudden, quick and has great hands.
Time and again, four-star receiver Mark Webb burned cornerbacks deep and showed off excellent speed through his routes. He caught the short and intermediate passes with ease but was at his best stretching the field. He also made some tough catches. No one could stop Webb, let alone slow him down. The Warminster (Pa.) Archbishop Wood Catholic recruit dominated all day and was the best receiver by a good bit.
WE WERE SURPRISED BY...
Tyler Friday already has a high ranking in the 2018 class and he backed it up – and then some – especially during one-on-one drills. The Ramsey (N.J.) Don Bosco Prep prospect was surprisingly powerful against older players, beat Wilson on two of three reps to end the session and showed off excellent quickness as well. More than a few times, Friday just used brute strength to win the rep. Other times, the 2018 recruit used a nice inside move to take over.
Harrison Hand only has a few offers but as more schools see this through the spring that could definitely change. The three-star cornerback from Cherry Hill (N.J.) Cherry Hill West is physical at the line of scrimmage but doesn't go overboard and then he sticks with receivers all the way through their routes. Once the ball is in the air, Hand can go up and get it as he out-jumped receivers a few times. That was a rare occasion, though, since usually Hand was right in the hip pocket of receivers that he either knocked the pass away or the quarterback misfired because there was no window to throw to.
One position that was loaded with depth at Saturday's camp was linebacker. Four-star linebacker Avery Roberts, a Nebraska commit, won the MVP award. The Wilmington (Del.) Concord prospect was physical at the line, played the ball really well once it was in the air and also recorded a bunch of pass breakups. He wasn't the only standout, though. Paramus (N.J.) Paramus Catholic four-star Drew Singleton, Towson (Md.) Calvert Hall four-star Tyshon Fogg and 2019 Shane Lee, a possible star-in-the-making from Baltimore (Md.) Gilman School, all looked good.