Rivals Recap: Oaks Christian vs. Westlake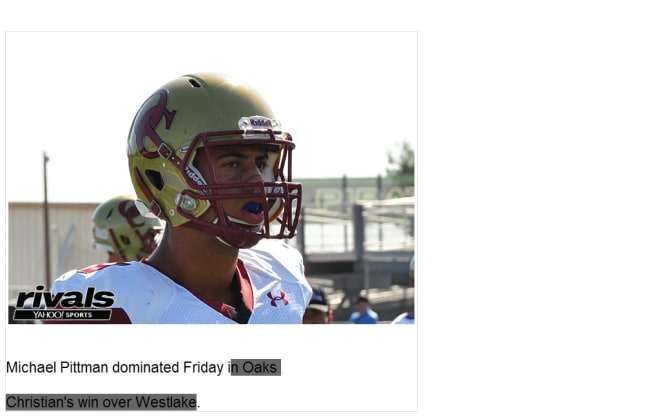 WESTLAKE VILLAGE, Calif. -- There is so much debate about whether
who had been committed to UCLA but recently flipped to USC, might have to enter
that conversation after a big night as Westlake Village (Calif.) Oaks Christian
beat Westlake, 52-29, Friday night.
I was impressed with...
Pittman was fantastic. The four-star receiver opened the game with a 100-yard
kickoff return for a touchdown. The next time Oaks Christian got the ball,
Pittman returned the kick again about 96 yards for a score but it was called
back because of a questionable block in the back penalty.
Then on offense Pittman absolutely dominated. The USC pledge (who is still
taking a look at UCLA) had touchdown receptions of 29 and 55 yards and then two
other catches that took the ball down to the 1-yard line. If luck went his way,
Pittman could have ended the night with six scores.
The Oaks Christian prospect has excellent size at 6-foot-4 and 205 pounds,
surprising speed and he's a terrific route runner with great hands. It's a
loaded class at receiver in California but no doubt Pittman is one of the best.
I was surprised by...
Oaks Christian.
The sophomore who has already landed offers from USC and UCLA has a tremendous
arm, zips the ball all over the field (his favorite target is obviously Pittman)
and he's impressively accurate throwing on the run.
The 2018 recruit has poise and toughness, too. On a bad snap, Corral scooped it
up, settled himself and still made the completion. On a quarterback run later in
the game, Corral broke some tackles, stayed in-bounds and gained extra yards
down toward the goal line.
In a big setting, Corral looked completely comfortable and he's proving to be
one of the top young quarterbacks in the country.

He has impressive speed but even better than that is his ability to follow
blockers, find open space and then burst through for big gains.

Oaks
but he could be a steal in this class. He finished with four touchdown runs
(many set up by the pass down the field) and he is a tough, hard-nosed runner
who always falls forward for extra yards. Jackson is putting up big numbers this
season and he's talented enough to find a roster spot on a college team.

Pittman
good relationship with both of those coaches and after talking with current USC
players that could be a factor in his recruitment. UCLA is absolutely not giving

and UCLA are the two newest offers for 2017 four-star tight end
on offense and defense (defensive end) on Friday night. Both programs will
definitely get a close look but the 2017 recruit is more focused on the playoffs
than recruiting at this point.