Rivals Recap: Five-Star Challenge morning session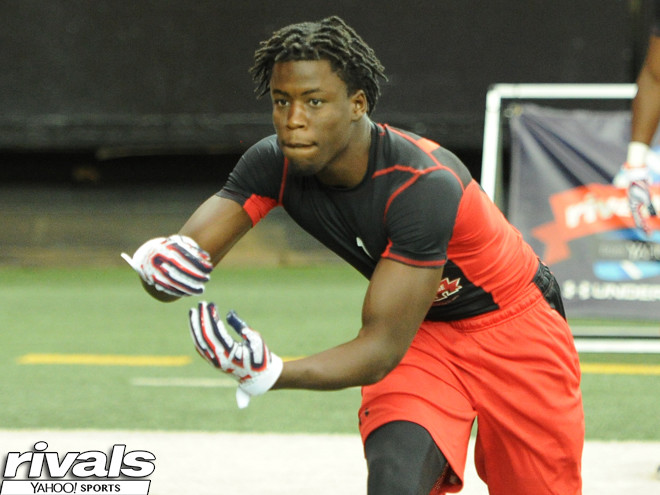 ATLANTA - The first session of the Rivals100 Five-Star Challenge Presented by Under Armour kicked off Saturday morning in the Georgia Dome. Prospects from around the country competed against their peers, the best of the best. Several standouts impressed, while others didn't quite live up to expectations.
Here is a recap of the action from Saturday's morning session.

WE WERE IMPRESSED BY...
Leatherwood continues to show improvement at basically every camp he attends, and this trend continued this morning. One of the more physically imposing players at the entire event, Leatherwood proved that he could back that up with a dominating individual performance during 1-on-1s. Aside from all of the impressive physical attributes he showcased, he also played with great energy and fire, which should have Alabama fans excited about his future.
As the No. 2 guard and the No. 35 overall player in the Rivals100 Presented by Under Armour, Johnson lived up to his lofty rankings during the morning session with an impressive performance. He repeatedly went in for reps and won a majority of them, showing good use of his hands, quick feet and a mean streak. Guards sometimes struggle at events like this, but Johnson was definitely up for the challenge.
Hayes recently made the move into the Rivals250 after an impressive showing at the Rivals Camp Series stop in Kansas City. There was still some question if he could back that up against elite level competition, but he has proven that he can so far in Atlanta. Once Hayes got his outstretched arms out against a defensive lineman, he dominated the rep. While he did experience a couple of losses, overall he definitely proved that he belongs with this level of recruit.
Harley is another player who carried over his impressive Rivals Camp Series performance to Atlanta. He was one of the elite performers at the Miami camp stop and continued to dominate defensive backs this morning. Using a combination of elite speed, route running and hands, Harley often made it look easy. He may not intimidate anyone with his frame, but he more than makes up for it with his skillset.
As the No. 9 recruit in the Rivals100, Okudah was expected to impress and he did. What made his performance memorable though is that, unlike most safeties in camp 1-on-1s, he did not struggle in man-to-man coverage. Okudah showed his athleticism and versatility by sticking with a majority of the faster wide receivers, whether it was quick slants or deeper routes.
Despite being No. 12 in the Rivals100 and the No. 2 defensive tackle, Shelvin still entered the event as somewhat of an afterthought due to Marvin Wilson's No. 1 national ranking. However, after the morning session it was Shelvin who shined brighter between the two. Weighing over 350 pounds, Shelvin has amazingly quick feet and side-to-side movement, to go along with dominant strength. This combination made him a nightmare for a majority of offensive linemen.
Wills is one of the more fundamentally sound offensive linemen in the country, and again showcased that precision during the morning session. Wills methodically disposed of the majority of defensive linemen he faced as he continues to prove himself as an elite talent. Because of his amazing consistency and extreme patience, he generally waits to see what the opposition plans to do and then uses his feet and hands to steer the defender in the opposite direction. He has become a technician at the position.
Despite a 5-foot-10 height listing, which may be a bit generous, Bandy was one of the more dominant defensive backs during the morning session. He locked down a majority of the receivers he faced, using a combination of speed, instincts, footwork and closing speed. While questions will continue to linger about his ability to cover bigger receivers, he continuously proves that he is up to the task.
Lindsey came into the event with the reputation of being a 1-on-1 and 7-on-7 freak and once again did not disappoint. While he did drop a couple of passes he usually holds on to, overall his smooth route running, speed and athleticism still made him dominant. He has the ability to make the difficult play look simple. With the 7-on-7 competitions starting this afternoon, look for Lindsey to reach his peak.
Graham was another cornerback who shined during the morning session. He completely shadowed the majority of the receivers he faced during 1-on-1s and was surprisingly physical for his stature, which was a pleasant surprise. Using this physicality he drove several receivers to the sideline, while also poking the ball away at the last second on a few occasions.
In what has turned out to be a very strong group of offensive guards, Donaldson was yet another one who shined. The Miami commit is one of the strongest offensive linemen in attendance, but his improved footwork is what has made him one of the top players in the nation at his position. It's easy to tell that Donaldson has been working overtime to improve his footwork and it is paying off.
WE WERE SURPRISED BY...
While Jeudy is the No. 44 recruit in the Rivals100, it was still surprising to see him outperform all five wide receivers, including three five-stars, who are ranked ahead of him during the morning session. He ran impressive routes, displayed reliable hands, showed a good burst of speed and made several difficult catches look easy. While other receivers also shined, Jeudy was the most consistent and explosive.
Coming from Connecticut, it is easy to see why Black may have been overlooked by some. However, he has quickly proven that he belongs among the elite as he had one of the more consistent performances during the morning. Black was equally successful running short and long routes, used his impressive size to overpower a number of defensive backs and showed that he has the speed to create separation.
While linebacker may be the most difficult position to play during 1-on-1s, Phillips found a way to impress. He was the most physical linebacker during the morning session, while also using his athleticism to cover extremely well in space. He was able to dominate most reps during the tight ends and more than held his own against a very athletic running back group.
To go along with Okudah, Delpit was another safety who shined during the morning session. His physicality disrupted several receivers, while he was also able to showcase fantastic recover speed. The recent transfer to IMG Academy also improved as the session went on, while going up against a majority of the top receivers.
On Saturday morning Redd proved that he is more than just speed. The winner of the Ill Speed competition this spring, Redd was one of the more solid cover corners despite his smaller frame. Surprisingly physical, while showing natural cover abilities, Redd won several impressive reps. He also has the option to play offense at the next level, but if Saturday morning was a sign of things to come, cornerback will likely be his position in the future.
Coming in as an underclassman, Cook quickly made it known that he belongs during 1-on-1s. Taking countless reps, Cook went up against anyone and everyone and won a majority of them. With his long frame, impressive recovery speed and instincts, Cook, who already has over 20 offers, has quickly positioned himself to become one of the top defensive backs in the country next year.
Ranked just outside the Rivals250, Foster had one of the better overall performances out of the defensive back group. He was excellent in coverage, played the ball very aggressively while in the air and was physical. He also usually made the smart play, as he did not always go for the interception and instead stayed in a good position.
WE WERE DISAPPOINTED BY...
The No. 13 recruit in the Rivals100 struggled throughout the morning in coverage while playing linebacker. He seemed slow at times and did not show great instincts while covering the athletic running back group. He hasn't developed into the impressive quick twitch defender we expected him to be, so it will be interesting to see if he can show signs of improvement this afternoon.
Robinson struggled with his route running through out the morning session. He seemed stiff at times and the experienced, talented defensive backs often exploited this. To his credit he did take countless reps and showed some flashes at times, but overall it was not an impressive performance for the five-star.
While the defensive line group had its fair share of struggles overall, Rogers never seemed to hit his stride. He was overpowered by the bigger offensive linemen, while often not adjusting his own moves. Rogers has the potential to excel at a setting like this, but had yet to show it up to this point.
Brown had difficulties throughout the morning, as he got turned the wrong way on several occasions. He has also displayed impressive speed on video, but failed to showcase that to this point. Also, at times when he tried to compensate by playing closer to the line of scrimmage, he got burned deep on a few occasions.