Rivals Rankings Week: Who should be No. 1 in the 2025 Rivals250?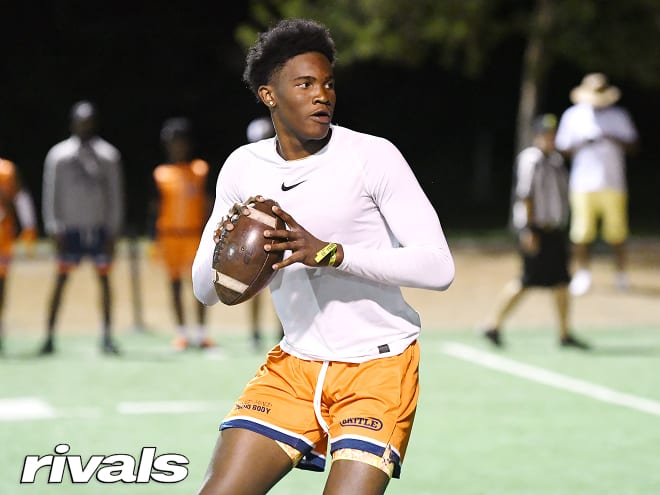 The first five-stars and Rivals250 for the 2025 class are set to be unveiled this week. Offensive tackle David Sanders was No. 1 in the initial rankings but there are a few elite prospects pushing to take that spot. The national recruiting analysts - Clint Cosgrove, Adam Friedman, Adam Gorney, Nick Harris and Ryan Wright - offer their opinion on who should be the No. 1 player in the first 2025 Rivals250.
*****
RIVALS RANKINGS WEEK
Sunday: Who should be the No. 1 prospect in the 2025 Rivals250?
Monday: Five-Star Countdown | Meet the No. 1 prospect
Tuesday: Rivals250 released | Ten new prospects in the top 50 | Gorney's thoughts
Wednesday: Offensive position rankings released | Five teams that should be pleased
Thursday: Defensive position rankings released
Friday: State rankings released
Saturday: What position group will emerge as the strongest in 2025?
*****
Cosgrove's take: Bryce Underwood
The Belleville, Mich. signal caller has already accomplished more during his first two seasons of high school football than most quarterback recruits accomplish in their entire high school career. Two state championships, national player of the year for his class and back to back All-American honors are just a few of the accolades Underwood already has to his name.
His elite physical and athletic gifts combined with next level arm talent make him the best player at the position of highest value and for me that combination makes him the No. 1 overall player in the 2025 class.
Michigan, Michigan State, Penn State and LSU are among the early contenders for the elite signal caller's pledge.
*****
Friedman's take: David Sanders Jr.
There isn't a completely obvious choice for No. 1 in the 2025 class but Sanders gets my vote at this point. At this early stage in his development the Charlotte native is very advanced from a technical perspective. Sanders is just 255-pounds and plays much stronger than defenders expect. More importantly, Sanders is an elite athletic specimen for an offensive tackle who measures in at 6-foot-6. As he matures physically, he should become even more dominant and there won't be a quarterback in the nation who won't want him protecting their blindside.
*****
Gorney's take: David Sanders Jr.
Prior to the Under Armour Atlanta camp, I would have sided with Elijah Griffin as the best player in the 2025 class and the defensive lineman should still very much be in the picture but Sanders was so good at that event that I'd pick him to be the early No. 1 prospect. He's not completely maxed out physically yet which is great since he has two years left of high school and Sanders is so athletic and is so light on his feet that he's definitely a special offensive tackle. I don't think there is a clear answer to this like some years - Jadeveon Clowney and Trevor Lawrence were clearly No. 1 guys - but early on my pick would be Sanders for the top spot.
*****
Harris' take: Bryce Underwood
I've only been able to see Underwood once in-person, and he blew me away not only with his 6-foot-2.5, 200-pound frame but with his smooth mechanics and composure in a highly competitive 7-on-7 environment. In watching his film, it's so fun to see those traits manifest on the field with his athleticism outside of the pocket to push the ball downfield. The 2025 class will have a lot of contenders at No. 1, unlike the last couple of classes, but I think Underwood has a solid shot to cement himself this offseason as the guy to catch moving forward.
*****
Wright's take: Elijah Griffin
At this point in the journey for the 2025 class, I believe Rivals has it right with Griffin as the top-ranked player. Already with a collegiate frame, Griffin is a beast off the edge terrorizing Georgia offenses and asserting his will on the competition. The strength, speed and productivity are all there for the five-star talent.