Rivals Rankings Week: Updated Rivals100 sees three new five-stars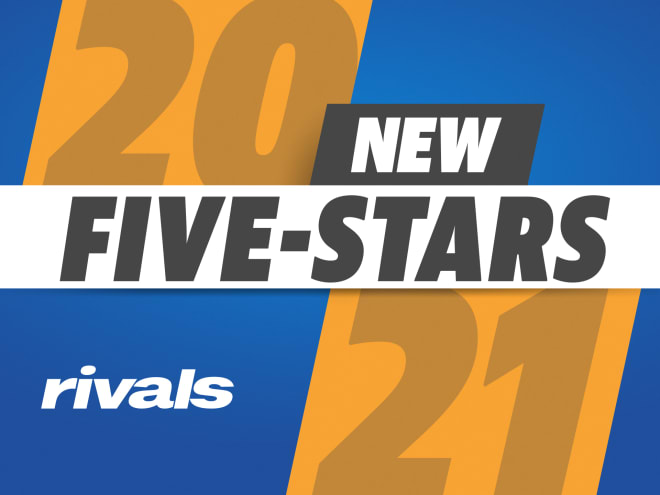 The latest Rivals100 for the class of 2021 has been released and while there wasn't a change at the top, there was some shuffling in the top 10 and three new five-stars have been added to the mix. Here's a breakdown.
California defensive end Korey Foreman remains No. 1 overall in the Rivals100 and the big lineman has a ceiling that is sky high. He reminds me a bit of Chase Young from Ohio State at the same stage although he needs to kick it up in the motor department just a little. Georgia offensive lineman Amarius Mims jumped four spots into the No. 2 slot behind Foreman and his combination of footwork and athleticism reminds me a bit of Laremy Tunsil. Defensive end J.T. Tuimolau stays at No. 3 and is one of the best big athletes we've seen in a few years. Rounding out the top five are quarterbacks Brock Vandagriff, an Oklahoma commitment, and new five-star Caleb Williams. More on Williams below, but it will be a great battle this year for the No. 1 quarterback spot in the country.
Texas running back Camar Wheaton, one of the fastest players in the country, moves up one spot to No. 6 overall. Ohio defensive end Jack Sawyer, an Ohio State commitment, drops three spots to No. 7. He is coming off an MCL injury but expectations are high for a big return and he has the talent to push for No. 1 overall. Five-star offensive linemen Bryce Foster and Tommy Brockermeyer and new five-star defensive tackle Maason Smith round out the top 10.
We are up to 14 five-stars in the 2021 class with the addition of Williams, Smith and wide receiver Emeka Egbuka.
Here's a breakdown of the three new five-stars from our analysts.
NEW FIVE-STARS
"Making Williams a five-star was a no-brainer after seeing his development over the last year. He's got the arm strength, accuracy, and playmaking abilities to be rated as one of the best in this recruiting class. Now listed as a dual-threat quarterback, Williams has shown the skill set that makes life very difficult for defenders and coaches when he takes off running. LSU, Georgia, Penn State, Oregon and a few others remain in the picture for now." – Adam Friedman, Rivals.com Mid-Atlantic Recruiting Analyst
"Smith is a prototype as an athletic defensive tackle that commands double teams as a run stopper and has a full arsenal of pass-rush moves. He's big, explosive and plays with a high motor, and he's freakishly quick getting down the line of scrimmage and making plays in the backfield. LSU is going to have to work to keep the five-star in-state with Georgia, Alabama and Texas A&M, among others, all chasing." – Sam Spiegelman, Rivals.com Mid-South Recruiting Analyst.
"Egbuka reminds me a lot of Ohio State freshman receiver Garrett Wilson, who could be one of the next big stars in college football. The new five-star receiver is an excellent route runner, he's wiry strong and he makes every catch - even the most challenging - look easy. Every time I've seen Egbuka play he can get open against any kind of cornerback and he has the speed to stretch the field in the deep passing game. I've liked Egbuka for a long time and after seeing him put up impressive numbers again in his junior season, there was a valid argument for putting him into five-star status. Washington is going to stay in his recruitment but Ohio State, Clemson, LSU and others will be there as well." – Adam Gorney, Rivals.com National Recruiting Analyst.