Rivals Rankings Week: Introducing new five-stars for 2021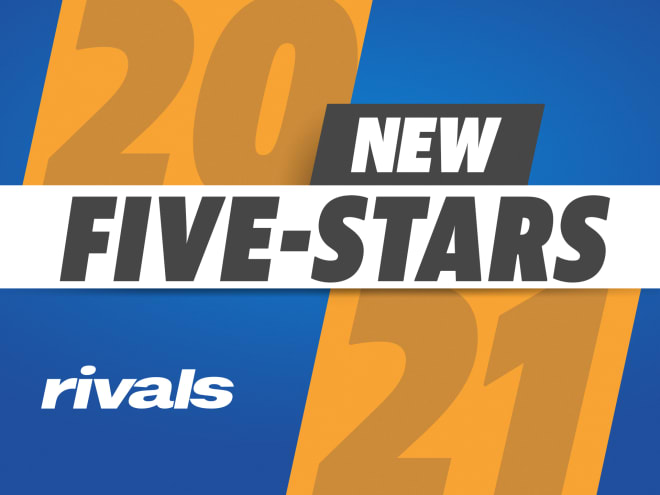 The updated list of five-stars in the Rivals250 for the class of 2021 has been released and with it comes four new five-stars The full Rivals250 will be unveiled Tuesday.
*****
CLASS OF 2022 RANKINGS WEEK SCHEDULE
MONDAY: Who should be No. 1 in 2021? | Counting down the 20 five-stars | Looking at new five-stars

TUESDAY: Rivals250 revealed | Where five-stars stand in recruiting | Mike Farrell's thoughts on Rivals250 | Schools with most R250 commits | Ten big movers

WEDNESDAY: QB rankings | RB rankings | WR/TE rankings | OL rankings
THURSDAY: DL rankings | LB rankings | DB rankings | ATH rankings
FRIDAY: State rankings spotlight
*****
The man at the top stays the same as California defensive end Korey Foreman checks in at the top without much debate. He's followed by OT Amarius Mims, QB Caleb Williams (Oklahoma commit) , DE JT Tuiamoloau and DT Maason Smith. Smith moves up one spot as we were able to evaluate him a couple of times since our last rankings and he has the potential to finish even higher. He's as explosive as we remembered and his motor is non stop.
QB Brock Vandagriff (Georgia) slides one spot to No. 6 partly because of our newest impression of Smith and his new evaluation at the Elite 11. Vandagriff was who we thought he was and that's a good thing. RB Camar Wheaton, DE Jack Sawyer (Ohio State commit), OG Bryce Foster and OT Tommy Brockermeyer (Alabama commit) round out the top 10. Two of the bigger moves were from the new five-stars as OT Tristan Leigh moved up 13 spots and QB Ty Thompson (Oregon commit) moved up 59 spots after a re-evaluation at the Elite 11.
Here's a breakdown of the new 5 stars from our regional analysts.
OL TRISTIAN LEIGH
"Leigh is obviously an outstanding talent and he continues to show the progress we look for in elite prospects. Having seen Leigh work out a handful of times since the previous rankings update, it's clear he is only getting better. Leigh is developing his pass blocking techniques and is really filling out his fairly lean frame with solid muscle mass. As Leigh gets strong in his lower body, he is becoming a more devastating run blocker.

"LSU and Oklahoma are the clear leaders in his recruitment but Ohio State, Alabama, and Clemson are still very much in the picture." — Adam Friedman, Rivals.com East Coast Recruiting Analyst
QB TY THOMPSON
"Thompson has all the qualities of a five-star quarterback and even though he's not as publicized or in the public eye as Williams or Vandagriff, he's still in their league when it comes to skills. The Oregon pledge has a terrific arm, he doesn't make bad throws, he doesn't try to force passes and trust his arm ability too much and his running ability is also top-notch.

"Thompson was excellent at the Rivals Camp Series in Los Angeles before the shutdown and then at other events this summer, he was either at or near the top every time he was on the field. He has excellent size, an excellent on-field demeanor and the ability to make every throw look easy. Those are the reasons why we moved him to five-star status as the Ducks continue to recruit incredibly well across the region and nationally." — Adam Gorney Rivals.com National Recruiting Analyst
S JAMES WILLIAMS
"A Miami commit, Williams has been the subject of much debate in our rankings meetings, but in the end you have to play the percentages. Even if small questions about his physicality remain, his combination of size and athleticism make him a hyper-rare prospect that is almost certain to play on Sundays. Williams compares favorably to everyone else at his position, which was the driving force behind his move back to five-star status. He's one of the most bust-proof prospects in this class." — Rob Cassidy, Rivals.com Florida Recruiting Analyst
OT BLAKE FISHER
"Notre Dame commit Blake Fisher has been on the cusp of five-star status from the very first Rivals250 for the 2021 class, and he earned that fifth star in the latest ranking update. Fisher has always been impressively athletic for his size, but there was a concern he could get too big and lose his mobility. This summer, however, Fisher emerged from the spring lockdown in the best shape we have ever seen him. He was leaner and quicker, but still a dominant physical force." — Josh Helmholdt, Rivals.com Midwest Recruiting Analyst