Rivals Rankings Week: Counting down the 20 five-stars in 2021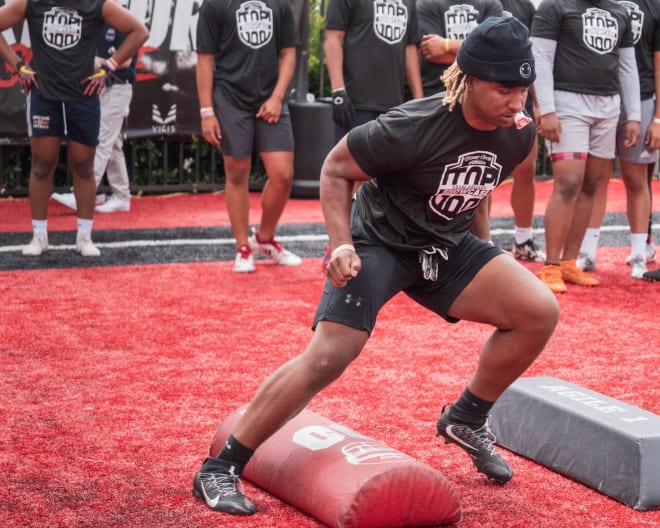 Welcome to Rivals Rankings Week for the 2021 class.
There are 20 five-stars in this rankings update and today we counted them down right here. Rivals recruiting director Mike Farrell offered his thoughts on each five-star, and we showcased each player with a spotlight video.
Here are the daily highlights of a busy 2021 Rivals Rankings Week:
MONDAY: Five-stars revealed
TUESDAY: New Rivals250 released
WEDNESDAY: Offensive position rankings released
THURSDAY: Defensive position rankings released
FRIDAY: State rankings released
1. DE Korey Foreman
Farrell's Take: Foreman is a big, dynamic rush end with a great deal of athleticism for his size. He could also play inside if needed.
*****
2. OT Amarius Mims
Farrell's Take: Mims is a mammoth tackle with great footwork and balance who should be a franchise guy on the left side.
*****
3. QB Caleb Williams
4. DE JT Tuiamoloau
Farrell's Take: The big end is an outstanding athlete for his size and a rare specimen who could easily play 3 or 5 technique in college.
*****
5. DT Maason Smith
Farrell's Take: An aggressive defensive tackle with a rare motor, Smith shoots the gap with ease and handles double teams well freeing up teammates.
*****
6. QB Brock Vandagriff
7. RB Camar Wheaton
Farrell's Take: Wheaton is a home run threat from anywhere on the field with his elite speed and he can also impact in the passing game.
*****
8. DE Jack Sawyer
9. OG Bryce Foster
Farrell's Take: Foster is a powerful interior lineman who rag dolls opponents and dominates in the run game. His pass set is excellent as well.
*****
10. OT Tommy Brockermeyer
11. WR Emeka Egbuka
Farrell's Take: Egbuka sets up opponents well and is an excellent route runner with good size and exceptional hands.
*****
12. WR Mario Williams
13. QB Sam Huard
14. DE Tunmise Adeleye
Farrell's Take: Adeleye rarely gets knocked off balance and plays with excellent leverage. He excels is working off of contact.
*****
15. OT Tristan Leigh
Farrell's Take: Leigh has a great frame to fill out as an offensive tackle and his ability to reset and adjust on the fly is rare.
*****
16. OG Donovan Jackson
17. QB Ty Thompson
18. DB James Williams
19. OT Blake Fisher
20. S Corey Collier