Rivals Rankings Week: Updated 2021 Rivals100 sees 4 new 5-stars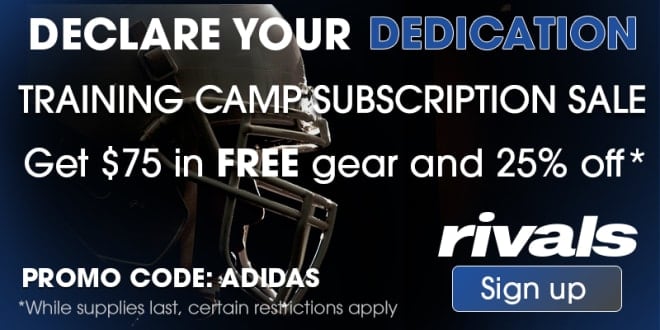 Let's start at the top as there is a new No. 1 for the class of 2021. California defensive end Korey Foreman replaces Georgia quarterback and Oklahoma commitment Brock Vandagriff as the No. 1 prospect in the Rivals100. This was an interesting debate and came down to a vote where Foreman just beat out Vandagriff based on summer performances. Foreman was simply dominant at The Opening while Vandagriff struggled at times at the Rivals100 Five-Star Challenge presented by adidas. Rivals.com National Analyst Adam Gorney had this to say about Foreman.

"Foreman was in striking distance of the No. 1 spot in the initial release of the 2021 rankings and after a dominant performance at The Opening this summer and after seeing others in that range, it became pretty clear that Foreman deserved a bump to the top spot.

"One person at that event told me Foreman was the best player there regardless of class and that's a big statement. I have seen Foreman numerous times and last season on the same defensive line as USC freshman Drake Jackson, Foreman was unstoppable. He has a great motor, he's big and physical and he's also fast and relentless. There is so much to like about him and that's why we felt he deserved the move up. USC, Clemson, Alabama, Georgia and many others remain in the mix."
As for Vandagriff, there was never really any discussion about moving him very far down the list. While he threw a few bad picks and struggled at times in Atlanta, he's a big quarterback with an elite arm and excellent touch and he should put up monster numbers at Oklahoma.
Big athlete J.T. Tuimoloau checks in at No. 3 followed by Ohio State defensive end commitment Jack Sawyer and new five-star offensive tackle Tommy Brockermeyer to round out the top five. Tuimoloau can play any position along the defensive line while Sawyer is one of the most technically sound young defensive ends you'll find.
There are now 11 five-stars in the class of 2021 as this class seems a little less top-heavy for talent than the 2020 class. However, it's still very early and there are positions like quarterback and offensive line that appear to be very strong.
Here's a breakdown of each of the new five stars.
OT TOMMY BROCKERMEYER
"Brockermeyer is your prototypical left tackle. He's built long and lean with excellent feet and a long reach. He's quick off the ball, has fantastic bend and he loves to initiate contact. Brockermeyer is a finisher; he drives defenders and paves huge holes in the running lane and he plays with a nastiness that he brings to pass pro as well. More often than not, Brockermeyer is putting his competition into the turf. He's a Texas legacy but Alabama, Georgia, Clemson, Notre Dame and Michigan are all in contact." - Rivals.com Mid South Recruiting Analyst Sam Spiegelman
OT AMARIUS MIMS
"There is a lot to like about Mims. After seeing him live four times over the spring and summer, and seeing the growth and development of his game at offensive tackle, naming him a five-star was not too difficult.

"He is such an athletic linemen who has added around 40 pounds over the last six to eight months. He has great feet, he is a natural bender, he is long and he still has so much room to grow. He reacts well to quick defensive ends, he has shown the ability to dominate as a run blocker and he is only going to get better.

"He started high school as a defensive end and tight end, dreaming of playing basketball, but now has settled in at offensive tackle, where he looks like one of the best in America. It is easy to see why Alabama, Florida, Georgia, LSU and many others covet Mims." – Rivals.com Southeast Recruiting Analyst Chad Simmons
DB JAMES WILLIAMS
"Williams is one of the more physically impressive players in the country and looks more like a linebacker than a safety. That said, he retains enough athleticism to play in the secondary, where his impressive length helps him close in a hurry. Safeties that have Williams' build don't come around very often, which gives him a chance to be a rare prospect. Georgia, Miami, Alabama, Clemson and others are all in the mix." – Rivals.com Florida Recruiting Analyst Rob Cassidy
OG BRYCE FOSTER
"Foster, affectionately nicknamed 'The Mountain,' is a powerful guard with elite strength, good quickness and can move and bulldoze opposing defensive linemen. He has freakish strength and he's a shot put star. He loves to finish off his blocks and when he can get his hands in a good position and he easily disposes of defenders in his path. For his size, Foster is quick to engage defenders and he's steadily improving in pass protection.

"He has a ton of ties to Texas A&M, but LSU and Stanford are other teams to keep an eye on. So is Texas, which recently landed a commitment from his high school teammate Hayden Conner." – Rivals.com Mid South Recruiting Analyst Sam Spiegelman