Rivals Rankings Week: Four new five-stars added to 2022 class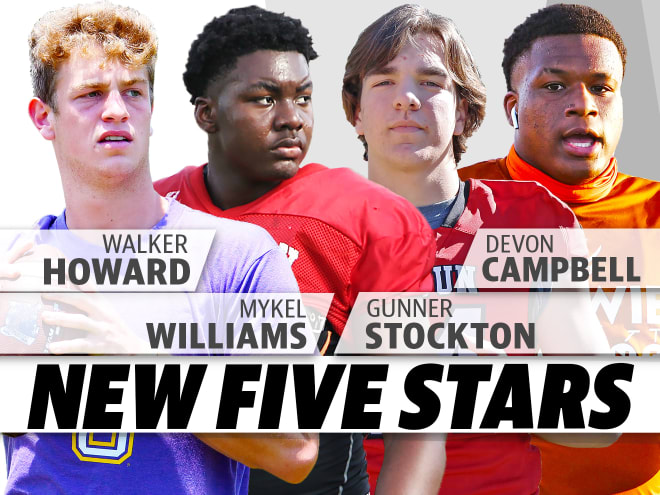 The latest Rivals250 for the class of 2022 has been released and with it comes four new five-star prospects and changes up and down the rankings. Here's a breakdown of the big moves and an in-depth look at the newest members of the five-star fraternity.
This release is based on some limited 2022 evaluation opportunities in December and January and especially based on new film from the 2020 football season. What's odd is that we don't have the NBC Game Combine and the Future 50 to work off of this year because of the cancellation of the Under Armour Game and NBC All-American Game. However, we've still seen more than enough to make some changes.
Ohio State quarterback commitment Quinn Ewers remains No. 1 in the country and his spot at the top of the rankings wasn't debated that heavily. USC defensive back commit Domani Jackson stayed at No. 2 while defensive tackle Walter Nolen from Tennessee moved up to No. 3. Georgia defensive tackle commit Keithian Alexander makes a move up to No. 4 setting up a nice competition at the position down the line with Nolen. Cornerback Denver Harris slid a couple slots to round out the top five.
Nos. 6-10 all stayed the same as offensive tackle Julian Armella, receiver Luther Burden (Oklahoma), cornerback Jaheim Singletary (Ohio State), defensive tackle Travis Shaw and linebacker CJ Hicks (Ohio State) all remained the same.
Safety Jacoby Matthews moved up five spots to No. 11. Florida State athlete pledge Travis Hunter is next at No. 12, but he dominated this last weekend at the Pylon 7-on-7 and that eval will count toward the next round of rankings.
Quarterback Gunner Stockton is the highest-ranked new five-star as the Georgia commitment continues to improve. He is now classified as a dual-threat and moved up 15 spots overall to No. 15 in the country. Offensive tackle Devon Campbell, defensive end Mykel Williams (Georgia) and quarterback Walker Howard (LSU) round out the new five-stars. Here's a breakdown of each from our regional analysts.
QB GUNNER STOCKTON
"Stockton is another five-star quarterback to come out of Georgia. The Peach State is producing top quarterbacks on a regular basis right now, and Stockton can compete with the best of them. He is a smart quarterback with advanced technique, and a big-time arm. There is not a throw he cannot make. The Georgia commit has a compact release, good mobility and he can throw with touch and velocity." — Chad Simmons, Rivals.com Southeast Recruiting Analyst
*****
OT DEVON CAMPBELL
"Campbell is one of the most naturally gifted offensive line prospects in the nation. He could easily slide in as the nation's top guard, but the new five-star is quickly developing in pass protection. At 6-foot-6 and a shade over 300 pounds, Campbell is a mauler in space, a finisher and can reach multiple layers of a defense. He also sees spot duty inside at defensive tackle, where his raw athleticism and power is evident. Expect schools in the region like Texas, Oklahoma and LSU to continue to battle over this elite lineman." — Sam Spiegelman, Rivals.com South Central Recruiting Analyst
*****
DE MYKEL WILLIAMS
"Williams is a big athlete that plays defensive end. He is athletic enough to stand up at linebacker, and that is rare at his size. Most schools double-teamed him, ran away from him, or rolled their quarterback to the opposite side, but he still had 19 sacks in 2020. He can play strong against the run or use his speed and flexibility to get after the quarterback. At his size, his skill-set and ability is not normal. A commitment is on the horizon March 15, and it looks to be down to Alabama, Clemson, Georgia and USC for the new five-star." — Chad Simmons, Rivals.com Southeast Recruiting Analyst
*****
QB WALKER HOWARD
"Howard had a spectacular debut season for St. Thomas More, capping a perfect regular season with a Division II state championship, and in the process, knocking off some of the best teams in-state. Howard was brilliant throughout the year with an impressive 35:4 touchdown to interception ratio while passing for more than 3,000 yards and completing better than 66-percent of his throws. He has a scorching release and outstanding arm talent to put the ball anywhere on the field. He's also adept at improving and making plays on the move. LSU secured an early commitment from Howard, who is helping to build an impressive 2022 class for the Tigers." — Sam Spiegelman, Rivals.com South Central Recruiting Analyst