Rivals Rankings Week: Breaking down the top prospects at each position
The new Rivals250 for the 2025 class has now been released so Rivals national recruiting director Adam Gorney offers his thoughts and takes a more in-depth look at each position:
QUARTERBACK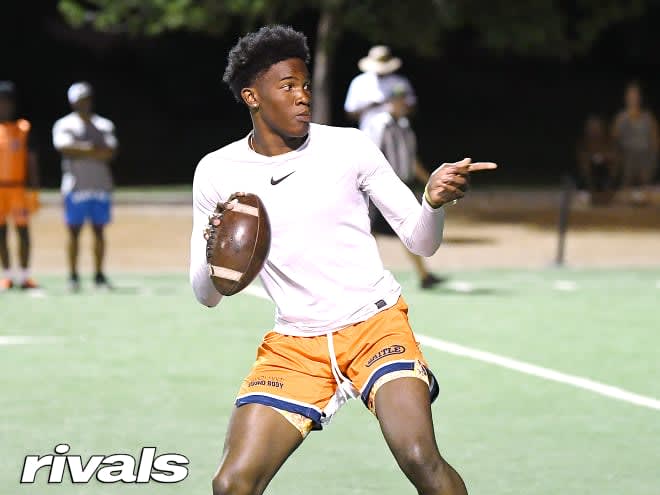 Bryce Underwood is talented enough to make a case for No. 1 overall but there is also potential for a lot of movement and changes at the quarterback position in the coming years because Texas commit KJ Lacey plays a little like Bryce Young at the same stage and George MacIntyre has all the physical tools to be elite.
The dual-threat quarterbacks should also not go overlooked because lefty Deuce Knight from Lucedale (Miss.) George County is phenomenally smooth and throws such a nice ball and then California quarterbacks Husan Longstreet and Madden Iamaleava get better every time they're on the field.
*****  
RUNNING BACK
There are no five-star running backs yet in the 2025 class but there are definitely some names worth watching as there's a decent chance at least one five-star – if not more – could be among this group.
Santa Ana (Calif.) Mater Dei's Jordon Davison keeps the top spot after coming off a tremendous sophomore year and then looked great again at the Rivals Camp Series in Los Angeles.
But there is a lot of depth at the position in Harlem Berry, Alvin Henderson, Gideon Davidson, Deondrae Riden, Ousmane Kromah and don't forget Alabama commit Anthony Rogers, who might be the best of the best when it's all said and done.
*****  
WIDE RECEIVER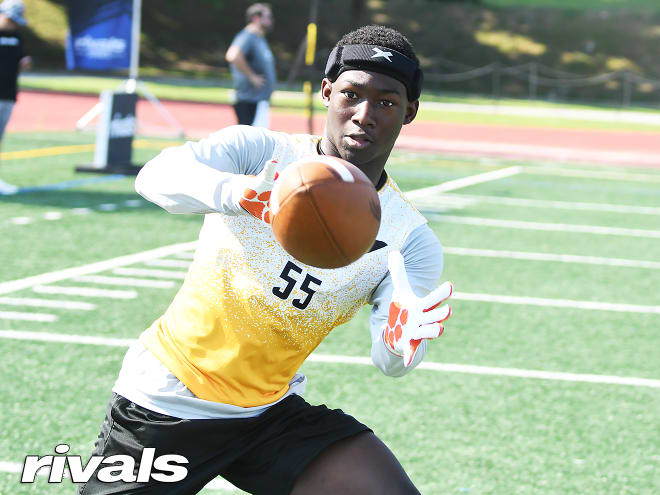 This could be one of the best receiver classes in recent memory as the top three are already five-stars and all of them are elite playmakers with tons of ability.
The order at this time is Alabama commit Ryan Williams, Colorado pledge Winston Watkins Jr. and then Duncanville, Texas, standout Dakorien Moore. But Moore has been fantastic at the OT7 Nationals and the Future 50, and could possibly move even higher up the rankings. Beyond the five-stars, there are many other elite players.
Caleb Cunningham has phenomenal tape but hasn't done a lot of national events yet, Jaime Ffrench has had back-to-back outstanding performances just like Moore and then Talyn Taylor, Andrew Marsh, Marcus Harris and so many others are top-notch prospects. Oregon pledge Dallas Wilson from Tampa (Fla.) Tampa Bay Tech could keep moving up the list quickly as well.
*****  
TIGHT END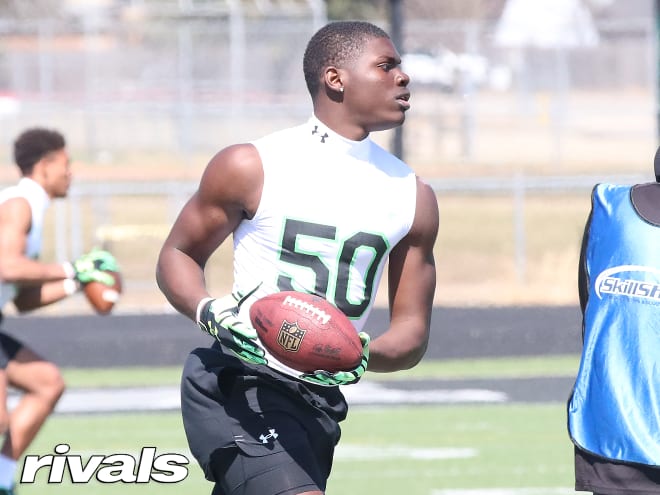 The 2024 tight end class has impressive depth and we haven't identified that yet in 2025 but there are definitely some early standouts. Los Alamitos, Calif., standout Davon Mitchell (by way of Allen, Texas) is one of the most physically-impressive tight ends in some time. For someone so muscular, Mitchell moves well as Oklahoma leads Miami, Alabama and others for him.
Georgia commit Elyiss Williams is an interesting – and long – prospect who could play all over the field and on both sides of the ball. New Notre Dame commit Nate Roberts is third at the position but hasn't done many national events yet so he could have higher upside as well. Kiotti Armstrong from Jasper, Texas, is definitely one who could shoot up the position rankings.
*****  
OFFENSIVE LINE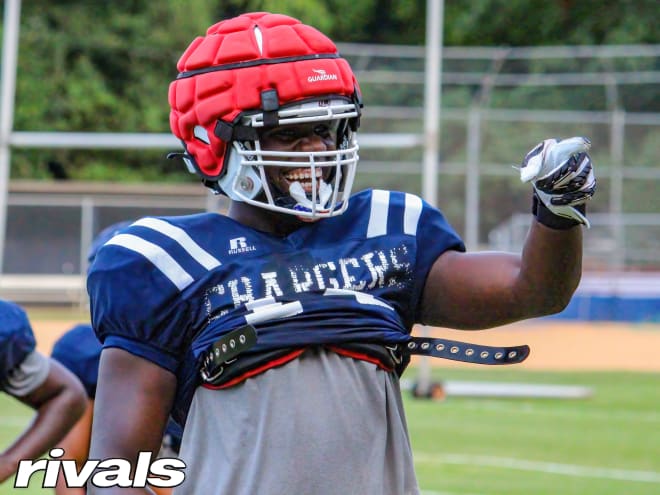 David Sanders Jr. and Douglas Utu are different body types at offensive tackle but both have been dominant at every event for years and so they lead the way heading into the late summer. But many others will be pushing.
Georgia commit Micah Debose has trimmed up his body and looked great the Future 50 among other events. Texas linemen Lamont Rogers and Michael Fasusi have stood out. And Alabama commit Mason Short and Owen Strebig from Waukesha (Wis.) Catholic Memorial are two who could keep moving up.
There is going to be lots of movement at offensive guard as we're not settled – at all – on the top prospect. Las Vegas Bishop Gorman's SJ Alofaituli really made a statement with a strong performance at Future 50. Jacksonville (Fla.) Raines' Solomon Thomas might have the top spot locked down but after that it's anyone's ball game.
*****  
DEFENSIVE LINE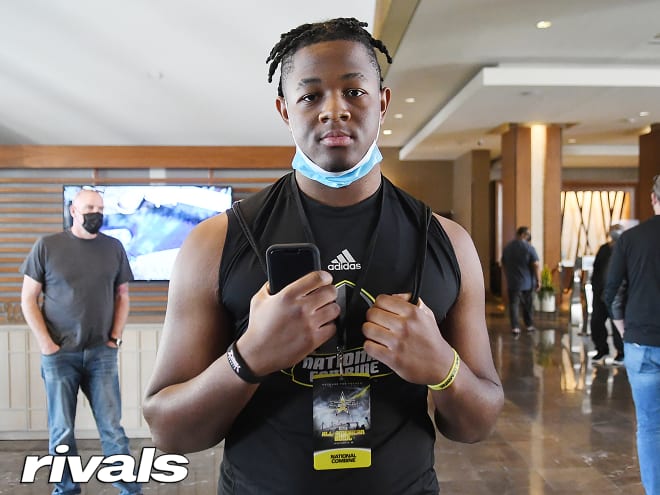 Two of the best players in the 2025 class – including current No. 1 Elijah Griffin – lead the way at strongside defensive end along with Miami (Fla.) Miami Central's Armondo Blount. But it does not end there because right behind those two is Iose Epenesa, A.J.'s brother, and an elite force off the edge who plays with a lot of motor.
At weakside defensive end, there is lots of talent at the top but still a lot of opportunities for players to grab that top spot. Zion Grady and Zahir Mathis are the top two right now but Jared Smith is a multi-sport athlete and then after those three there could be a lot of movement among the top players.
Defensive tackle is another position that's unsettled right now. D.J. Sanders and Brandon Brown could definitely push Andrew Maddox, the current No. 1 at the position, for that top spot. There is a good chance others could move into that top group as well.
*****  
LINEBACKER
There are a bunch of productive and elite outside linebackers in the class; now figuring out the order is most important. We have it as Zayden Walker, Nasir Wyatt, Madden Faraimo and Jadon Perlotte as the top four but that could switch as we go. Nashville (Tenn.) Lipscomb Academy's CJ Jimcoily is someone who could continue to climb the charts.
At inside linebacker, Nathaniel Owusu-Boateng has a lock on the top spot right now and it could be tough to take him out. Dallas (Texas) South Oak Cliff's Kelvion Riggins is one to watch as he's built like a sculpture.
*****  
DEFENSIVE BACK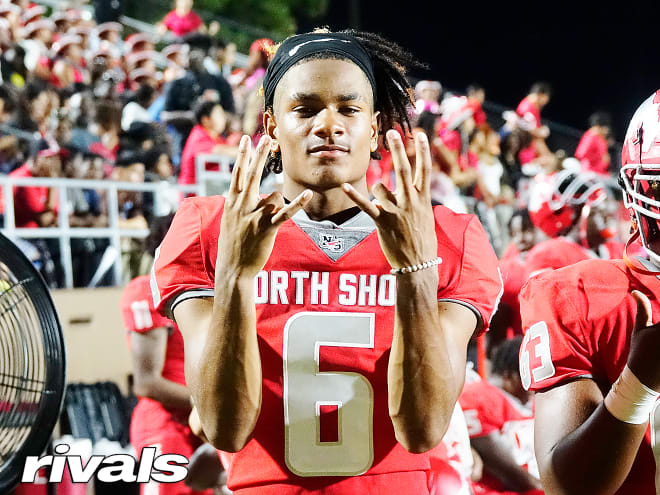 Five-star Devin Sanchez is the best cornerback in the 2025 class and he proved it once again at OT7 Nationals where the 6-foot-3 prospect has exceptional length and ball skills. But this is a cornerback group filled with length and talent – and it could already be better than the 2024 cornerback group.
Chris Ewald, Na'eem Offord, Tarrion Grant and Dijon Lee Jr. are just some of the other cornerbacks who have made a great impression. Baltimore (Md.) St. Frances' Kevyn Humes is someone who could surge up the rankings.
Safety is also loaded. DJ Pickett is a new five-star but Faheem Delane and Jonah Williams have that level of ability and Hylton Stubbs was another standout from OT7 Nationals who has great length.
*****
ATHLETE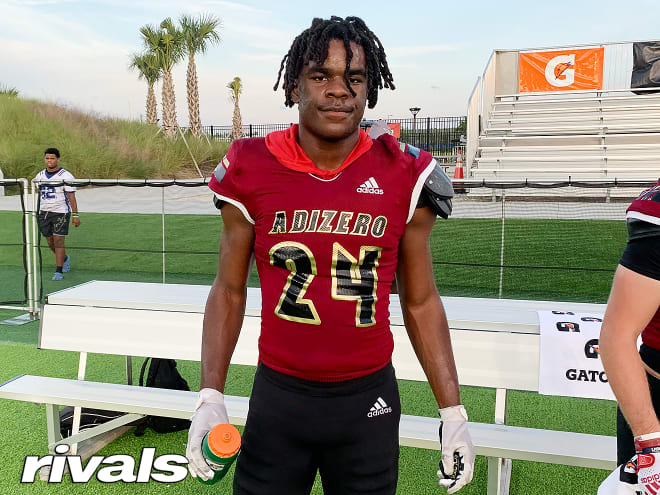 After Cameron Sparks as the top athlete – he is elite at both receiver and safety – there are a lot of possibilities on how things could shake out here. Mission Hills (Calif.) Alemany's Phillip Bell has had a nice offseason, especially at receiver, but Jaylan Morgan from Rockvale, Tenn., and many others could shake up the position rankings here.