Rivals.com Five-Star Club: Five we missed on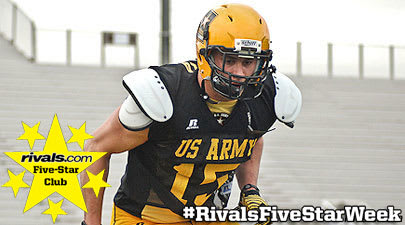 Not every five-star is created equal. In fact, some of them near the back end of the list each year are debated considerably and can make us at Rivals.com look like geniuses or fools. Today we look at five former five-stars that we rolled the dice and took a chance on where many others didn't … and it didn't work out so well.

RELATED: Top five-star QBs | Five-stars gambles we hit on | Rivals.com Five-Star Club

Lyerla was our last five-star in a talented class. He was the No. 2 athlete behind De'Anthony Thomas and joined Thomas as a big commit to the Ducks. But with Lyerla, it was never about talent when it came to the constant debate about his five-star status, it was all about off-field issues. We try to avoid including off-field issues as a part of our evaluation, but with Lyerla, it couldn't be avoided. There were rampant rumors of addiction issues with the super-talented prospect who could play defensive end, linebacker, tight end or pretty much any position he wanted. Those addiction issues surfaced again in 2013 when he pleaded guilty to the unlawful possession of cocaine, in 2014 when he was arrested for a DUI and just recently in August of 2016 for possession of heroin.

One of the most amazing athletes we've ever seen at Rivals.com, we bumped him to a five-star in our last cycle after an amazing senior year and a great performance at the U.S. Army Bowl, but it was hotly debated and clearly he never reached anything close to his potential.
Love was a very talented offensive tackle and was our final five-star at No. 30 overall. He was the eighth tackle in that top 30 and there was much debate as to whether Love was physical or dominant enough to stay in the elite club. In what was a breakthrough class of sorts for Nick Saban, Love didn't make an impact despite a strong finish to his high school career with a very good week at the Under Armour All-America Game. Love appeared in 13 games at Alabama, all in a reserve role, and passed on returning for a fifth year. We certainly weren't alone in having Love as a five-star, but that doesn't diminish the debate. We took a chance on him and felt he was special enough to join a crowded group at his position and he fell well short.
Size was the main issue with Bell and something we discussed a lot. Bell checked in at No. 33 in 2009 and like Lyerla and Love, he was our final five-star. Bell was thick and filled out, but he was six-feet tall at best and not very long.

Built more like a fullback than an elite linebacker, he was still so effective moving sideline to sideline and so physical we felt he would be that inside linebacker in college who became the next Zach Thomas, who was all the rage in 2009 as a 5-foot-11 star for the Dolphins. Our bad.

Like Lyerla however, this was more about off-field issues for Bell, who had team violations like crazy as well as a few injuries. He transferred to Duquesne and was a standout there, but his big-time career at Ohio State never happened. Unlike Lyerla, we had zero knowledge of off-field issues for Bell during that rankings cycle.

Bellamy was fast, dynamic and could catch the ball as well out of the backfield. He was a human highlight reel during his high school career, but there was one thing that worried us and made him a five-star debate: he always seemed to bounce things outside and he relied upon his speed too much. So what right? If he's faster than everyone else, that's what he should do. Well, with Bellamy it honestly became an issue about whether he wanted to be hit at all.

He slid from No. 14 down to No. 25 during our last evaluation cycle back in 2011 putting him just ahead of Lyerla and he never panned out. Bellamy was suspended twice during his freshman season, during which he gained 343 yards, then was ruled academically ineligible over the summer and never returned to Clemson. He attended three junior colleges and briefly played in the CFL.
It turned out to be academics more than anything else that derailed his career at Clemson, but I don't think he would have shown the toughness to last anyhow in hindsight.

Aldridge was a guy who had a dominant junior season but regressed a bit as a senior and never added the speed we were hoping for as a 215-pound back. He was hotly debated down the stretch when it came to five-star status, especially after an average week at the U.S. Army Bowl, where he was overshadowed a bit by guys like Beanie Wells. But we kept him as the No. 27 player in the country in 2006 and one of our last five-stars, hoping he would take the next step in college. An early injury set him back and he never found his groove at Notre Dame, gaining 979 yards over four seasons. More explosive backs like Armando Allen and Jonas Gray took over and prompted Aldridge to be moved to fullback as a senior, where he had just six carries.