Rivals.com Five-Star Club: Best five-star defensive linemen
In recent years, defensive linemen have become more prominent as highly-ranked players in the Rivals100, but in past classes the position group as a whole featured quality over quantity. During the high school careers of the best of the best, these players were forces of nature more than simply defensive ends or tackles. Here is a look at the defensive linemen in the Rivals era that went on to successful careers in college and beyond.
RELATED: Top five-star OL| Rivals.com Five-Star Club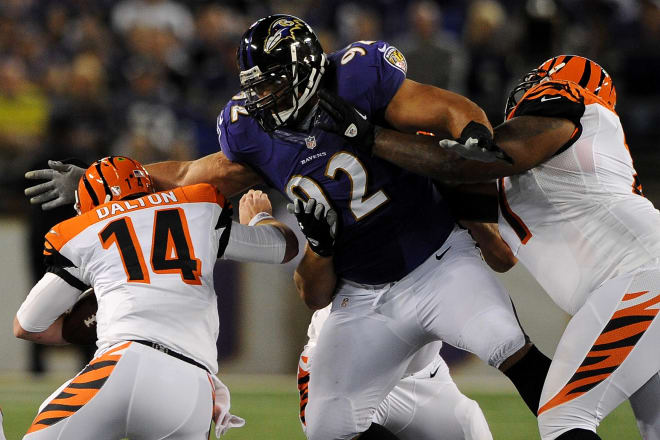 Why he's No. 1: One of the first five-star players in Rivals history, Ngata has gone on to have a very long and prosperous career in football. In his 11-year career in the NFL, he was a staple for Baltimore Ravens defenses that developed a reputation as the most fierce in the league during his best years. His athleticism for his tremendous size has very rarely been replicated, and he had 40-plus solo tackles in three of his first five seasons as a pro. Despite tearing an ACL in his first college season in 2003, he rebounded to finish his college career with 117 total tackles in his next two seasons and was drafted 12th overall by the Ravens in 2006.
When we met him: As part of the inaugural class of players to receive rankings and be placed in order, Ngata finished as the second-best player in the country behind Vince Young. Coming out of Salt Lake City with a Mormon upbringing, Ngata was thought to be a likely BYU commitment, but after strong seasons in 2000 and 2001 Oregon had the look of a team on the rise, and he chose to be a part of that. Like all of the other names on this list, his athleticism transcended his position, and he was a star rugby player as well in his high school days.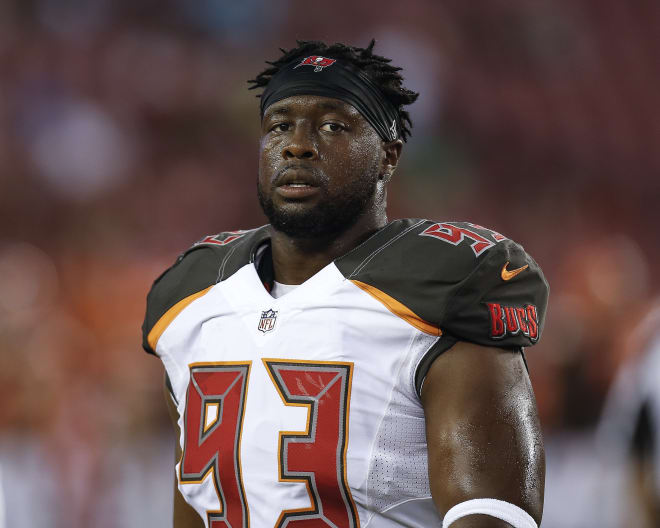 Why he's No. 2: For all of the talk of how dominant a defensive tackle Ndamukong Suh was coming out of college, there was legitimate conversation that McCoy was interchangeable with him as the top defensive line prospect in the 2010 NFL Draft. Both finished as consensus All-Americans in 2009, and though Suh's brutality and physical abilities were his calling card, McCoy was the technically sound option who did the little things to achieve his success at Oklahoma. He's continued through his NFL career as he started it, and was rewarded in 2014 with a seven-year contract extension worth $98 million by the Tampa Bay Buccaneers.
When we met him: McCoy took some visits to the East Coast and had a look at USC, but he was never going to leave his home state in Oklahoma. McCoy finished as the fourth-ranked player in the country and was an eye-popper with incredible speed and quickness off the snap. For all the talk about his sound technical play by the end of his college career, his raw physical potential set him apart as a high school prospect and set him up as an eventual total-package prospect.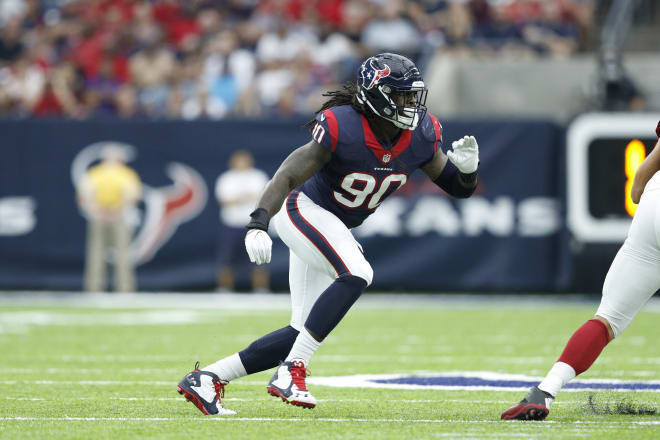 Why he's No. 3: By the end of Clowney's college career at South Carolina, he was the clear No. 1 choice for the 2014 NFL Draft. His rookie season was derailed by injury and he eventually was forced to have microfracture surgery in December of that year. He has yet to achieve the level of dominance he showed in college, but already has two sacks through four games this season for the Houston Texans. With J.J. Watt now done for the rest of the season, Clowney will be looked to become the premier pass rusher everyone's waited on.
When we met him: Clowney was far and away the most dominant high school player in more-than-recent memory and carried that on into his career as a Gamecock. Unblockable off the line and a devastating hitter, he had the size, speed and athleticism to play anywhere in the front seven and turn the game on its head.

Why he's No. 4: Dunlap was a stalwart force during Florida's most recent glory years. He was selected in the second round of the 2010 NFL Draft by the Cincinnati Bengals after stacking 18.5 sacks during his sophomore and junior seasons. He exploded onto the scene as a rookie, with 9.5 sacks in his first season as a pro and has continued to be a steady force in a Marvin Lewis-led defense. Clearly a capable pass rusher, Dunlap has always been a massive defensive end with the ability to collapse one side of an offensive line.
When we met him: Dunlap finished just ahead of Everson Griffen in the 2007 rankings and very nearly could have teamed with him on a Florida team that won a national championship in 2008. In high school, he was a flat-out athletic freak who dropped back into coverage and returned kicks as easily as he terrorized quarterbacks with his pass-rushing.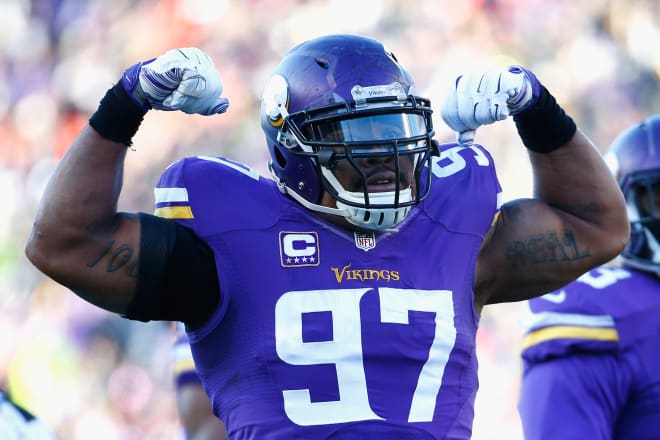 Why he's No. 5: Griffen might not be an obvious choice as an all-timer defensive line prospect, but he's quietly turned a solid career at USC into a successful NFL career. After breaking through for 5.5 sacks as a true freshman and eight more in his junior season, he was drafted in the fourth round of the NFL Draft by the Minnesota Vikings in 2009. Griffen brought an intriguing combination of size and speed to combine with a motor that made pro scouts' mouths water and had a breakout season in 2014, with 12 sacks.
When we met him: Griffen collected a tidy but impressive offer list and he flirted with heading out east to Florida or north to Michigan, but his heart was out west and he opted to stay relatively close to home. Despite his huge frame, his effectiveness was always in his squirreliness off the edge and that signature motor was even more prevalent.