Rivals.com August Rivals100 team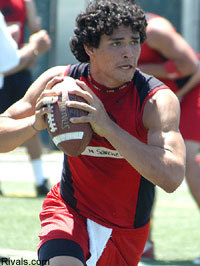 Picking the top 100 prospects in the nation is a lot like picking which sports car you'd like sitting in your driveway.
It's those types of options that made the
August edition of the Rivals100
for the class of 2005 extremely difficult to select, but in the end only the best of the best were selected.
And remaining at the top again is Williams, the amazing athlete from Eleanor Roosevelt in Greenbelt, Md. The 6-foot, 189-pound athlete seems to have more offers than there are Division I schools, but the front-runners to land a commitment from him appear to be Florida, Florida State, Maryland, Oklahoma, Penn State, Tennessee, Texas and Virginia.
"He's special," Roosevelt coach Rick Houchens said. "I've coached a lot of great football players over the years, but Derrick Williams is the best of them."
There had been talk that Powe, the Waynesboro (Miss.) Wayne County defensive tackle, was the top player in the state two years ago as a sophomore. After Rivals100.com evaluated him in person and received some junior film on the 6-3, 322-pounder it became clear that the talk might be right.
Powe moves up to the No. 2 spot in the national ranking, and with a top list of Auburn, Alabama, LSU, Ole Miss, Mississippi State, Nebraska, Tennessee and West Virginia, it should be an interesting battle to see who lands the five-star selection.
"A lot of people say I'm good because of my speed," Powe said. "I have great feet, they all say. I also just keep going and going until the whistle blows."
Moving up to the No. 3 spot and the No. 1 offensive tackle position is Monroe of Plainfield, N.J. In what is arguably the most loaded position of the year, Monroe emerged this spring and summer as the nation's best offensive tackle.
At 6-foot-6 and 319 pounds, you're not going to find a more dominating tackle in the land. But his 3.8 grade-point average and 1070 score on the SAT, despite several challenges at home that would cause many others to fail, makes him truly special.
Monroe committed early to Virginia, picking it over offers from Boston College, Florida State, Maryland, Miami, Michigan, Nebraska, Oklahoma, Rutgers and many more.
Florida's top two players round out the top five of the Rivals100 with Miami Carol City safety
Kenneth Phillips
at No. 4 and Tallahassee receiver
Fred Rouse
at No. 5. Phillips lists Florida, Florida State, LSU, Miami and N.C. State as his top teams. Rouse has Florida, Florida State, LSU, Miami, Michigan, Ohio State, USC and Texas.
There is also a new top quarterback and top running back sitting atop the national rankings.
After shredding the EA SPORTS Elite 11,
Mark Sanchez
of Mission Viejo, Calif., claims the top quarterback spot just ahead of Texas bound dual-threat quarterback
Ryan Perrilloux
. Sanchez is ranked as the nation's No. 11 player and Perriolloux comes in at No. 12.
The top player in California is also now the nation's top running back.
Marlon Lucky
moves up to the No. 10 spot in the nation and the No. 1 running back. He is just ahead of fellow blue-chip running back
Maurice Wells
, who comes in at No. 14 on the list.
There is also a newcomer to the five-star rankings – Lacey (Wash.) Timberline running back
Jonathan Stewart
. The 5-foot-10, 220-pounder moves into the No. 24 spot in the nation and bumps up from a high four-star.
Previous five-star prospects that moved down to four stars include offensive linemen
Matt Hardrick
and
Michael Oher
and
Brian Cushing
. All three that moved down from five stars do remain ranked in the national top 50, however.
There were several new additions to the list, and some of the notable additions include Oklahoma defensive tackle commitment
Roy Miller
at No. 71, Georgia linebacker commitment
Marcus Washington
at No. 77, LSU safety commitment
Chris Keys
at No. 82 and West Virginia running back pledge
Jason Gwaltney
at No. 91.