Rivals Camp Series: Top five defensive linemen of 2019 tour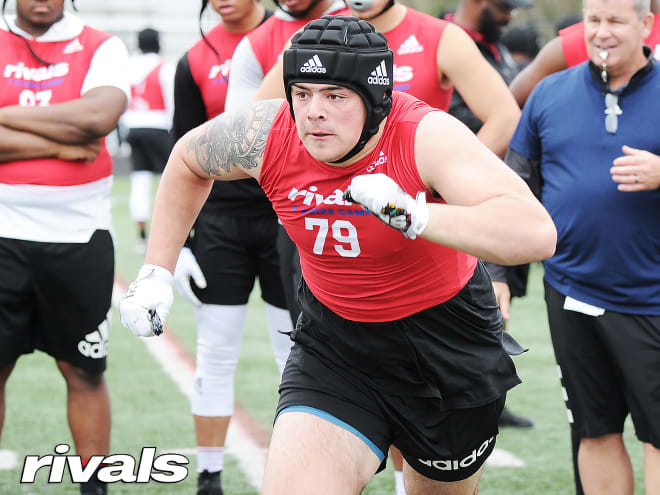 The regional schedule of the Rivals 3 Stripe Camp presented by adidas has now completed after 12 stops from California to Florida to New Jersey, and many cities in between. Today, we continue our look back at the top performances, position-by-position, with an examination of the top defensive linemen.

MORE RCS STANDOUTS: Top quarterbacks | Running backs | WRs | OL
1. BRYAN BRESEE 
Bresee was the headliner of the Washington D.C., camp and lived up to that billing. His combination of strength, quickness and various pass-rushing techniques made it extremely hard for offensive linemen to slow him down. Bresee used an inside spin move on a number of occasions and always seemed to have a way of knocking the offensive lineman's hands off of him. He did have some great battles with offensive lineman Aaryn Parks, but it was pretty clear that he was the best defensive lineman in attendance and earned his invitation to the Rivals100 Five-Star Challenge presented by adidas.
  2. Donell Harris  
Harris continues to develop from young phenom to full-on recruiting star, turning in an eye-popping performance in Miami from start to finish. The class of 2021 Miami commit, who some might confuse for a tight end based on his height and length and long frame, showed a nice array of pass-rushing moves during one-on-ones. In drill work, he moves like a skill position player. Given his upside, it's easy to see why he not only won the MVP but earned an invitation to the Five-Star Challenge.
3. Myles Murphy  
Murphy was again very impressive and almost unstoppable in Atlanta. He had some good match-ups with Javion Cohen, but other than a couple of reps when Cohen held his own, Murphy was dominant. Not many are built like him and can move and bend the way he does coming off the ball. He was one of the select underclassmen to attend the
Five-Star Challenge last year and he will be back for a second time this summer. The Clemson commit has cemented himself as one of the top prospects in the 2020 class.
4. Demonte Capehart
A year after coming into the Charlotte camp with zero offers and winning the defensive line MVP award, Capehart came back and pulled off a repeat performance. Now committed to defending national champion Clemson, Capehart made easy work of most of his opponents during one-on-ones, showing good strength and quickness. Capehart played both inside and outside, showing the versatility that will help him get on the field early for the Tigers. Capehart also earned a return trip to the Five-Star Challenge
for his efforts.
5. Jaquelin Roy  
Roy showed up to New Orleans about 15 or 20 pounds lighter than his playing weight, and it showed. The Rivals250 tackle pressured the quarterback more like a defensive end -- with technique and speed to get past slower offensive guards and centers. Roy's initial burst is a problem for opposing linemen, and his lower weight aided his quickness. He still has room to tack on some more muscle and add some more brute force to his arsenal moving forward. LSU, Texas A&M and several others are in the mix for Roy.
*****
Honorable mention (camp attended): Tunmise Adelele - Houston, Vernon Broughton - Houston, Jacolbe Cowan - Charlotte, Gervon Dexter - Tampa, Fadil Diggs - New Jersey, Darrion Henry - Cincinnati, Alex Huntley - Charlotte, McKinnley Jackson - New Orleans, Tim Keenan - Atlanta, Corbet Mims - New Orleans, BJ Ojulari - Atlanta, Octavious Oxendine - Cincinnati, Chantz Williams - Tampa