Rivals Camp Series D.C.: Thoughts from the sideline
ADAM FRIEDMAN, Mid-Atlantic Recruiting Analyst
It was a great turn out for the camp yesterday and most of the regions top players were in attendance. Five-star Bryan Bresee and five-star with Rakim Jarrett were are the headliners but the deep offensive line group stole the show. Rivals100 offensive lineman Aaryn Parks, Rivals250 prospects Anton Harrison and Ole Fashanu along with Penn State commit Golden Achumba were some of the best. Fellow 2020 prospects like Penn State commit Reuben Adams, Virginia commit Jestus Johnson, Wake Forest commit Luke Petitbon, Dwayne Allick and Vershon Lee all had a really good showing on Sunday. Underclassman Landon Tengwall is already a fairly well-known prospect and he performed like a veteran. Remember the names Trevyon Green and Desaun Williams. Green, a 2021 prospect, is just under 6-foot-7, and over 380-pounds and Williams, a freshman, is 6-foot-2 and just under 300-pounds. Both go to Chester (Va.) Life Christian Academy and both have the potential to be heavily recruited down the road.
Jarrett had a fantastic day and lived up to his five-star billing but receiver KeAndre Lambert was right on his heels for MVP. Both receivers did a great job in the red zone and had no problems playing physically with defensive backs. Leaping catches were not a problem for either receiver and they know how to use their body to shield defenders from the ball.
Maryland was conspicuously absent from the conversations when prospects talked recruiting. When asked, some players said that they love the coaching staff and really like the players there but they want to see results and progress on and off the field. A few prospects even said that if Maryland makes a bowl game this year the Terps would be very serious contenders for them. As new head coach Mike Locksley gets the Terps back on the right track expect more and more of the talented local prospects to more seriously consider Maryland.
JOSH HELMHOLDT, Midwest Recruiting Analyst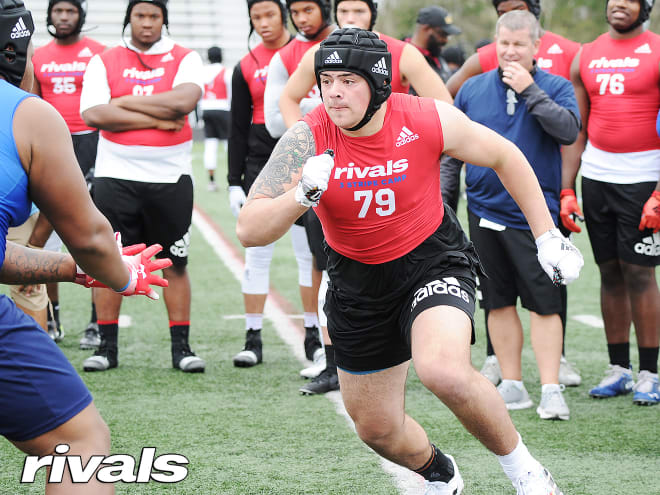 The East Coast Rivals Camps have featured some outstanding defensive linemen over the last half dozen years. In the past these have been my first introductions to players like Rashan Gary and Josh Sweat, who have gone onto college and NFL stardom. Was Sunday another of those East Coast camps to look back on in a few years and remember as my first introduction to a future great? The buzz on five-star Brian Bresee has been resonating for a couple years already, but this was my first chance to see Bresee live, and he did not disappoint. Although the reps for defensive linemen were few because of a large group in attendance, Bresee showed that rare combination of elite size and elite athleticism for the defensive end position. Now we will see if he delivers on that potential and reaches stardom at the higher levels.
One of the most interesting recruiting stories of the 2020 class came to light this weekend in the person of Kevin Kalonji. Without playing a snap of American Football, Kalonji has managed to rack up 14 scholarship offers from programs such as Florida, Oklahoma, Oregon and Tennessee. A native of the Congo, Kalonji came to the United States seven months ago. He was a flanker in Rugby for four years, but has never strapped up a football helmet in organized competition. After earning an invitation to Sunday's camp via the Rivals adizero Combine on Saturday, Kalonji accounted for himself well despite battling a back injury. There is obviously fundamental development that needs to happen before Kalonji can be an effective defensive linemen, but the size, athleticism and love of contact are there in spades.
How can we talk about sports on this Sunday without mentioning Tiger Woods' triumph at The Masters? I may or may not have had an earbud with Masters Radio playing while watching the Rivals Camp action at John Champe High School. The ability to transcend sport has been achieved by only a rare few, and the level to which Tiger Woods has ascended to has been reached only by the likes of a Muhammad Ali or a Babe Ruth. I am unabashedly a golf fan, and when he was at the top of the game I rooted against Tiger for the same reason many root against the New York Yankees or Alabama Crimson Tide – because we like upsets. In the last few years, though, my rooting interests have switched. Even though I made a friendly wager with fellow analyst Adam Friedman on the opposite side, I was rooting for a Woods win because the game is undoubtedly better when Tiger is in contention.
SAM SPIEGELMAN, TEXAS AND LOUISIANA RECRUITING ANALYST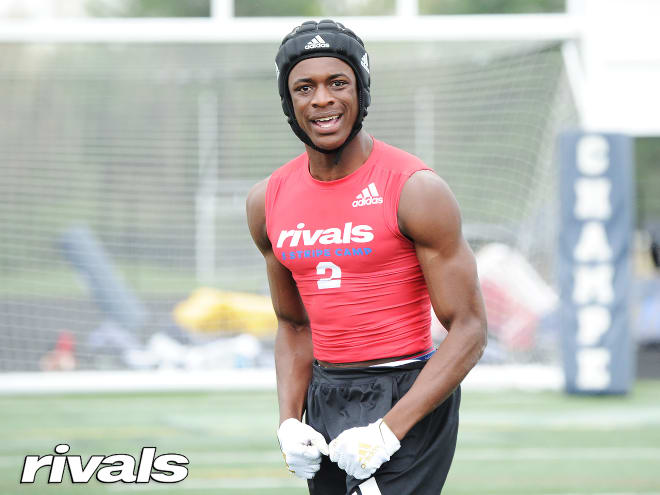 Tony Grimes is going to be a star. The 6-foot-1, 174-pound rising junior is going to be a surefire prospect in the Rivals100 for the 2021 class. Grimes was named the Defensive Back MVP of the camp and was my pick as the overall MVP. And yes, that's a camp that featured Bryan Bresee and Rakim Jarret for context. Grimes moves very well and is absurdly athletic, but what stood out the most is his 77-inch wingspan and 33-inch arms. He disrupts the passing lanes and can make incredible break-ups against receivers over the top and balls throw in the middle of the field. He's going to be in the conversation as the nation's top 2021 defensive back.
It's choppy in the DMV. As someone who grew up on the East Coast and has spent the past decade in the South, I've seen my fair share of physical altercations. I've never seen a camp with such hostility as I did in this past weekend. Offensive and defensive linemen were going at it, calling each other out for one-on-one showdowns and adding some extra jabs and smack talk after the whistle. New Penn State verbal Golden Achumba was eager to line up across from Bresee, though that match-up never materialized. The prospects in the DMV play with a gigantic chip on their shoulders and I'm eager to see how this translates to our Rivals100 Five-Star Challenge presented by adidas invitees when they face the top talent from the South, the Mid-West and the Left Coast in Atlanta this summer.
Bresee could be the best in the country. Bresee currently stands at No. 6 in the Rivals100 rankings, but there's a case to be made that he's the top prospect regardless of position in the entire country. He was a grown man that could do whatever he wanted on Sunday. Having seen three of the five players ranked ahead of Bresee, I may be a prisoner of the moment. D.J. Uiagalelei plays the most important position on the field and makes it look easy. Zachary Evans is the nation's top back -- unquestioned. Elias Ricks is a freak athlete that should impose fear in opposing wide receivers. But Breese should be in that discussion as well. He has incredible size and moves very well. He's as strong as he is agile with tremendous burst off the line of scrimmage. I could watch him in offensive-defensive line one-on-ones all day.