Rivals Camp Series Atlanta: Prospects that are now on the radar
ATLANTA – The Rivals Camp Series is always highlighted by the best players in a given region going toe-to-toe, but the event also provides an opportunity for under-the-radar prospects along with rising underclassmen to showcase their abilities.
Here's a look at some of those prospects from Sunday's camp in Atlanta.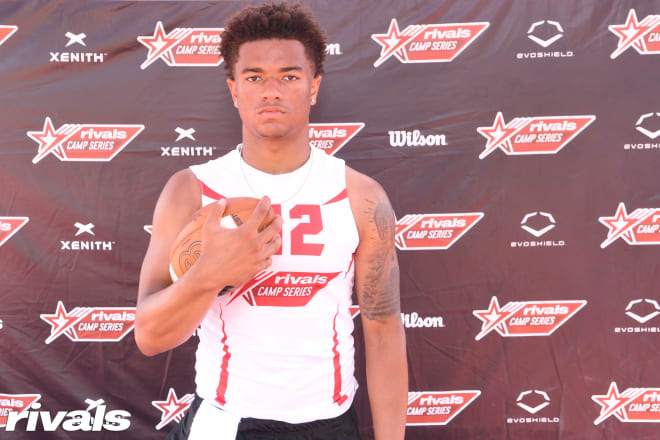 Woods was on point last season with Woodward Academy completing 69 percent of his passes and carried that onto the field Sunday, throwing darts all day long. The 2023 prospect showed off the arm and footwork during drills and the 1-on-1 session. Woods is that under the radar 2023 prospect holding offers from Tennessee Tech, Miami-Ohio and Toledo.
*****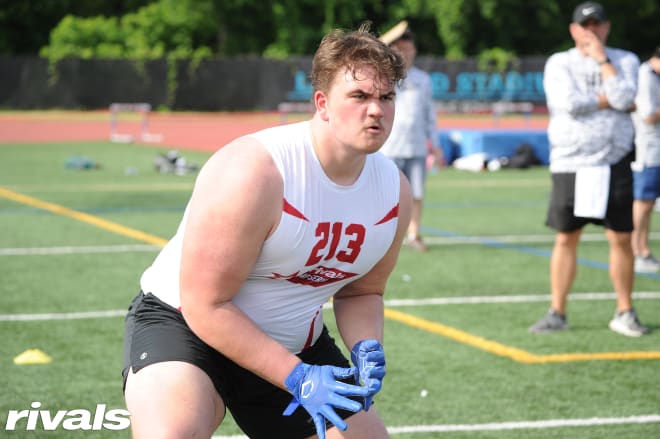 How college programs are missing out on Lange is a mystery. The Minnehaha Academy offensive tackle is a presence in person stretching the tape to 6-foot-9, while weighing 375 pounds. A player of that size and mass is typically slow-footed making it easy for weakside ends to scoot around, but Lange can move.
When defenders tried to come at him, that was an easy win for the Minnesota native. Some lucky program is going to pick up a cornerstone tackle.
*****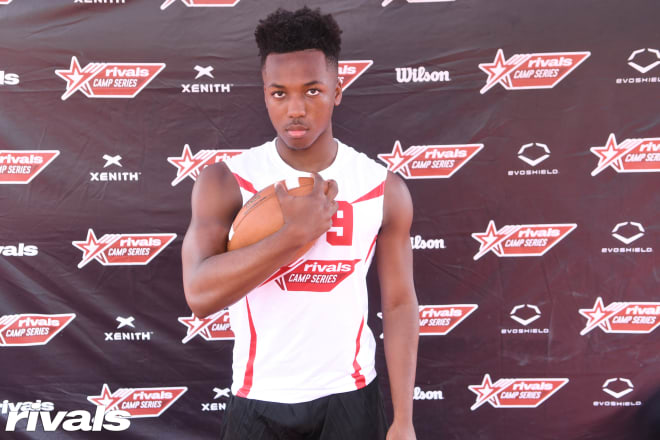 Jackson entered the Rivals Camp Series an unknown but left an impression with his blazing 4.47 laser timed speed. His routes were crisp and his hands were soft, shaking defenders left and right, creating open windows.
Playing Georgia A ball last fall for Mount Paran Christian, Jackson has not popped up on college boards. Not helping his case, the Eagles only attempted 128 passes in 11 games covering 703 yards.
Once Jackson hits the college camp circuit, this buzz will get louder. College coaches just need to see him.
*****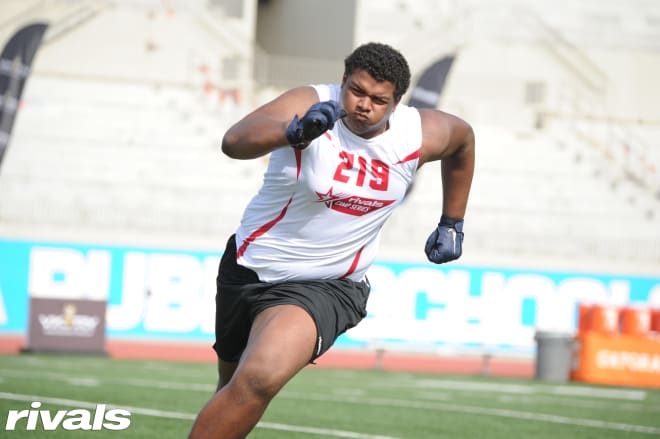 If he continues to work on his skills and in the weight room, a future five-star was on the field in Brooks. The 2025 talent is already gifted with size (6-foot-8, 330 pounds) and is crafting his technique.
All the tools are there for Brooks to be the best in his class. He's still feeling his way through stonewalling speed defenders but that will come with time. Everyone in attendance for the offensive and defensive line 1-on-1s left impressed with Brooks' talent and upside.
*****  
The star ranking is around the corner for Phenix City's 2024 receiver. Coleman is that rare big receiver with speed. The Central High School prospect mixed up his releases and had no troubles coming down with 50-50 passes; his hands are like oven mitts.
*****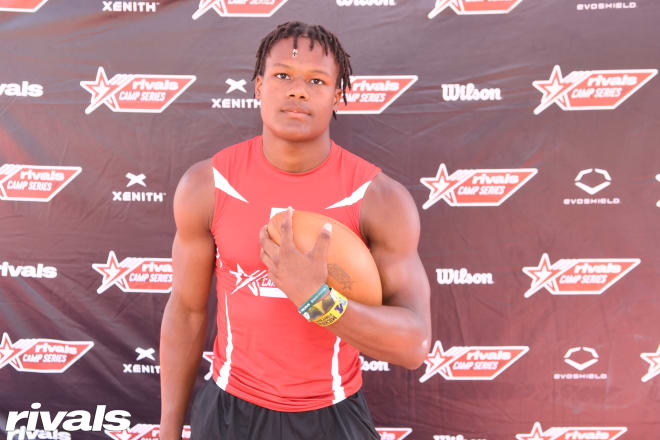 The Alabama guys came to Georgia ready to compete and make a name for themselves, and Metcalf was one of the prospects that truly stood out. Playing corner at the camp, rep after rep Metcalf was stride for stride and on the hip of the four- and three-star receivers in attendance.
The hips, speed and cover skills earned him camp honors and an invitation to the Rivals Underclassmen Challenge.
*****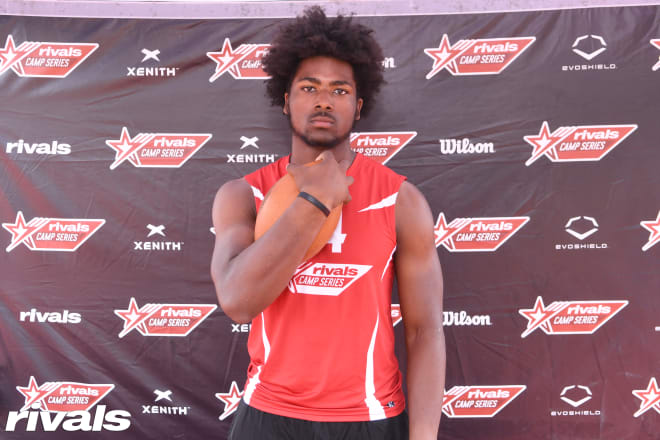 Ward made McEachern High School proud on Sunday, chasing down running backs during the cat-and-mouse drill. The burst to the point of impact and lateral movement stood out when Ward took his reps.
For an outside backer, he did a good job covering the pass. Ward is another player that should see his offer sheet pile up in a hurry once more college programs see him in person.
*****  
If Rivals had rankings for the 2025 class this early in the game, Hill would be among the top quarterbacks in the nation. The Houston County gunslinger started off slow during the footwork drills but was as good as anyone during the 1-on-1s.
Hitting the out route, the intermediate, or on the long ball, Hill had an effortless release with power laying it right where the receiver needed. Watching his progress over the next three years will be fun.
*****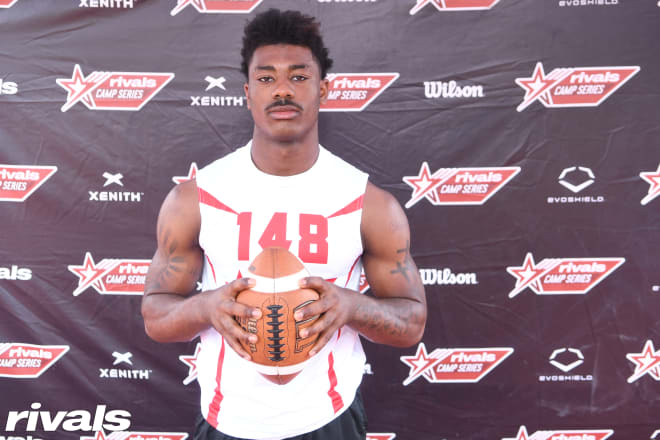 When White lines up, corners and safeties hate covering a player with his talents. White is the prototypical inside receiver that is too quick to cover in short spaces and especially being dragged across the field.
White's hips, cuts and footwork were fun to watch, seeing defenders get off balance trying to keep up with him. His work earned him an invite to the Rivals Underclassmen Challenge. Expect the Cass High School prospect to rise on college recruiting boards over the next two seasons.
*****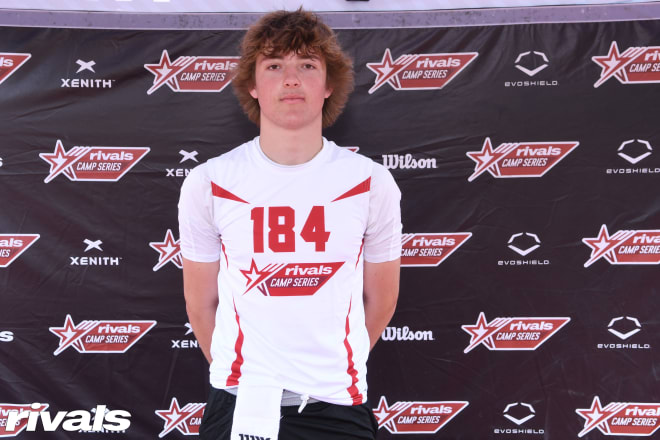 Boley certainly made a great first impression on Sunday. The Kentucky QB showed off the big arm and the competitive spirit slinging it against guys two to three years his senior. For a young player already showcasing a Saturday arm, the different ways Boley releases the ball depending on the route and situation had a veteran feel. He did not look like a 2025 prospect. He's another player with no ceiling to his future.