Remember me? Transfer QBs re-emerging this fall on new teams
Transfers are becoming more prevalent on a yearly basis in college football, and the changing of schools can include players who were thought to be the nation's best during their time in high school. Will a change of scenery lead to some former stars living up to their rankings? We take a look at 10 former highly-ranked quarterbacks who are set to re-emerge at new programs this fall.
BREAKING DOWN TOP QB BATTLES: Big 12 | Big Ten | SEC | ACC | Pac-12
MORE QB BATTLES: USC | Alabama | Michigan | Notre Dame | Florida State
Blake Barnett – Alabama to Arizona State to USF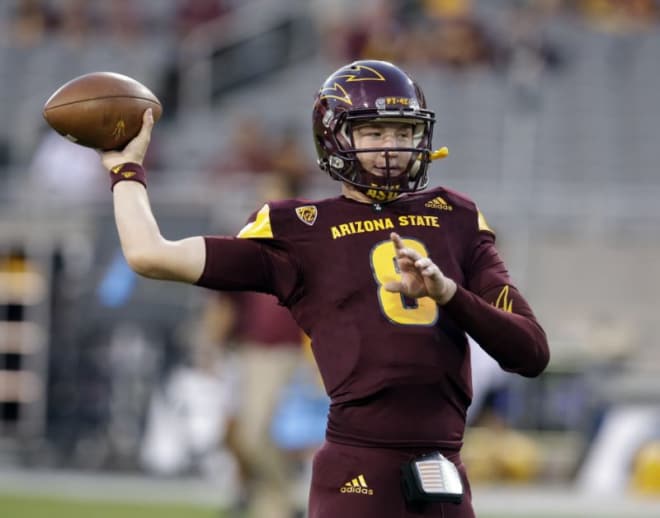 As a recruit: Barnett originally committed to Notre Dame during his junior year but later backed off his pledge to the Irish and seemed bound for Oregon. But a visit to Alabama changed everything and he spurned the Ducks in favor of the Tide during the summer before his senior season.

In college: Barnett redshirted his first year at Alabama and actually won the starting job heading into the 2016 season. But he struggled in the opener against USC and was replaced by Jalen Hurts, who never really looked back after taking the job. Barnett elected to transfer to Arizona State, but he saw limited playing time with the Sun Devils in 2017, throwing for just 40 yards on five attempts. After failing to make an traction during spring practice, Barnett elected to transfer to USF for his final two years of eligibility.
What to expect: Barnett is competing with former three-star prospect Chris Oladokun to replace Quinton Flowers, one of the most decorated quarterbacks in USF history.
Keller Chryst – Stanford to Tennessee
As a recruit: One of the nation's top quarterbacks in the class of 2014, Chryst committed to the Cardinal during the summer prior to his senior year over Alabama and USC.
In college: After redshirting as a true freshman and then serving as a backup during the 2015 season, Chryst found his way onto the field midway through the 2016 season. He took over the job from starter Ryan Burns midway that season and began 2017 as the starter for the Cardinal, only to eventually lose the job to K.J. Costello. Chryst finished his Stanford career with 1,901 yards and 19 touchdowns in 23 career appearances. Chryst committed to Tennessee earlier this year and 2018 will be his final year of eligibility.
What to expect at Tennessee: Chryst arrived in Knoxville earlier this summer and has been working out with the team ever since. He will be part of a full-fledged quarterback battle with redshirt sophomore Jarrett Guarantano and many think he can enter the season as the starter.
Brady White – Arizona State to Memphis
As a recruit: White had his share of options from coast-to-coast but elected to commit to Arizona State during the spring of his junior year over Cal, Oregon and others.

In college: After redshirting his first year on campus, White moved into the backup role in 2016 and was pressed into action late in the season after an injury to starter Manny Wilkins. He played well, leading the Sun Devils to a victory over UCLA while throwing for 179 yards with one touchdown and one interception in his first career start. White was knocked out late in the game with an injury of his own and didn't attempt another pass while at Arizona State. He elected to transfer to Memphis this offseason, where he will be reunited with former Arizona State offensive coordinator and Tigers coach Mike Norvell.
What to expect at Memphis: White is competing with former two-star quarterback David Moore to win the starting job for the Tigers.
Chris Robison – Oklahoma to FAU
As a recruit: Robison committed to Oklahoma more than 18 months before National Signing Day 2017, choosing the Sooners over Oklahoma State, Houston and several Group of Five programs.

In college: Robison enrolled early at Oklahoma and had a good spring, and seemed like he would be a member of the program for years to come. However, he didn't even make it through his first fall camp after being dismissed from the program for a violation of team rules in August of 2017. He quickly transferred to FAU, where he sat out last season due to transfer rules.
What to expect at FAU: Robison has been competing with former Florida State signee DeAndre Johnson for the starting job and should see plenty of time in the Owls' high-powered offense this fall.
Ricky Town – USC to Arkansas to Pitt
As a recruit: A one-time five-star, Town committed to USC more than a year before National Signing Day in 2015, choosing the Trojans over offers from Alabama, FSU, Georgia and several others.

In college: Town didn't last long at USC, transferring before his freshman season ever started. He landed at Arkansas where he spent two seasons but never attempted a pass. After going to junior college in 2017, Town signed with Pitt earlier this year.
What to expect: Town will serve as a backup to Panthers starting quarterback Kenny Pickett this season.
KJ Carta-Samuels – Washington to Colorado State
As a recruit: Carta-Samuels made a commitment to Vanderbilt after his sophomore year in high school, with plans to join his older brother in Nashville. He stayed committed until James Franklin left to take the job at Penn State. With less than a month until signing day, Carta-Samuels restarted his recruitment and quickly jumped at the chance to commit to Washington.
In college: Carta-Samuels never really got a chance to live up to his ranking with the Huskies, serving primarily as a backup. During mostly relief appearances, he completed 27-of-47 passes for 310 yards over three seasons of play. Carta-Samuels originally pledged to play for Chip Kelly at UCLA, but later decided to use his final year of eligibility at Colorado State.
What to expect: Carta-Samuels is expected to start for Colorado State this season and could have a big year considering the Rams' talent at wide receiver.
Tyler Wiegers – Iowa to Eastern Michigan
As a recruit: Weigers made an early commitment to Rutgers only to back off his pledge from the Scarlett Knights during his senior season. Less than two months later he committed to Iowa, where he later signed.

In college: Wiegers could never crack the lineup for the Hawkeyes, playing in three games as a redshirt freshman in 2015 and in two games as a backup during the 2017 season. For his career, he has 35 yards passing and one touchdown. After graduating in December, he elected to transfer to Eastern Michigan.
What to expect at Eastern Michigan: Wiegers will have every opportunity to win the starting job at EMU, where he will be tasked with filling the shoes of former four-star quarterback Brogan Roback, one of the most prolific passers in school history.
Alex Malzone – Michigan to Miami (OH)
As a recruit: A multi-sport athlete and a multiple time state champion, Malzone held out for an offer from the in-state Wolverines and once he got it he committed during the spring of his junior year.
In college: Malzone could never work his way up the depth chart with the Wolverines and never attempted a pass during his time in Ann Arbor. He announced his intention to transfer to Miami (Ohio) earlier this year and will have two seasons of eligibility remaining.
What to expect: Malzone is expected to back up Redhawks starter Gus Ragland this fall.
Quinten Dormady – Tennessee to Houston
As a recruit: Dormady saw his recruitment explode after throwing for coaches on the camp circuit following his junior season and committed to Tennessee over offers from Alabama, Kentucky, Oklahoma State and several others.

In college: After serving as a backup during his first two years on campus, Dormady won the starting job for the Vols to open the 2017 season. However, he never really found his footing, throwing for 925 yards with six touchdowns and six interceptions in six games. Injuries also played a factor in his struggles as he missed the second half of the season with a shoulder issue. After graduating from Tennessee he announced that he would be spending his final year of eligibility at Houston.
What to expect: Dormady will serve as the backup to Houston starter D'Eriq King this fall.
DJ Gillens – Wisconsin to SMU to UTSA
As a recruit: Gillens made a commitment to Texas Tech during the fall of his sophomore season only to later back off that pledge and re-open his recruitment. He eventually committed to Wisconsin prior to the start of his senior season, choosing the Badgers over Kentucky, West Virginia and others.

In college: Gillens never attempted a pass at Wisconsin and later landed at junior college, where he would work his way back to be a member of the 2017 signing class. He signed with SMU and spent one season with the Mustangs, throwing for 76 yards and a touchdown while running for 75 yards and two touchdowns in six games last fall. After Chad Morris and his staff left for Arkansas, Gillens elected to transfer to UTSA for his final year of eligibility.
What to expect: Gillins is in the mix to start for the Roadrunners this fall.