Who will it be? Breaking down Michigan's QB battle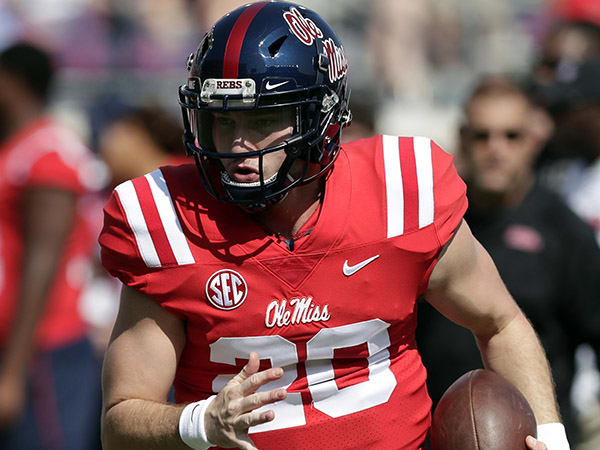 The start of fall camps is right around the corner and at several major programs the focus will be on the quarterback position as former elite recruits battle it out for the starting job. In weeks leading up to the start of camp, we will take a look at some of the most high-profile battles and have National Recruiting Director Mike Farrell weigh in on how he sees things shaking out and why while also getting an opinion from one of our experts on the ground. Today we look at Michigan.
THE SITUATION
When he took over the job at his alma mater, most assumed Jim Harbaugh would recruit and develop a top-tier quarterback in short order. Instead, the position has been one of the main reasons the Wolverines have yet to break through and become a national title contender. But as his time in Ann Arbor has moved along, Harbaugh and his staff have left no stone unturned when it comes to finding a quarterback. This year, Michigan has a number of talented quarterbacks vying to be the man under center in 2018.
THE FRONT-RUNNER
As a recruit: Patterson's recruitment saw its share of twists and turns as he initially committed to Arizona as an underclassman, only to eventually decommit. When he went back on the market, he took long looks at LSU and several other schools, but ended up landing at Ole Miss.
In college: The plan was for Patterson to redshirt in his first year at Ole Miss, but he was pressed into action late in the season after then-starter Chad Kelly was knocked out with a season-ending injury. In three games his freshman year, Patterson threw for 880 yards while also rushing for 169 more. He took over as the full-time starter in 2017, playing in seven games and going 166-of-260 for 2,259 yards with 17 touchdowns and nine interceptions before suffering a season-ending injury. After Ole Miss was hit with additional NCAA sanctions, Patterson announced his intentions to transfer to Michigan, where he received a waiver to be eligible this season. He has two years of eligibility remaining.
THE CHALLENGERS
As a recruit: Peters nabbed his share of offers and took at schools like Nebraska and Notre Dame before committing to the Wolverines during the spring of his junior year.
In college: A member of the same class as Patterson, Peters redshirted as a freshman in 2016. He was thrust into the lineup after a combination of injuries and ineffectiveness by the Wolverines other quarterbacks and in six games he was 57-of-108 passing for 672 yards with four touchdowns and two interceptions. Peters showed flashes of talent, but doesn't have the on-field resume of Patterson at this point of his career.
As a recruit: One of many star football playing McCaffrey's, Dylan was a highly-touted recruited and viewed as a major recruiting coup for Harbaugh and company when he picked the Wolverines over Washington, Penn State and several others during the winter of his junior year.
In college: McCaffrey spent the 2017 season redshirting, which came as a surprise to some once injuries and ineffective play plagued the position as the season went along. By all accounts, McCaffrey was an effective weapon on the practice field and was awarded the school's Scout Team Offensive Player of the Year Award for his efforts.
THE LONGSHOT
As a recruit: Milton's recruitment took off a little later than most at his position, but by the time he was ready to announce a decision last spring, he had his share of options, including Florida, Georgia and Michigan. He pledged to the Wolverines and never looked back before enrolling early in 2018.
In college: Milton has yet to take a college snap and seems like a candidate to redshirt in 2018.
LOCAL TAKE
"Even though he's never played a snap at Michigan, junior Shea Patterson is the hands-down favorite to win the starting job for the Wolverines this fall. Both redshirt sophomore Brandon Peters and redshirt freshman Dylan McCaffrey are talented and have plenty of potential, but Patterson is simply a tier above those two. Inefficient quarterback play was a large reason U-M's offense struggled so mightily last season, and Patterson might just be the missing piece that makes Jim Harbaugh's Wolverines elite again." — Austin Fox, TheWolverine.com

FARRELL'S TAKE
You have to think Patterson will be the guy here because of his talent level and the fact that he can extend the play, something Michigan has lacked greatly at the quarterback position in recent years. The former five-star recruit showed great promise at Ole Miss and might even be better suited for his role at Michigan. Peters had some moments last year and McCaffrey and Milton have talent but are very raw. To me, it's Patterson all the way.