Recruiting Rumor Mill: Reaction to weekend visits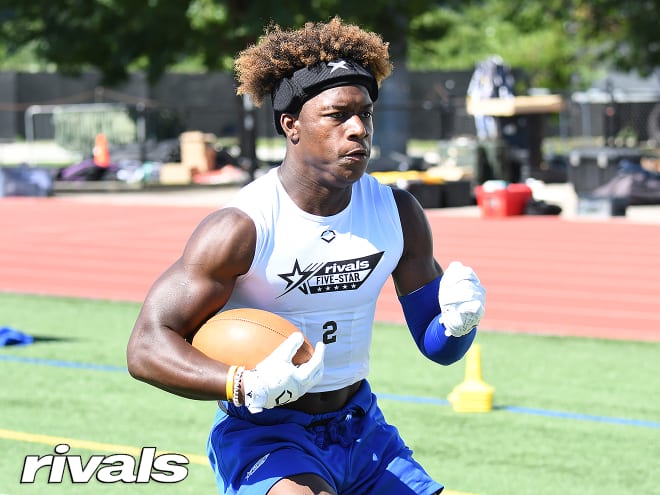 *****
The 2023 three-star cornerback from Houston (Texas) Kinkaid loved watching Baylor's secondary against Oklahoma as the Bears, Tennessee and Michigan stand out most early in his recruitment. However, Bell didn't talk much with the coaches because he arrived late and had to leave early to get back home.
*****
The 2024 wide receiver from Greenville, S.C., had a great time at Florida State with his family and talked to some recruiting staffers during his time in Tallahassee. The Seminoles have not talked about an offer yet and Bennett said he's high on the four offers he has in Kentucky, South Carolina, Virginia Tech and Coastal Carolina. The Wildcats especially had his attention last month.
*****
The 2024 tight end from Chillicothe (Ohio) Unioto received lots of love from Michigan State support staffers Nathan Applebaum and Sean Levy during his visit this past weekend and also had a short conversation with position coach Ted Gilmore, who said he would stay in touch.
The Spartans haven't offered yet but Galloway's recruitment is just starting to pick up. He could return to Kentucky this weekend and head to Michigan for the Ohio State matchup later this month.
*****
The 2024 four-star receiver from Alpharetta (Ga.) Milton had an "awesome" time at Florida State, loved the fans and got to talk with coach Mike Norvell and coach Ron Dugans, which was another highlight. Along with the Seminoles, Gatling has been intrigued by LSU, Michigan, Ole Miss, Florida and Georgia.
*****
If Florida State is going to have success flipping Goodwin from Kentucky, it will be because of his relationship with position coach Alex Atkins, which was kicked into a higher gear during Goodwin's visit this weekend.
"We didn't even talk about football, just about being a better man and life," Goodwin said.
The high four-star OL also sat with Tra Thomas during the game and that could be another bonus for FSU down the road. Alabama is making a move for Goodwin and next up will be visits to Texas A&M, Michigan and Michigan State. The Wildcats still have his pledge but the competition is heavy.
*****
It feels like Florida State is the team to beat early on for the 2024 athlete who projects as a linebacker. The Navarre, Fla., standout was back in Tallahassee this weekend and said this trip was "great as always. The stadium was electric and the game was great."
Florida, Notre Dame, Georgia and now Penn State are the teams highest on his list.
*****
Ole Miss is at the top of the list for the 2025 running back from Elba, Ala., who could be one of the higher-rated backs in his class. The weekend visit was "great" and Ole Miss is "just different in my eyes," after Henderson was in Oxford over the weekend.
Arkansas, Georgia, Penn State and Syracuse have also offered.
*****
Clemson, Penn State, Tennessee, North Carolina and Virginia Tech are the five frontrunners for the 2023 four-star offensive tackle from Chester (Va.) Life Christian Academy but the Nittany Lions could have the edge.
Miller was back in Happy Valley this weekend and said, "I don't think there is a fan base that gets as crazy as PSU."
The others are definitely still heavily involved but PSU has made a big impression.
*****
The 2025 quarterback from Findlay, Ohio, had a great trip to Michigan State over the weekend and one highlight was getting to meet OC/QB coach Jay Johnson and he also got a picture with Spartans basketball coach Tom Izzo.
Michigan, Ohio State, Notre Dame and others have already offered and Montgomery said it's way too early for favorites. His brother, Luke, is a top 2023 prospect so his decision might also play a role in Ryan Montgomery's pick later on.
*****
One week after committing to Texas A&M during his visit to College Station, Nolen took another visit to Tennessee, which is about 20 minutes from his house in Powell, Tenn. The Volunteers did not upset Georgia but the environment was electric and Nolen's visit "went well" according to his father.
No other trips are planned and it looks like the Aggies remain in good shape.
*****
The 2023 three-star quarterback from Dripping Springs, Texas, enjoyed watching the Baylor sideline throughout the game because everybody was completely engaged the entire time and it was a memorable part of the trip for him.
He also loved seeing all the 2022 offensive line commits and said "they're massive," which could actually help in his recruitment, too. Novosad also got to talk with position coach Shawn Bell and that was a highlight.
Baylor, SMU, Texas Tech and Houston stand out among his offers but Penn State, Mississippi State, Cincinnati, Nebraska and Boise State are also reaching out.
*****
Memphis, Tennessee, Mississippi State and Ole Miss are the four standouts for the Savannah (Tenn.) Hardin County standout who was expected to visit Knoxville this past weekend.
Many believe the Volunteers are in a very good position with Pope, who has more than 1,100 yards and 17 touchdowns this season.
*****
One of the hottest 2023 cornerbacks anywhere, Rogers saw the best and worst of times in one day as he took in the Baylor win over Oklahoma early and then the Texas loss to Kansas at night.
The La Grange, Texas standout loved the atmosphere and defense of the Bears and said while the Texas atmosphere was also excellent, the defense was not playing up to its standards. The word is that Rogers is not overly concerned about it and that the Longhorns are still very much under consideration.
*****
What stood out most to Taylor during his time at Michigan State over the weekend was just how often the Spartans ran the ball - and he would want to be a part of it. The 2023 three-star all-purpose back said Michigan State, Tennessee, Kentucky and Ole Miss are the four offers he has that now stand out most.
*****
A few weeks ago, the West Virginia four-star running back commit visited Auburn and this past weekend Williams was at Tennessee where he got the message that "I am a priority for them," he said.
The Dallas (Ga.) East Paulding standout is not planning any other visits and while he said "I'm still feeling WVU," Williams added that he does have some thinking to do after seeing two SEC environments.
*****