Recruiting Rumor Mill: Prospects take in Week 1 across the country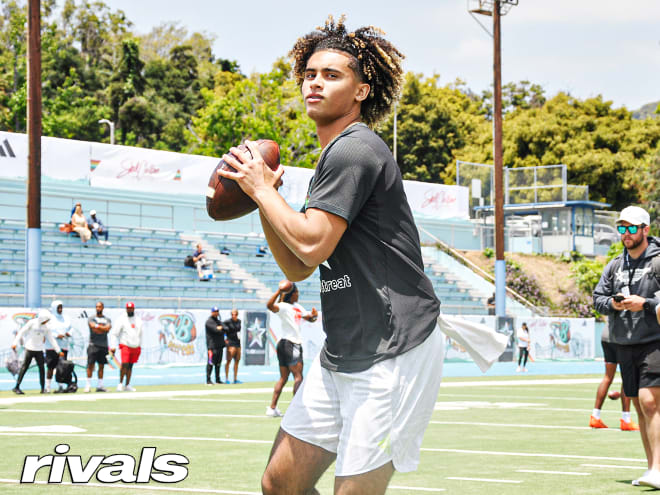 The Recruiting Rumor Mill is churning again with game-day visits and plans to see schools by some of the best players in the country. Here's the latest from Rivals national recruiting director Adam Gorney.
*****  
There is a growing sense that the Melbourne (Fla.) Eau Gallie four-star defensive tackle could stay closer to home with Miami, Florida, Florida State and Texas A&M standing out most in his recruitment – and only one visit is being planned so far this season. Brown is expected at Miami for its matchup against the Aggies this upcoming weekend as he could double dip and see both squads, although the Hurricanes could be the team to watch.
*****  
LSU and Georgia are going to be main contenders for the 2026 lineman who could play offense or defense in college but the Baton Rouge (La.) University Lab has added Alabama and Miami to that top list as well. The Crimson Tide just offered and it's definitely a big one to consider as his recruitment moves forward.
*****  
Following his brother, Tre'Quon, who transferred to USC from Alabama, the 2025 high four-star safety committed to the Trojans in early May but has now backed off that pledge and will look at "everyone that was recruiting me before."
That was a long list but one school to watch could be LSU since he had high interest in the Tigers, Auburn will make a run at the Alabaster (Ala.) Thompson standout and Clemson just offered with former teammate Peter Woods signing there last cycle.
*****  
The three-star cornerback from Seffner (Fla.) Armwood has been committed to Iowa since early July but other programs continue to pursue him and other visits are expected to happen soon.
Godfrey is looking at trips to Kansas State, Oregon State and Louisville before locking down any final choice.
*****  
Visits to Louisville, Missouri and Kansas are being planned for the 2025 four-star athlete from Belleville (Ill.) Althoff and others could happen as well. Michigan has been hot and cold with Hill but the Wolverines are stepping it back up again as running backs coach Mike Hart has been reaching out more regularly.
*****  
His teammate, five-star defensive end Kamarion Franklin, just committed to Ole Miss and now the 2025 four-star safety from Lake Cormorant, Miss., is planning a trip to Oxford as well this season.
Hopson is also planning to see Auburn, Texas, Arkansas and Miami. The Rebels could have a bigger edge now in his recruitment with Franklin on board but others in the SEC should be watched, too.
*****  
Georgia, LSU, Miami, Michigan, Ohio State, Oregon, Penn State, Tennessee, USC and Washington made the top 10 for the 2025 four-star safety but the Trojans could be one to watch here.
The Pittsburg, Calif., standout considers the Los Angeles area a second home since he's in the area so often but possible trips to Ohio State and Oregon this season could make things really interesting as well.
*****  
Possibly the No. 1 prospect in the 2026 class, the Carrollton, Ga., quarterback committed to USC in late August but over the weekend he was seen at the Georgia season opener against Tennessee-Martin.
It could be something to watch but a source said that Lewis' pledge to the Trojans remains as firm as ever and he only went to the UGA game because he was taking some teammates there as well so there's not much there.
*****  
There is a significant feel to Lowe's early recruitment but one Pac-12 team in particular has made the biggest impact on the 2025 high three-star defensive end. Washington would be the team to beat for the Westlake Village (Calif.) Oaks Christian standout and the academic side would be an added benefit to watch as the Huskies have moved to the top in his recruitment.
*****  
LSU has been the team to beat in Montgomery's early recruitment especially after a summer visit to Baton Rouge, but Miami is going to have him at its game against Texas A&M and the Hurricanes are absolutely another major contender.
A big showing against the Aggies could actually move Miami way up for the 2025 four-star receiver from West Palm Beach (Fla.) Cardinal Newman as Penn State, Florida, Texas A&M and Ohio State are others to watch.
*****  
Texas A&M could be really difficult to beat for the 2025 four-star cornerback from Katy (Texas) Paetow and he's planning to be back in College Station this season but there will be others to watch in his recruitment.
Pettaway also wants to see Ohio State, Alabama and LSU before making any decisions.
*****  
North Carolina, UCLA, BYU and Michigan are four early standouts for the 2025 four-star linebacker from San Juan Capistrano (Calif.) San Juan Hills and trips to all of them should happen through October and November.
Oklahoma is definitely another major contender for Port as the Sooners have impressed him through the offseason as well.
*****  
His visit to Georgia this summer was the best during a swing through the SEC – and now the highly-ranked 2025 four-star receiver will be back in Athens soon. The Bulldogs continue to be one of the top contenders for the Geneva, Ill., standout who will be in town for their game against South Carolina in a couple weeks.
The following week, Taylor will see Ohio State visit Notre Dame, another main contender, as his recruitment comes more into shape.
*****  
The No. 1 quarterback in the 2025 class, Underwood is expected to visit Michigan and LSU this season so far among other possible stops but the Wolverines and the Tigers could have taken a major leap in his recruitment as the two teams to watch.
Michigan State is still there but has had recent struggles and Ohio State has already taken four-star, in-state QB Tavien St. Clair. A quarterback-friendly offense is part of the consideration so that will be closely watched in Ann Arbor and Baton Rouge this season.
*****  
One of the more interesting players in the 2025 class is Williams, who at 6-foot-5 and 210 pounds shines at weakside defensive end, playing in space and then at receiver as well. Top teams are starting to get really involved with the North Palm Beach (Fla.) Benjamin School standout as well with Georgia, Tennessee, Florida State, USC and Florida making the biggest impressions so far.
*****
Now that he's not transferring to Bradenton (Fla.) IMG Academy and will instead stay at Galveston (Texas) Ball, it feels like that benefits Texas A&M in a big way since Williams has said he'd love for his family to see him play in person every weekend.
Oklahoma, Texas and Ohio State were three other schools to watch early on but now more visits could be happening. A trip to Columbus this season is expected, as are visits to Tennessee and Oregon as well.