Recruiter of the Year: Mario Cristobal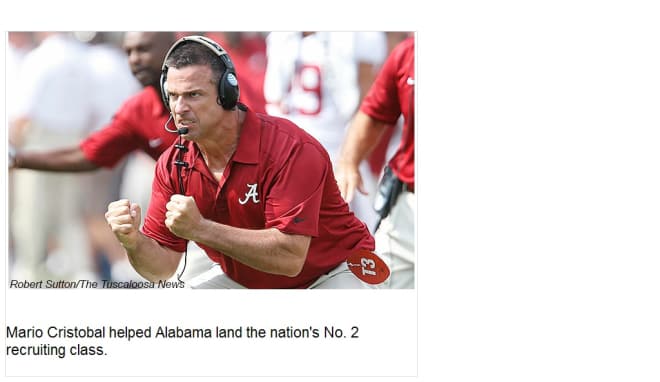 For his efforts in helping the Tide to the No. 2 overall recruiting class for 2015, Cristobal has been named the 2015 Rivals.com Recruiter of the Year.
"Look at his out-of-state work," Rivals.com national recruiting director Mike Farrell said. "What he did in-state with Payne and Cotton - that's impressive. But he went into South Florida and landed the No. 1 receiver in the country in Ridley, and his teammate Burgess-Becker. Then he went up to New Jersey and took Fitzpatrick when everyone was recruiting him."
Landing verbal commitments is one thing. Holding onto those commitments through Signing Day is quite another, and Cristobal and Alabama managed to withstand the best efforts of several programs to secure Letters of Intent from the likes of Fitzpatrick, Ridley and Burgess-Becker.
"The in-state battle with Payne and Auburn was a lot closer than most people think," Farrell said. "He had to do some good work there. He was not a lock."
"People think it's easy to recruit at Alabama," Farrell said. "That's not the case. Everyone is coming after these kids and there are some tremendous programs. It's not like you can just discount what (Cristobal) did because he's at Alabama. We looked at many other candidates in the country, and over and over we kept coming back to the job he did."
In a written statement, Cristobal said Saban, and the Crimson Tide football program as a whole, also deserve credit for the Tide's strong class.
"This recognition is a testament to Coach Saban and our entire program at the University of Alabama," Cristobal said. "Everything we do here, we do as a team and as a family. Being at such a special place like Alabama with Coach Saban the last couple of years, you gain a great appreciation in the fact that we are all here for the betterment and development of our student-athletes. His philosophy of providing an environment to help players develop on and off the field speaks for itself in terms of our academic success and graduation rates, as well as preparing players for the next level. I think recruits and their parents recognize that and they can trust that they are making the right decision for their son in the long-term.
"This 2015 class is really an outstanding group overall and they are not only talented, but also high-character guys who want to be the best. That's why they made the decision to come to school here."