RCS Houston: What to watch for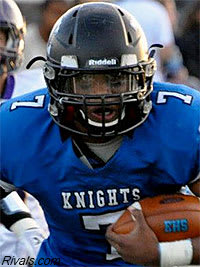 Houston produces some of the top football talent in the country and is known as
a hotbed for future professionals. The Rivals Camp Series presented by Under
Armour stops in Houston on Sunday and there will definitely be some gifted
athletes ready to show they have what it takes to succeed on the next level and
beyond.
More than 200 prospects will take to the fields at Westfield High School with eight
Rivals250 prospects planning to participate as well as several talented
underclassmen. The expectations are high and there will be plenty of action to
watch.
has picked up offers from just about every college with a football program.
Sheffield has proven to be one of the top cornerbacks in the country and is
gearing up to show why on Sunday.
The Pflugerville (Texas) Hendrickson standout has exploded onto the scene since
committing to the Horned Frogs. He may not be as highly touted at this point he
has a chance to vault up the rankings with a strong performance.
of the 2013 season with a knee injury. The four-star earned defensive skill MVP
honors at last year's Houston camp and now he returns to defend his title. He
will also be in Dallas.
work double duty by putting in some time at receiver on Sunday and he has shown
in the past he has the goods at both positions.
will hold their own
The defensive backs will get plenty of attention, and rightfully so, but the
wide receiver group is going to provide plenty of challenges. Houston (Texas)
catcher who knows how to stretch the field. Lufkin's
sure to test those top flight defensive backs and make things a lot easier for
the quarterbacks.
served
There are plenty of talented 2015 prospects but do not overlook the
underclassmen. There are some very strong talents to be seen. Nacogdoches
there are more who are already making noise.

The running back position in particular has a few underclassmen to keep an eye
has a couple of offers in his pocket. Richmond (Texas) George Ranch 2016
sophomore of the year honors.
The quarterbacks and receivers will also be well represented in the 2016 class.
Oliver headlines a group of underclassmen defensive linemen which also includes
backs
Underclassmen Martin, Whaley and Anderson were mentioned above, but the 2015
class is bringing plenty of star power as well. Houston (Texas) Episcopal
his rare combination of size and speed that made him such a highly coveted
prospect before committing to the Aggies.
Plenty of others are also attracting attention. Houston (Texas) Lamar's
skills to the table. Port Arthur (Texas) Memorial standout and
opportunity to step into the spotlight.
Of course, the running backs will have their obstacles with linebackers like
trenches
The talent on the defensive side of the trenches is looking pretty stacked.
Not only are their strong underclassmen in attendance but there is also a stout
the Bobcats and is attracting plenty of interest of his own. Conroe (Texas) Oak
already in-hand. The offensive counterparts will provide a solid test with the
in attendance.

[rl]