RCS Baltimore-Washington: What to watch for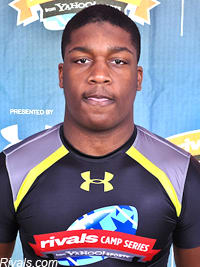 On Sunday the Rivals Camp Series presented by Under Armour will stop in the
nation's capital at St. John's College High School. More than ten Rivals250
prospects will be on hand to compete with over 200 other talented players to try
to show they are the best.
High profile defensive backs
The group of defensive backs has a lot of headliners and very good depth. The
will be looking to shut down the wide receivers.
keep the spotlight on themselves but a large group of sophomores and freshmen
to not only be the best receiver at the camp on Sunday but also be one of the
top rated players in the 2016 class. The Richmond (Va.) Benedictine School star
has 20 scholarship offers already and many more are surely on the way.
Indian River already has ten scholarship offers and could be the next star out
of the Tidewater area.
With all of these great defensive backs and wide receivers in attendance look
for some key matchups to take place during the one-on-one sessions. At Richmond
(Va.) St. Christopher's Garrett Taylor plays Bracey and Benedictine each year.
The two are very familiar with each other but this will be the first time since
the season two will battle on the field. Lewis is a bigger cornerback that many
people believe will play safety at the next level so it will be interesting to
see how he handles guys like Ellis and Moore in the open field. This is the
first time DuWayne Johnson and Thornhill will be on the same field and playing
against the same level of competition. Watching the two future rivals compete on
Sunday will be a nice preview of what is to come over the next four years.
Speaking of one-on-ones, linemen one-on-ones should be one to remember.
day for those offensive linemen. The spotlight will be on Sweat, Ferrell, Taylor
and Fullwood as a host of Rivals250 offensive linemen try to show they are worth
their rating.
The highest rated linebacker in attendance on Sunday with be
some names to watch. Yulee is only a sophomore and has a lot of early interest
from some big time schools. Crosby is a 6-foot-2, 235-pound freshman linebacker.
He will take reps at linebacker during one-on-ones but he will also get his
chance to take reps with the defensive ends during one-on-ones.

[rl]