Rankings Rewind: Campbell steps it up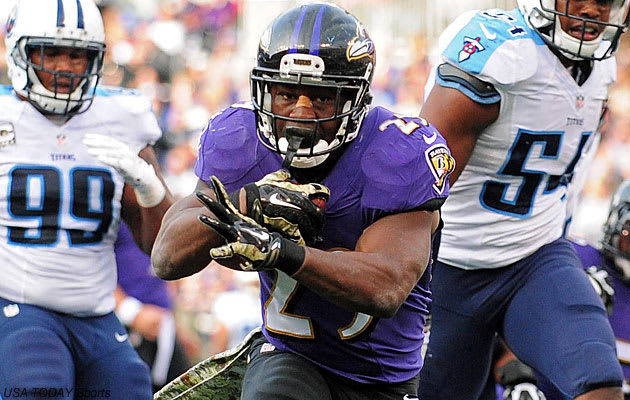 Justin Forsett is making the most of his opportunity in Baltimore.
With the sudden exodus of
Ray Rice
from Baltimore, the Ravens had to find an answer at running back.
Justin Forsett
has been the player who has risen to the occasion and taken control of the job. Finishing with 112 yards and two touchdowns during a 21-7 victory over Tennessee, Forsett is hoping to continue his impressive play throughout the remainder of the season.
Forsett was drafted by the Seattle Seahawks with the 233rd overall pick of the seventh round of the 2008 NFL draft. Forsett's initial stop in Seattle was short, and was followed by an equally short stop in Indianapolis before he returned to the Seahawks for four seasons. After Seattle, Forsett spent seasons in Houston and Jacksonville, before landing in Baltimore. Before this season, Forsett's best performance was the 2009 season in Seattle when he finished with 619 yards rushing and four touchdowns, and 350 yards receiving and one touchdown. This season he has already totaled 721 yards rushing and five touchdowns, plus 202 yards receiving.
Forsett played his high school football at Grace Prep in Arlington, Texas, where he led his team to back-to-back state championships during his junior and senior seasons. During these two seasons he rushed for almost 5,000 yards, while scoring 63 touchdowns. Forsett spent his first two high school seasons at Polk in Mulberry, Florida, before his family moved to Texas. Forsett held offers from
Utah
,
Connecticut
and Toledo by then end of his junior season. After taking an official visit to UConn in early December and having a visit to Toledo cancelled,
Notre Dame
made an unexpected appearance on his radar which muddled the situation. While waiting to see if Notre Dame, and also
Texas Tech
, would offer, neither actually did and in the process UConn had also filled up its slots at running back. Starting the process all over again, Forsett sent out his highlight tape to coaches around the country and received an offer from
California
in April. After taking a visit to Berkeley, Forsett committed to the Golden Bears more than two months after National Signing Day.
At California, Forsett played in 49 games while making 18 starts. He finished his career ranked third in school history with 3,220 yards rushing and fourth with 26 rushing touchdowns. His best season was in 2007 when he earned first-team All-Pac-10 honors after rushing for 1,546 yards and 15 touchdowns on 305 carries.
Forsett was a two-star all-purpose running back in the class of 2004. He was not ranked nationally at his position or in the state of Texas. While Forsett produced big numbers on the field in high school, his height was the issue that held him back from gaining more offers. This was also one of the reasons that his ranking was not higher. First credit has to be given to the Cal coaching staff, which swooped in late and found a player who obviously was a big contributor at Berkeley. Since then Forsett has fought extremely hard to find his niche in the NFL and he has accomplished that in Baltimore after the Rice situation went down. It's hard to tell if Forsett will be able to translate his current success into additional successful seasons, but he has proven himself as a legitimate NFL running back. With that said, Forsett deserved a higher ranking back in 2004, and there are some coaches who are probably still kicking themselves for passing on him as they watch him on Sundays.
S
Four-star, class of 2011

Gerod Holliman has already picked off 13 passes this season.
Louisville's safety
Gerod Holliman
is currently performing at a level few at his position have achieved. He continued his amazing season on Saturday during a 38-19 victory at Boston College when he added three more interceptions to raise his amazing total to an amazing 13.
At Louisville, Holliman played in three games as a freshman in 2012 before suffering a shoulder injury that ended his season, but earned him a medical redshirt. In 2013 he played in 11 games and had two starts. He finished the season with 16 tackles and three pass break-ups. Coming into the 2014 season it is safe to say that nobody expected the performance that Holliman has turned in. To go along with his 13 interceptions, Holliman currently has 31 tackles and two tackles for a loss. The interception total is obviously what is currently grabbing the headlines though. With three games remaining, his 13 picks places him one short of the FBS record of 14 set by Washington's Al Worley in 1968.
Holliman played his high school football at Southridge in Miami, Florida. Holliman first made his mark as a junior when he finished with 80 tackles, 25 tackles for a loss, four interceptions and six sacks. Then as a senior he led Dade County with 12 interceptions, returning five of them for touchdowns. With recruiting, Holliman picked up his initial offers in the early spring of 2010, with
Louisville
,
Nebraska
,
Minnesota
,
Kansas State
and
Maryland
being first to the chase. As offers piled up, Holliman took a few visits during the summer and named a top five of
Ole Miss
, Louisville, Nebraska,
West Virginia
and
Wake Forest
. Soon after, Holliman made a commitment to Ole Miss in late July. However, during his senior season, Holliman ended up taking official visits to Louisville and West Virginia. Then during the Army All-American Game in early January, he announced that he had flipped his commitment to the Cardinals from Ole Miss. Wanting to make sure that he had no regrets, Holliman did take an official visit to Ole Miss in late January, but stuck with his Louisville commitment on National Signing Day. Because of academics, Holliman did spend a semester at Milford Academy in New York before making his move to Louisville for the spring semester of 2012.
Holliman was a four-star safety in the class of 2011, the No. 4 ranked safety nationally, the No. 20 ranked recruit in Florida and the No. 96 overall recruit nationally. At safety, Holliman was ranked behind
Hasean Clinton-Dix
, who is now starting for the Green Bay Packers,
Karlos Williams
, who has moved over to running back at
Florida State
, and
Erique Florence
, who transferred from
Auburn
to Troy, but does not seem to be playing anywhere this season. In Florida, Holliman was ranked behind several recruits who made their mark in college and now the NFL, such as Clinton-Dix,
Sammy Watkins
,
Timmy Jernigan
and
Kelvin Benjamin
. What Holliman is accomplishing is remarkable, but it is also the first year he has played anywhere near this level in college. Rated as a high four-star, we always saw his potential, but nobody saw this season coming. We're still confident in his ranking, but it will definitely be interesting to see if he can continue this level of play (or anything close to it) for years to come.
TE
Three-star, class of 2012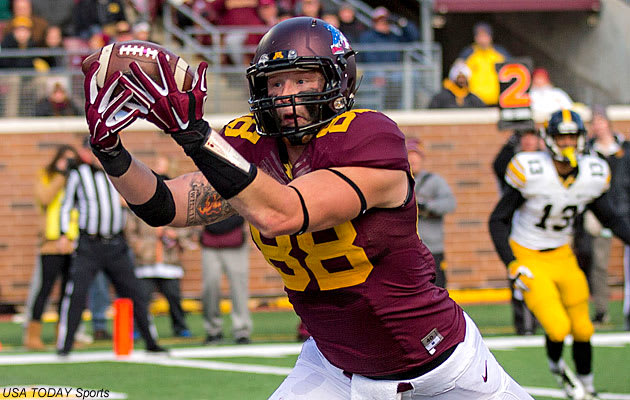 Maxx Williams caught three touchdown passes vs. Iowa.
Not a great deal was expected out of Minnesota coming into this season, but the Gophers continue to surprise people. One of their top performers throughout the season has been tight end
Maxx Williams
, who turned in his best game of the season during a 51-14 thrashing of Iowa. During the victory Williams finished with five receptions for 46 yards and three touchdowns.
After redshirting during the 2012 season, Williams played in all 13 games last season and led the team with 417 receiving yards while being tied for the team lead with 25 receptions and five receiving touchdowns. As a redshirt sophomore he currently leads the Gophers in receptions, receiving yards and touchdowns, with 22 for 326 and seven.
Williams played his school football at Waconia in Minnesota, where he saw time all over the field. As a senior quarterback he passed for 784 yards and eight touchdowns while rushing for 902 yards and 13 touchdowns. Defensively he also added 80 tackles and two interceptions. With recruiting, Williams was always destined to play at Minnesota, with his father, Brian Williams, and uncle, Ron Williams, both having played for the Gophers. So when his offer arrived a few weeks after National Signing Day in 2011, Williams waited only a few days to commit.
Williams was a three-star athlete in the class of 2012 and the No. 7 ranked recruit in Minnesota. He was not ranked nationally at his position or overall. In Minnesota, the amount of success seen by the recruits ranked ahead of Williams has been minimal, with several actually transferring. His current teammate,
Jonah Pirsig
, has experienced the most success to this point as he has become a mainstay on the offensive line for the Gophers. Playing in the run-first offense at Minnesota, Williams' will never have gaudy offensive numbers, but his production has been impressive. He has also proven himself to be a very good blocker, which should also catch the attention of NFL scouts. Williams should have been ranked higher in Minnesota, but we will wait a little longer before saying he should have been ranked higher overall.
LB
Three-star, class of 2009, signed with Wisconsin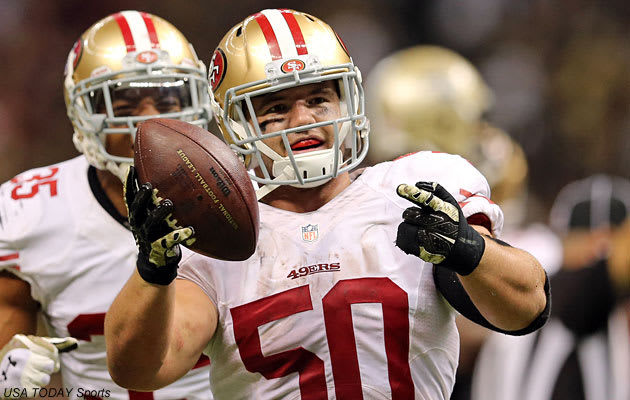 Chris Borland racked up 17 tackles and recovered a fumble against New Orleans.
The San Francisco 49ers have had to deal with a number of big injuries during the 2014 season, which has given a few other players the opportunity to step in and produce.
Chris Borland
has definitely done this. During a huge 27-24 overtime victory at New Orleans, Borland totaled 17 tackles, two tackles for a loss and a fumble recovery to help the 49ers get themselves back into playoff contention.
Borland was drafted in the third round of the 2014 NFL Draft after slipping due to his lack of height and supposed average speed. After seeing just minimal playing time in his first six NFL games, and totaling four tackles, Borland has exploded onto the scene as a starter during the last three weeks. Against Denver he finished with eight tackles, against St. Louis he had 18 and then he added 17 in the huge win at New Orleans.
At
Wisconsin
, Borland graduated as one of the more decorated defensive players in school history. He finished his career ranked sixth in total tackles (420), fifth in solo tackles (234), fourth in tackles for a loss (50) and tied for eighth in sacks (17). He also set the Big Ten career record for forced fumbles with 15, which is second in FBS history. He culminated his Wisconsin career by being the first Wisconsin linebacker named First-Team All-American since 1951.
Borland played his high school football at Archbishop Alter in Kettering, Ohio. After experiencing minimal success during his sophomore season, Borland gained more playing time as a junior and rushed for 633 yards and nine touchdowns. Then as a senior he was named First-Team All-State after rushing for 1,230 yards and 19 touchdowns, and totaling 72 tackles, one interception, two fumble recoveries and one forced fumble on the defensive side of the ball. With recruiting, Borland's process never truly took off, however after he won the LB MVP at Ohio State Nike Camp, interest did start to increase. When Wisconsin became his first offer in June, and with his father and grandfather having ties to the school and area, Borland quickly committed and ended his recruiting process.
Borland was a three-star athlete in the class of 2009 but was not ranked at his position, in Ohio or nationally. I'll start this by saying that plenty of credit has to be given to the Wisconsin coaching staff back in 2008-09 for identifying Borland's potential. As was the issue with him slipping in the NFL Draft, there were also questions regarding his height and speed in high school. To his credit, Borland never paid attention to any of those critics and just went out and performed. Just for his accomplishments in Wisconsin, Borland should have been ranked higher, but now we will have to see how his NFL career progresses from this point on. No matter what his ranking was or should've been, Borland should be an inspiration to plenty of high school prospects who think they are being overlooked.
Mike Farrell
National Recruiting Director

Click
Here
to view this Link.