Ranking with the Stars: Kyler Murray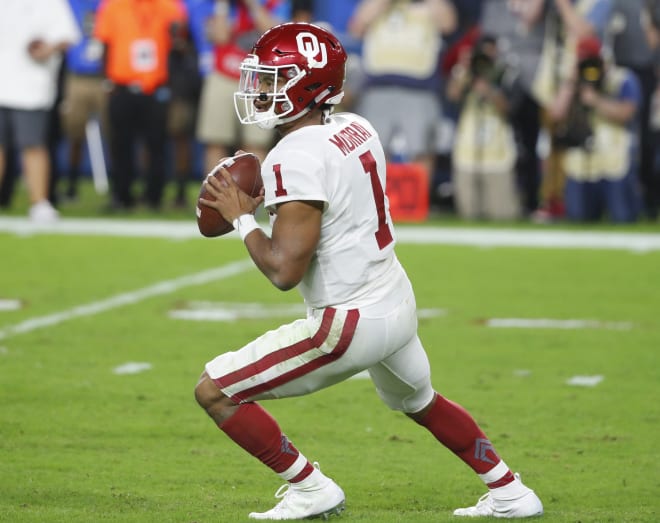 Mark Pszonak contributed to this report.
The NFL Draft has ended, so it's time to take a look at some of the top picks and where they ranked in high school. Let's take a look at No. 1 overall Kyler Murray, the quarterback who was drafted by the Arizona Cardinals.

Here are the players ranked ahead of him at dual-threat quarterback in the class of 2015. Of the five players below, four transferred, including Murray, and none made it four years at the school he originally signed with.

MORE RANKING WITH THE STARS: Devin Bush | Dwayne Haskins
1. Deondre Francois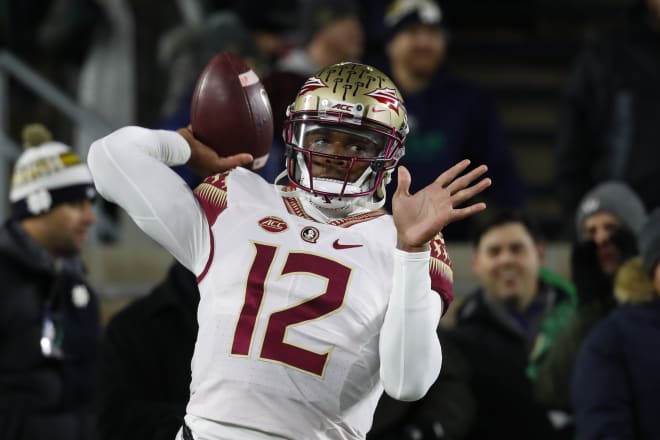 The skinny: Francois committed to the Seminoles in late July over Auburn, Florida, Oregon and Tennessee. After redshirting in 2015, Francois had a breakout season in 2016 with 3,350 yards and 20 touchdowns through the air, plus five rushing touchdowns for the Seminoles. Even bigger things were expected in 2017, but a knee injury in the opener quickly ended his season. Healthy, Francois regained the starting job in 2018 but struggled throughout the season. In December rumors surfaced that he may have been considering leaving Florida State, and he has since been dismissed.
Farrell's take: Francois wasn't very tall but he had a cannon arm and was very accurate coming out of high school. He shifted around the pocket well, showed toughness and took hits to complete passes. We felt he would have a great career in college and all looked good at Florida State before the offensive line fell apart and injuries mounted.
2. Blake Barnett
The skinny: Barnett initially committed to Notre Dame during his junior season before re-opening his process in early June. Only two weeks later he committed to Alabama. After redshirting in 2015, Barnett only attempted 19 passes for the Crimson Tide in 2016 before deciding to transfer. Landing at Arizona State, Barnett only attempted five passes during the 2017 season before he decided to find a new home as a graduate transfer. He found his way to South Florida for the 2018 season, and he passed for 2,705 yards, 12 touchdowns and 11 interceptions in 11 games. He is set to remain the starter in Tampa for the 2019 season.
Farrell's take: Barnett was once a five-star for us because he was so good at extending the play and running the ball with his great size, but accuracy issues led to a fall to four-star status. He was raw but a great athlete and a perfect fit for certain offenses, but he never was a true pocket guy as Alabama learned. Now after a stop at Arizona State he's at USF, where those accuracy issues have followed him. He has a high ceiling but mechanical issues remain.
3. Travis Jonsen (Travis Waller)
The skinny: Jonsen committed to Oregon in early July over offers from Notre Dame, Ohio State, Alabama and Arizona. Jonsen, who was previously named Travis Waller, struggled with injuries during the 2015 season, before being bypassed by Justin Herbert for the starting job in 2016. During the summer of 2017, Jonsen transferred from the Ducks, landing at Riverside City College for a season before signing with Montana State. With the Bobcats, after missing spring practice due to a broken foot, he was moved to wide receiver during the summer, where he finished with 28 receptions for 319 yards and one touchdown in 2018.
Farrell's take: Is he the next David Sills at a small school level? He could be, but we saw his potential as a quarterback and he was clearly rated too high. He had a solid arm, could move around and was a good fit for the Oregon offense, but things never panned out and now he's a wide receiver. Ouch.
4. Brandon Wimbush 
The skinny: Wimbush initially committed to Penn State in May, but after scheduling a visit to Notre Dame during his senior season, rumors began to swirl that a flip may be possible. That flip became a reality in October, a few days after he returned home from South Bend. Wimbush waited his turn at Notre Dame until the 2017 season, when he passed for 1,870 yards and 16 touchdowns while rushing for 804 yards and 14 touchdowns. However, after some inconsistent play, he lost the starting job in 2018 to Ian Book. With a grad-transfer season available to him, Wimbush decided to take his talents to UCF in 2019.
Farrell's take: Another transfer on this list? Yep. Wimbush was a strong kid with a big arm in high school. He also had accuracy issues, but he had a high ceiling as a quarterback who could throw the ball a mile as well as move around. He was very up and down at Notre Dame and is now trying to re-start his career at UCF, but it's clear he shouldn't have been ranked ahead of Murray.
5. Kyle Murray 
The skinny: Murray's recruiting process had plenty of twists and turns, but he eventually committed to Texas A&M despite a late push from Texas. With the Aggies, Murray had his fair share of success during his true freshman season, but he still decided to transfer to Oklahoma. He sat out the 2016 season and then served as Baker Mayfield's backup in 2017, before taking over for Baker when the Heisman Trophy winner made his way to the NFL. Murray quickly established himself as an equally potent weapon, finishing his only season in Norman with 4,361 yards and 42 touchdowns through the air, plus 1,001 yards and 12 touchdowns on the ground. This helped him join Mayfield as a Heisman Trophy winner. He recently decided to forego a career in Major League Baseball, where he was a first-round draft pick, by dedicating himself to the NFL.
Farrell's take: Murray transferred as well, but he's clearly - and I mean clearly - the best quarterback of the group, by far. So why wasn't he a five-star and ranked higher? You can blame me if you want. I felt he was too small after seeing him at Under Armour week, where he struggled with accuracy. He could run, there was no doubt about that, but he struggled against the best competition seeing downfield and I felt he would not translate to the NFL level. Shows how much I know.