Ranking the Thanksgiving holiday commitments
Holidays are always a busy time for commitments and while this Thanksgiving wasn't loaded with pledges there were still a handful of important ones. As an extra bonus, we added in two that came the night before as everyone was preparing their turkey and fixings.
We rank the Thanksgiving commitments here:
1. JOHNNY BOWENS, Oregon
An early Texas A&M pledge who backed off his commitment over the summer, Bowens ended up picking Oregon over the Aggies and others and it's a big win for the Pac-12 power. The Converse (Texas) Judson standout is a big-bodied defensive end who can use power to beat offensive tackles but he's surprisingly nimble and sure-footed for someone his size. Bowens has the ability to stay outside but could also move inside if needed. The Ducks have absolutely loaded up along the defensive line and Bowens is arguably the biggest addition so far.
*****
2. KENDEL DOLBY, Oklahoma
On Nov. 13, the Miami (Okla.) Northeastern Oklahoma A&M standout named a top 10 of Oklahoma, Kansas, Missouri, Houston, Washington, Liberty, Oklahoma State, Washington State, Arkansas and Utah State and then that following weekend he took a visit to Norman. That basically set in motion Dolby's commitment to the Sooners as Dolby loves playing out on an island, is super twitched-up and has phenomenal playmaking ability. He plays with confidence and that should bode well in coach Brent Venables' defense as he joins Makari Vickers and Jasiah Wagoner as the defensive backs in Oklahoma's class.
*****
3. TYSEER DENMARK , Oregon
Ohio State, Penn State and Oregon were the three finalists for Denmark leading into his decision and it looked like in the days leading up to his decision he was headed to the Big Ten but the Ducks won out and it's a big early commitment from the 2024 four-star receiver. The Philadelphia (Pa.) Roman Catholic standout said in April that the Buckeyes were the front-runner after his visit and conversations with Ryan Day and Brian Hartline but Denmark wanted to take a bunch more visits before making a pledge. Those trips happened and Eugene blew him away so the Ducks landed a big piece of their early 2024 class.
*****
4. GERNORRIS WILSON, Oregon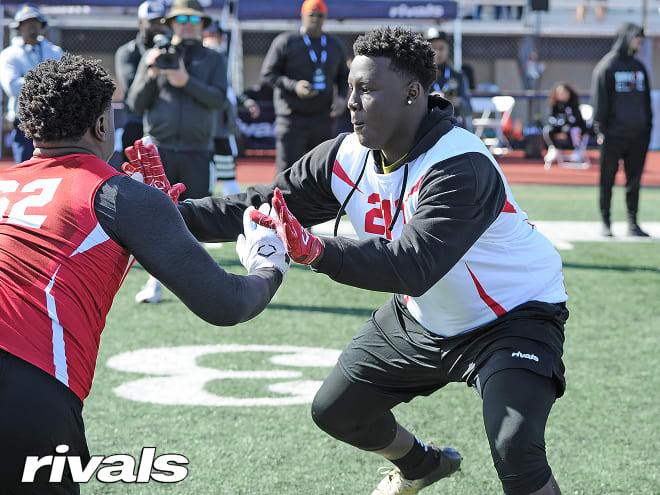 Wilson committed to Auburn early in the season but when coach Bryan Harsin was fired and there was uncertainty about which coach would take over the program, the three-star offensive lineman backed off his pledge and started looking around. That led the Lakeland, Fla., standout to take a visit to Oregon in recent weeks as position coach Adrian Klemm pushed for Wilson to visit Eugene. When he got there, the three-star standout loved it and made the decision in the last few days to pick the Ducks.
*****
5. TYLER BROWN, Clemson
Brown has always shown interest in Clemson but after not getting offered at summer camp - where he was limited by a hamstring injury - the Greenville, S.C., three-star receiver committed to Minnesota. That pledge lasted a few months until Virginia Tech offered and then Brown started to be contacted more by the Tigers. A few weeks ago, Clemson came through with an offer and after multiple trips there this season, Brown committed to the Tigers.
*****
6. DAYTON HOWARD, Iowa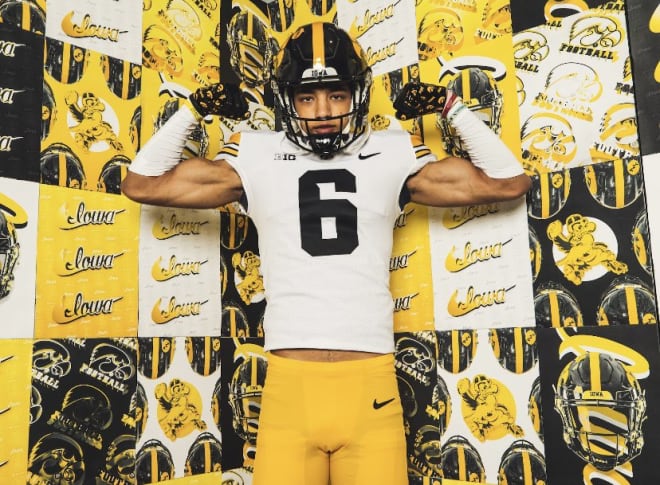 Howard's recruitment happened quickly as Iowa became his first Power Five offer in mid-November and by Thanksgiving he was committed to the Hawkeyes. Iowa could be getting a major steal in the Kansas City (Mo.) Park Hill three-star wide receiver who has size at 6-foot-5 and a frame that could add even more weight. Equanimeous St. Brown's recruitment was much different and far more active but the two have nearly the exact same frame at the same stage.