Ranking the Contenders: Tim Keenan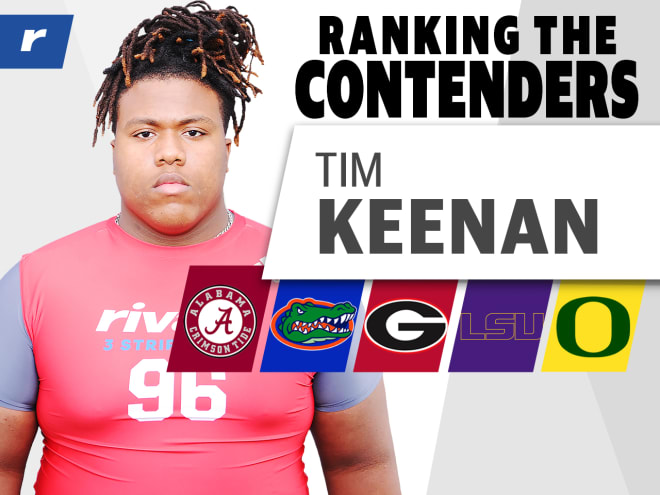 It seems like Tim Keenan should be in college already. The four-star defensive lineman at Ramsay High in Birmingham (Ala.) has been on the recruiting scene for years, and his offer list is long.

On May 1, Keenan released his top 15, and it was full of national programs from coast to coast. He plans to do at least a couple more cuts before he makes his decision very late in the process. He is a prospect that may wait all the way until Signing Day in February before revealing his school.
We take a look now, well in advance, at who we feel five main players with months to go before Keenan's decision.
1. ALABAMA
Alabama is an in-state school, a school Keenan grew up following, and a school he has visited over 20 times, so most consider the Crismon Tide as the team to beat. Keenan has not said that, nor has he dropped any hints to who his favorite it, but Alabama could be tough to beat. The history they have on the defensive line along with how they win and coach players up are things he has mentioned about Alabama in previous interviews. Alabama has made him feel like a priority as well.
2. LSU
LSU offered Keenan early and multiple coaches, including head coach Ed Orgeron, has connected with the Alabama defensive lineman. Over the last couple of years, Keenan has taken four visits to Baton Rouge. He has always been high on the Tigers due to their history on defense, but last season's perfect 15-0 made the Tigers that much more appealing. More than anything, LSU's production of defensive prospects stands out to Keenan.
3. OREGON
The 2020 season Oregon had with a win in the Rose Bowl, combined with the signing of Alabama players Robby Ashford and Jayson Jones, has really pushed the Ducks up Keenan's list. He has always had his eye on Oregon, then when he got the offer, he started doing more research and connecting with the coaches. Oregon has been in contact with Keenan daily this spring and they are likely to receive an official visit later this year.
4. GEORGIA
Keenan was set to be in Athens for Georgia's spring game in April, and that would have been his third time between the hedges. He wants to get back to Georgia early in the season and continue to build his relationship with the staff. Keenan has kept up with Georgia more since Kirby Smart took over and has called the program a "contender" and "one on the uprise" in past interviews.
5. FLORIDA
There has been constant contact with the Florida staff this spring and the history at the Swamp has Keenan's attention. He has made one trip to Gainesville and he wanted to get back this summer, so when the season starts, look for Keenan to head south for his second visit. He has watched the Florida coaches develop defensive linemen, he likes how they turn their defensive linemen loose to rush the quarterback and he sees the Gator defense as a potential fit.