Ranking the Contenders: OT Brandon Baker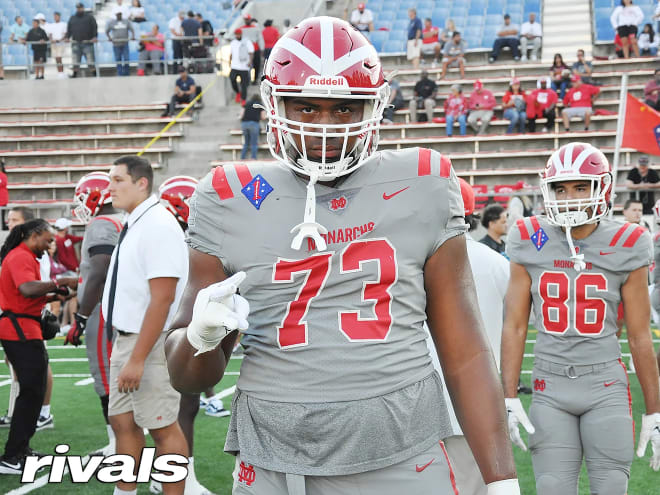 1. TEXAS
There are numerous reasons why Texas could land Baker, but it's not a complete lock just yet. Texas is losing its starting right tackle after this season and that's where Baker plays in high school as Auburn commit DeAndre Carter is at left tackle for Mater Dei.
Baker also has a tremendous relationship with position coach Kyle Flood and it might be his best one among offensive line coaches among his final four. Plus, coach Steve Sarkisian has a ton of connections to Baker's high school from his years in California and his son even attended school there last year.
There is also a family connection to Texas freshman edge Tausili Akana but that might be a tenuous reason for Baker to pick the Longhorns since he hasn't talked about that extensively throughout his recruitment. Still, Texas is the team to beat heading into his weekend decision, and the Longhorns' move to the SEC only helps.
*****
2. OREGON 
Baker might have the longest-standing relationship with Oregon since his brother went to school there and he's basically been in touch with coach Dan Lanning since he took the coaching job.
The four-star was close with former OL coach Adrian Klemm and when he went to the NFL there was some pause with the Ducks. But it has drastically picked up again as Baker has gotten more familiar with position coach A'lique Terry.
If any team has a real shot at beating Texas for Baker it would be Oregon and it could be an even bigger draw that Oregon is headed to the Big Ten.
*****
3. OHIO STATE  
If there is one relationship other than Baker's with Texas' Kyle Flood among position coaches that resonates, it could be the four-star's with Ohio State's Justin Frye. That will go a long way in his thinking come decision day, plus coach Ryan Day and others have been recruiting the Mater Dei standout for a long time.
Baker might also be a Paris Johnson clone and that has to be a selling point as the Buckeyes look to close. As much as this could make sense, it just feels like Texas and Oregon have leapfrogged the competition and it might be a two-horse race heading into Sunday.
*****
4. NEBRASKA 
The No. 1 offensive tackle in the 2024 class has taken multiple visits to Nebraska in the spring and then his final trip happened this past weekend - before any decision was going to be made.
From his respect for and relationship with first-year coach Matt Rhule and how he's gotten to know position coach Donovan Raiola, the Huskers would be a sneaky surprise pick here, but they are still considered a major long shot. Things got a little interesting when Baker kept pushing his decision until he got back to Lincoln with his family, but others have a stronger argument heading into decision day.