Ranking the Contenders: Four-star QB Dylan Lonergan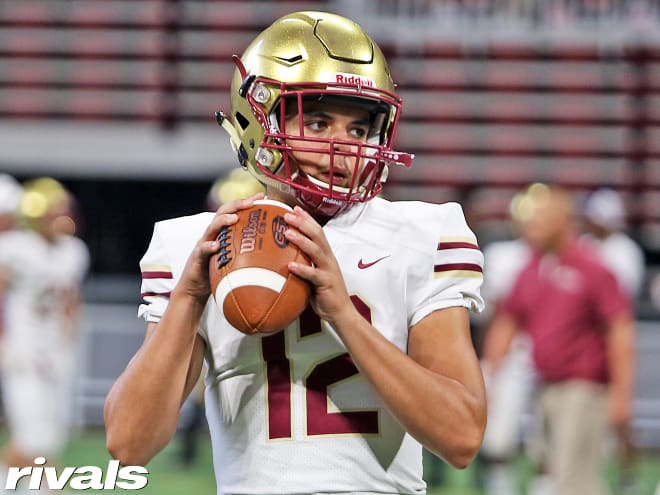 *****
1. SOUTH CAROLINA 
Lonergan is very serious about the Gamecocks. He met with the football and baseball coaching staffs while in Columbia, was there for the spring game, closely watched how new quarterback Spencer Rattler functioned in a pro-style offense and there is a really focused approach to how the four-star is looking at South Carolina.
That tells us that the Gamecocks are the frontrunner right now, and if things continue to progress in a positive way they could be tough to beat as the summer approaches.
*****
2. STANFORD  
If South Carolina is 1A, then Stanford is 1B. The Cardinal have a fantastic baseball team and they need a quarterback in this recruiting class, so there is a major opportunity to play there and the academics are without question the best out of Lonergan's five schools.
That is basically the pitch from Stanford, and it's certainly a compelling one. The four-star quarterback would be able to play both sports, get a great education and have a chance to play early in the Pac-12.
*****
3. OHIO STATE  
The Buckeyes have not cast an incredibly wide net when looking for 2023 quarterbacks, and many of them are committed elsewhere already. Dante Moore is on the offer list but it looks like Notre Dame, LSU and others look best for him right now. Lonergan would definitely be an option and a nice pickup for the Buckeyes, but it will be interesting to see if he can play both football and baseball in Columbus.
Another thing to consider: In the 2024 class, Dylan Raiola is a possible five-star and Jadyn Davis is already at that ranking level, and both are high on Ohio State so it could be a factor in Lonergan's calculus as well.
*****
4. ALABAMA
Five-star Arch Manning is on the most wanted list. So is four-star Eli Holstein, who has taken numerous visits to Tuscaloosa in recent months. But Lonergan is also on Alabama's board, and turning down the Crimson Tide if they come calling is difficult for top prospects.
Of any team on this list, Alabama could potentially move up very quickly if things come together even more for the Snellville Brookwood standout. But it might take more time than just after summer official visits for the Crimson Tide coaching staff to figure everything out when it comes to their quarterback recruiting situation.
*****
5. FLORIDA
When Lonergan visited Florida recently he met with coach Billy Napier, sat in with the quarterbacks, loved the new facility and got a great feel for the offense that the first-year coaching staff will run this season. There are lots of good things going on with Florida, but it seems like Lonergan has other programs that he's been more focused on in recent months.
Could the four-star quarterback end up in Gainesville? Sure. But it's probably not likely at the moment.