Ranking the Contenders: Four-star DE Caden Curry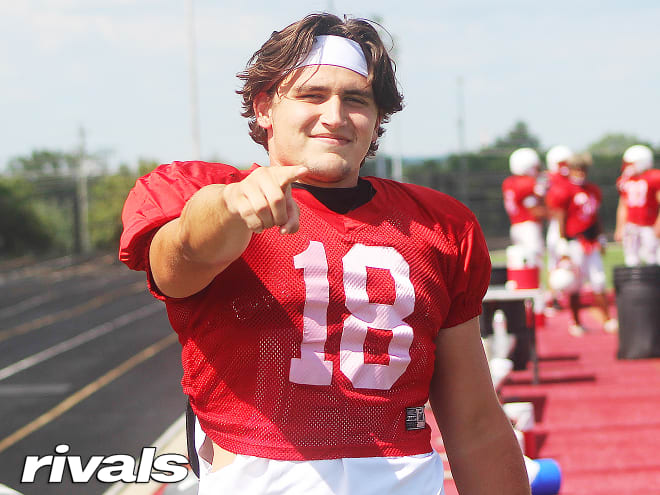 Caden Curry announced a top 12 in mid-April, and Ohio State, Alabama, Arizona State, Clemson, Florida, Indiana, Notre Dame, Oregon, Florida State, Michigan, USC and Tennessee made the cut for the high four-star defensive end from Greenwood (Ind.) Center Grove.
It is still an extensive list for Curry, rated as the No. 24 prospect in the 2022 class, but he cut his list basically in half as June visits are coming up.
Alabama, Ohio State, Clemson, Florida State, Oregon and Indiana are the schools Curry is most interested in visiting when he can take visits in a few weeks, and that could offer a window into his thinking when it comes to his recruitment.
In today's Ranking The Contenders, we take a closer look at some frontrunners in Curry's recruitment and then some other teams that are within range of landing his commitment.
*****
MORE RECRUITING NEWS: Recruiting Rumor Mill | OL Jackson Cannon on his commitment to Mississippi State
CLASS OF 2022 RANKINGS: Rivals250 | Position | Team | State
CLASS OF 2023 RANKINGS: Rivals100
RIVALS TRANSFER TRACKER: Stories/coverage | Message board
RIVALS CAMP SERIES: Info/coverage on 2021 camp series
*****
1. OHIO STATE 
Across the board, the feeling is that Ohio State is the frontrunner and the Buckeyes could be tough to beat. It's close to home, Ohio State has recruited the state well and Curry is also a big-time fan of position coach Larry Johnson. Johnson has had success in developing players across the defensive line and the Buckeyes use the most talented players regardless of age, so getting on the field early will not be a problem.
*****
2. ALABAMA 
After Ohio State, which could have a distinct lead in Curry's recruitment, Alabama and Clemson are battling for that second spot and it's telling that the four-star prospect wants to visit both once it's possible. That will be the best shot either the Crimson Tide or the Tigers have in convincing him to head elsewhere. Alabama speaks for itself, its success, its NFL output and everything else, but coach Nick Saban and staff will have to convince Curry of it to land his pledge.
3. CLEMSON 
Clemson has a lot to sell - the success of Myles Murphy and Bryan Bresee as freshmen last season, the chance to become a part of a special culture in coach Dabo Swinney's program and the Tigers' success are all key selling points. It is never a good idea to count Clemson out, and a visit this summer could definitely turn things in the Tigers' favor. But just like Alabama it has some work to do to catch Ohio State.
*****
4. THE OTHERS 
After the top three, it's a melting pot of teams that could have an argument to land Curry, but the feeling is that all of them are playing catch-up.
*Tennessee just landed a commitment from Greenwood (Ind.) Center Grove four-star quarterback Tayven Jackson, so that could be intriguing to Curry but only time will tell if the Volunteers could move higher up his list.
*Indiana could be a possibility as well. The Hoosiers just flipped four-star linebacker Dasan McCullough from Ohio State, although family considerations were significantly involved there and probably won't have a major influence on Curry's final decision.
*If Curry takes a trip to Florida State, defensive end is a position of need as the Seminoles look to rebuild into a national power. But it feels like a long shot right now that he ends up in Tallahassee.
Recruiter David Cooper leaving Florida for Louisville probably greatly diminishes the Gators' chances. Confidence is low that Michigan or Notre Dame have much of a shot. And the three Pac-12 schools of Arizona State, USC and Oregon seem highly unlikely at this point.