Ranking the Contenders: Five-star athlete Quavaris Crouch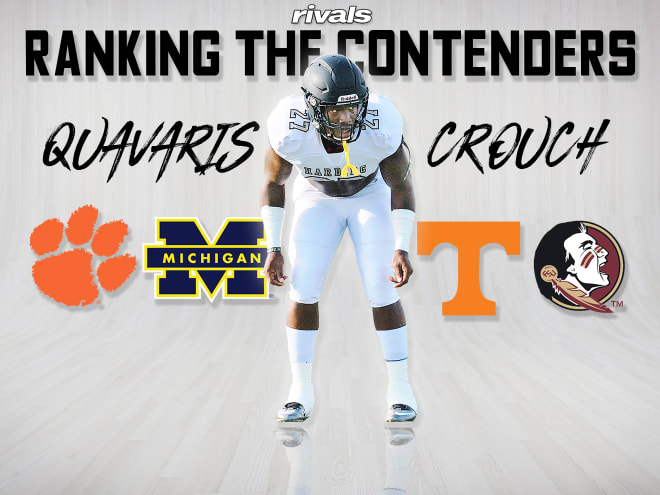 CLEMSON 
The Tigers were not doing a great job with Crouch's recruitment during the summer, but momentum started to pick up once he visited for the Clemson game against Syracuse. Since then, the Tigers have done nothing but move to the top of his list and are currently the favorite to land his commitment. Crouch has seen the Tigers play on four different occasions this season, most recently was this past weekend for his official visit. Some of the biggest questions heading into that trip were about how he fits in with the other players on the team and how much Clemson could help him with life after football.
Crouch told Rivals.com that the Tigers answered all of his questions during that trip. That, combined with the proximity to home, makes Clemson the favorite to land his commitment.

MICHIGAN 
Crouch has been interested in Michigan ever since it offered him. Seeing how that team is playing is a major attraction for him. The decision to play on offense or defense isn't an issue if Crouch decided to go to Michigan, because his power running style fits well with what Michigan does on offense and the opportunity to learn from Don Brown on defense is very enticing.
The players, specifically Joe Milton and Khaleke Hudson, have done a phenomenal job of making Crouch feel comfortable in an environment like Ann Arbor and with players with whom he may not seem to have much in common. Their attitudes and the way they approach the game of football really meshed with Crouch and his attitude.
On top of that, Michigan's presentation to him about helping him with life after football was very impressive. The one thing holding Crouch back from putting Michigan at the top of his list is the distance from home. As he said in his recent interview with Rivals.com, everything that he saw at Michigan he also saw a Clemson, but the latter is only two hours from his house. Proximity to home could be Michigan's undoing.

TENNESSEE 
Before the season, it looked like Tennessee had a lot of momentum for Crouch. That all changed once the season began and Crouch got a good look at how much of a rebuilding process the Volunteers are going to have to go through. He has a lot of respect for coach Jeremy Pruitt and knows that he could turn him into a very good linebacker.
The other coaches have built strong relationships with Crouch, as well. The players and Crouch did not necessarily seem to mesh very well, and Crouch is looking for a team that is full of players that are focused just like him.

FLORIDA STATE 
Crouch had a great time during his official visit to Florida State, and feels very comfortable with the incoming recruits, but the culture change that he thinks will need to take place in Tallahassee does not sound like something he necessarily wants to be a part of. Linebackers coach Raymond Woodie is one of his favorite coaches from the recruiting process, but Crouch does not seem to want to be a part of a team that will take this long to rebuild.