Raiding the state: Texas
Mark Pszonak contributed to this report.
Out-of-state recruiting is becoming more important in today's world of college football and we are seeing schools march into enemy territory and pull top prospects away with regularity. This week, we took a look at five of the biggest talent-producing states in recruiting and what schools have done the best job raiding them since 2012. We conclude the series with a look at Texas.
With so many schools that recruit well within the state it's not surprising to see success levels for Texas and Texas A&M. In fact, it's been quite a battle between the two programs since 2012 to keep prospects ranked four-stars or above at home with the Longhorns signing 56 such prospects and the Aggies close behind with 51. Baylor (14), TCU (10) and Texas Tech (eight) are well behind the duo. Here's a breakdown of the out-of-state programs that have landed the most four-stars or higher from Texas since 2012.
Note: This list does not include JUCO or prep school prospects and focuses on four- and five-star prospects
STATE SERIES: Monday: Ohio | Tuesday: Georgia | Wednesday: Florida | Thursday: California | Today: Texas
Lone Star swiping
| Team | Four- and Five-Stars since 2012 |
| --- | --- |
| Oklahoma | 21 |
| LSU | 12 |
| Alabama | 11 |
| Ole Miss | 8 |
| Ohio State | 7 |
1. OKLAHOMA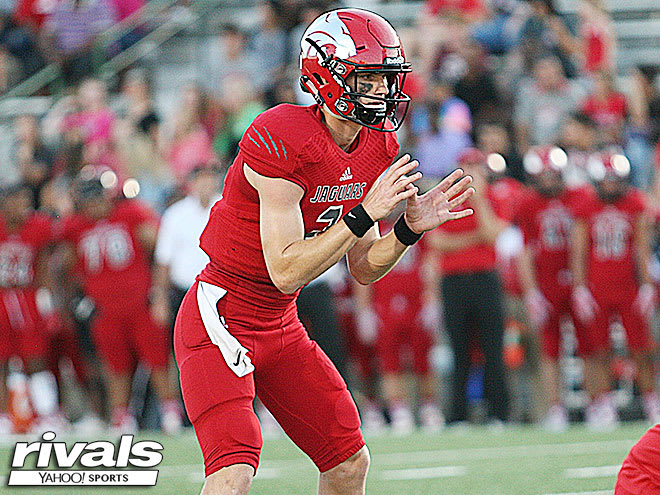 This should come as no surprise, as the Sooners are in the Big 12 and located less than 200 miles away from the Dallas-Fort Worth Metroplex. They have especially turned up their efforts in Texas over the last three classes, with six additions in 2015 and then seven coming this past February. While it is true that not many of the recruits who have made their way to Norman from Texas since 2012 have really made a huge impact, the haul the Sooners brought in two months ago was impressive. With the likes of quarterback Chris Robison, running back Kennedy Brooks, wide receivers Cedarian Lamb and Charleston Rambo and offensive lineman Tyrese Robinson, who are all four-stars, making their way across the border, it's very likely that this annual migration will continue.
Farrell's take: Oklahoma is becoming more of a threat in Texas, especially with the Longhorns' rough stretch over the last few years. The Sooners' 2017 haul was an impressive one; they will do damage in 2018 and are already off to a great start for 2019.

2. LSU
The Tigers actually leapfrogged Alabama after the 2017 class signed as the second-most successful program recruiting Texas since 2012. After only signing one recruit out of the Lone Star State in 2012 and none in 2013, the Tigers have definitely made Texas more of a priority with 11 recruits making their way to Baton Rouge since 2014. Most notable to this point has been Jamal Adams, who is a likely first round draft pick next week. However, with the quantity and quality of incoming Texas talent improving every year, including players such as Rivals100 offensive lineman Austin Deculus, defensive end K'Lavon Chaisson and defensive back Kary Vincent this year, the Tigers are sure to produce more Texas stars.
Farrell's take: Bordering Texas and being close enough to Houston to do damage, LSU does well in Texas and also hits the Dallas area well. Those looking to get out of state but play in the SEC look to LSU. The Tigers have become a thorn in the side of Texas and Texas A&M to some extent.

3. ALABAMA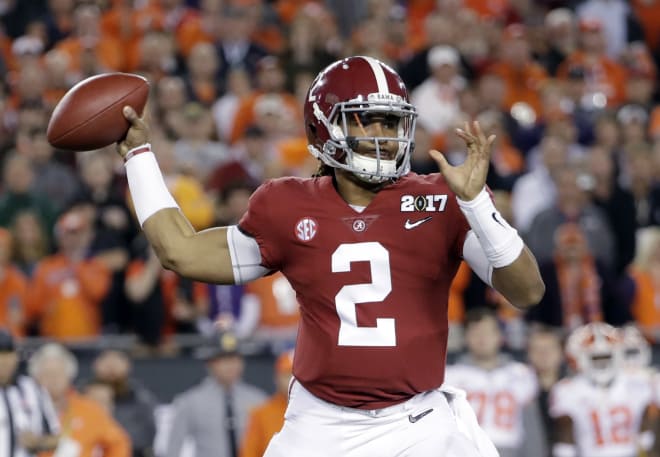 The Crimson Tide continue to bring in elite-level talent from Texas. A'Shawn Robinson was the most noteworthy addition back in 2013, but with the surprising emergence of Jalen Hurts this past season as a true freshman, the pipeline from Texas to Alabama is sure to continue. Three more four-stars signed with the Crimson Tide in February to help continue this trend, as wide receiver Tyrell Shavers and tight ends Major Tennison and Kedrick James all hope to make an impact in 2017.
Farrell's take: Alabama can spot recruit anywhere and while it was a surprise it stole Robinson from Texas back in 2013, it's no longer a surprise when the Tide are a finalist for Texas prospects. While success has been up and down for those heading to Alabama from the state, the lure of national titles will continue to draw players as long as Nick Saban is in charge.

4. OLE MISS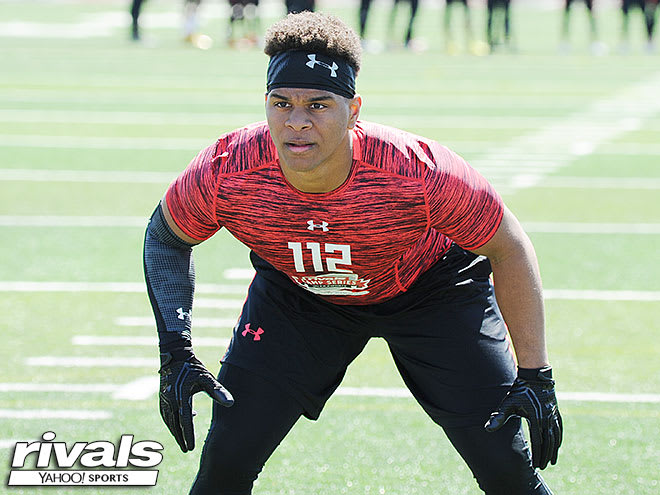 The majority of the damage that the Rebels did in Texas was with the 2016 class when they reeled in five-star Gregory Little and three other four-stars. While Ole Miss did bring in one four-star from Texas in 2013, 2014 and 2015, this haul in 2016 created the expectation that this might become the norm for the Rebels. However, with the dark cloud of an NCAA investigation looming over the program, Ole Miss has struggled recently on the recruiting front. The Rebels did manage to pull in four-star linebacker Mohamed Sanogo on National Signing Day, but overall it was a disappointing recruiting class and effort in Texas with the class of 2017.
Farrell's take: Ole Miss looked as if it was going to be a major player in Texas after the 2016 class but the NCAA issues have really hurt. Until the final sanctions are agreed upon, Ole Miss will continue to struggle and will likely fall to the "Others Of Note" list by this time next year.
5. OHIO STATE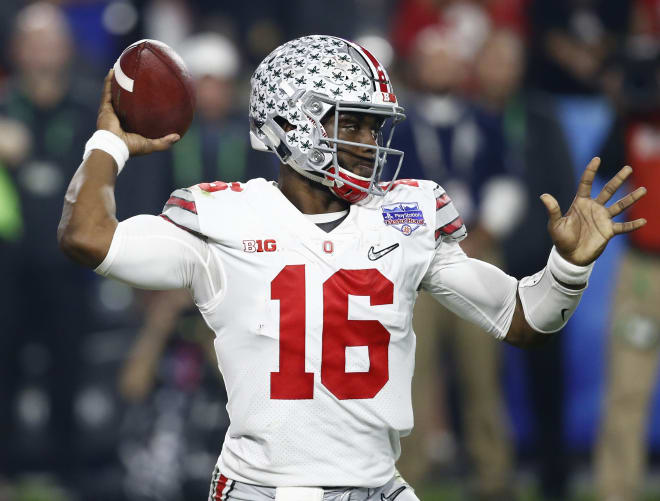 Under Urban Meyer, the Buckeyes haven't made a home in Texas to this point, but they definitely don't have a problem cherry-picking talent from the state when they identify a recruit they like. This started in 2013, when J.T. Barrett, Dontre Wilson and Mike Mitchell all headed north. While Mitchell's stay was short-lived, both Barrett and Wilson have become major parts of the Buckeyes' offense. After pulling in zero recruits from Texas in both 2015 and 2016, the Buckeyes hit the state hard in 2017 with three key additions. While five-stars Jeffrey Okudah and Baron Browning lead the way, four-star running back J.K. Dobbins also has the potential to make an early impact. Ohio State has landed seven four-stars or higher since 2012.
Farrell's take: Barrett was a breakthrough recruit for Meyer in Texas. Now Meyer gets to go head-to-head with his protégé Tom Herman for recruits. Based on last year's haul, Ohio State will be a factor in Texas for many years.

HONORABLE MENTION
It's actually surprising that Oklahoma State didn't make the top five here and is just outside the list with six four-stars or higher, tied with UCLA. Stanford has landed five such players since 2012 while Notre Dame and Florida State have signed four each. Arkansas, Tennessee and USC round out the mentions with three each.
Farrell's take: Oklahoma State needs to take a step up in the state of Texas to be more consistent in the Big 12 and the effort is certainly there as it landed two four-stars or higher in 2017. UCLA's success can be attributed to departed assistant coach Adrian Klemm, who had ties to the state but that won't stop the Bruins from recruiting the area. Stanford and Notre Dame recruit nationally for different reasons so Texas will always be of interest. Florida State landed the state's top player in Marvin Wilson in 2017 so that will help efforts.