Raiding the state: California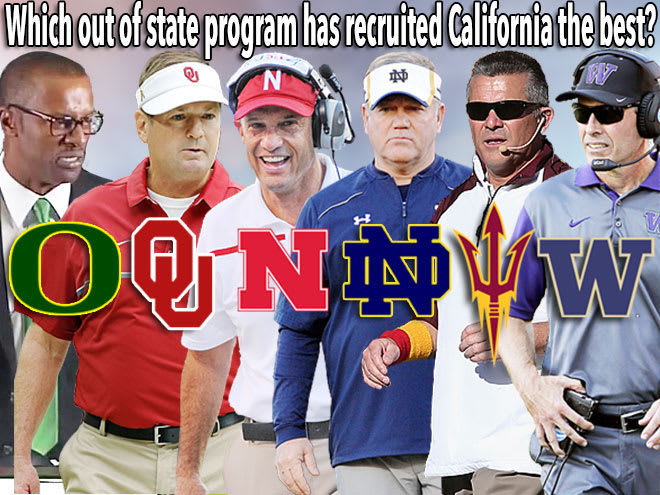 Mark Pszonak contributed to this story.
Out-of-state recruiting is becoming more important in today's world of college football and we are seeing more schools march into enemy territory and pull top prospects away with regularity. This week, we take a look at five of the biggest talent-producing states in recruiting and what schools have done the best job raiding them since 2012. Here is a look at Caifornia.
You would expect mainly Pac-12 schools to be on this list, so when you see Oklahoma, Notre Dame and Nebraska, you have to be impressed. By my count, in-state programs have done pretty well keeping four-and five-star prospects at home since 2012 led by USC with 55 such signees followed closely by UCLA with 50. There is a major drop off after that with Cal at 19 and Stanford at 14 with the latter more of a national recruiting program.
Note: None of these lists include JUCO or Prep School prospects and focuses on four- and five-star prospects.
STATE SERIES: Monday: Ohio | Tuesday: Georgia | Wednesday: Florida | Today: California | Friday: Texas
Golden State presence
| Team | Four- and Five-Stars since 2012 |
| --- | --- |
| Washington | 20 |
| Oregon | 18 |
| Oklahoma | 14 |
| Arizona State | 9 |
| Notre Dame | 8 |
| Nebraska | 8 |
1. WASHINGTON
It is not surprising that a Pac-12 school happens to be the most successful in California, but it may surprise some that it is Washington which has achieved this accomplishment, with 20 signees ranked four-stars or higher. The Huskies struck gold in 2012 with five-star Shaq Thompson and have continued to pull in impressive talent from the Golden State in the last five classes. This has included Elijah Qualls, Joe Mathis and Jake Browning plus 2017 additions Brandon McKinney, Terrell Bynum and Keith Taylor.
Farrell's take: The Huskies have done a very good job in California, and these numbers of course date back to Steve Sarkisian and a guy named Tosh Lupoi, who certainly got results up there. Now, under Chris Petersen, they are likely to continue that success and further distance themselves from Oregon unless Willie Taggart can turn things around for the Ducks.
2. OREGON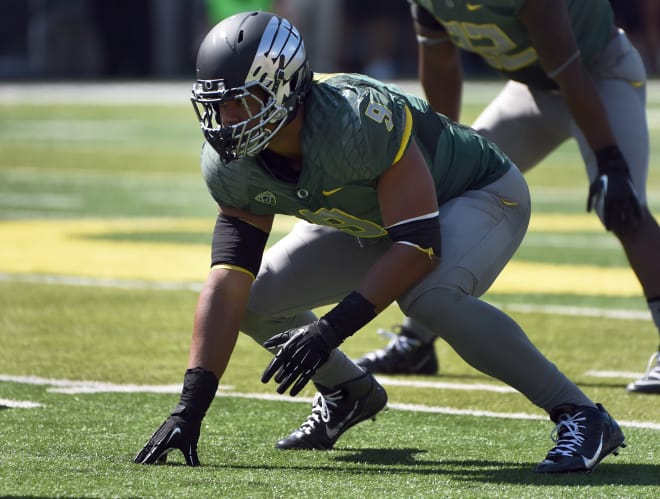 Since the Ducks brought in Arik Armstead and Byron Marshall in the class of 2012, they have continued to mine the Golden State for elite talent, with 18 four-stars or higher. Since then they have also brought in Darren Carrington and Royce Freeman, plus the class of 2017 saw five additions, headlined by athlete Deommodore Lenoir, athlete Jaylon Redd and defensive back Thomas Graham. With new head coach Willie Taggart taking a more aggressive approach in Florida in the current recruiting cycle, it will be interesting to see if that affects the Ducks' efforts in California in the coming years.
Farrell's take: Will Taggart's ties to Florida lead to an emergence of talent from the Sunshine State and hurt efforts in California? Based on 2017's results, that won't be the case, as he won key battles for Lenoir, Redd and Graham (by either keeping them in the fold or landing them). California is very important to Oregon for obvious reasons, but do the Ducks have the allure they had under Chip Kelly?

3. OKLAHOMA
It comes as no surprise that the Sooners recruit Texas very well, but to some people the fact that they also have a high level of success in California is more of a head-turner. In fact, the Sooners are the most successful program to recruit the Golden State outside the Pac-12, and it's not really close with 14 four-or five-star signees. In recent years, the Sooners have brought in players like Hatari Byrd, Joe Mixon, Caleb Kelly and most recently Addison Gumbs and Grant Calcaterra. The class of 2018 already has a commitment from four-star quarterback Cameron Rising, plus it should be mentioned that four-star running back commit T.J. Pledger, who plays at IMG Academy in Florida, hails from California but counts toward the Sooners' Florida numbers instead.
Farrell's take: Bob Stoops' recruiting adaption at Oklahoma has been impressive to watch, and recruiting nationally was seen as a key many years back. The Fresno area and Northern California have been important areas, but the Sooners aren't afraid to mix it up for Los Angeles prospects as well and come out successful each year. This won't stop any time soon.
4. ARIZONA STATE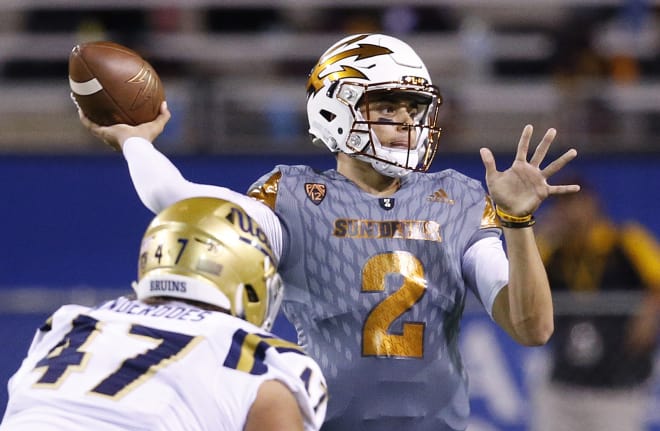 While the Sun Devils have experienced recruiting success in California over the last six years, you can also make an argument that they could be doing better. On top of that, the nine four-stars that did make their way to Tempe have had experienced a mixed bag of results. Some of the Sun Devils that have impressed include Joseph Wicker and Zach Robertson, plus fans are still optimistic that quarterback Brady White can prove himself after missing the majority of the 2016 season with an injury. Arizona State has reeled in nine four-star or higher signees from California since 2012.
Farrell's take: The Sun Devils slide in here ahead of in-state rival Arizona and just ahead of a couple of non-Pac-12 programs, but the number of four-and five-stars they lure away from California has to increase if they are to contend. Arizona State offers a lot for players looking to get out of state and make an instant impact, but with Washington and Oregon doing such a solid job and so many kids staying home in California, this will be a tough task.

5T. NOTRE DAME
The Fighting Irish are always scouring the country for elite talent, with California becoming one of their major go-to areas. They have consistently brought in multiple elite recruits from the state, including Equanimeous St. Brown and CJ Sanders. The Irish only added one top California recruit in 2017 in offensive lineman Aaron Banks, and surprisingly they have yet to pull in a recruit from the state in 2018 despite already having a dozen commitments and recruiting well nationally. However, with Equanimeous' younger brother, five-star Amon-Ra St. Brown, plus several other top recruits from the state keeping a close eye on the Irish, it is likely that the Irish success in California will continue. Notre Dame has pulled eight signees ranked four-stars or higher since 2012.
Farrell's take: Notre Dame has recruited California well for as long as I've been doing this job, and they will always be an option for players not afraid of the elements and who want that national stage and education. Stanford is a thorn in their side a bit but more so for national recruiting than simply California efforts. As Notre Dame tries to increase its presence in the Southeast, this number could fall a bit, but certain California kids will always be interested in South Bend.
T5. NEBRASKA
The "Calibraska" movement became a hot topic in recruiting last year as the Huskers became a major player for several Golden State recruits. They ended up signing three to go along with the three that they signed in 2016. At several points last year the Huskers looked poised to reel in several more into their 2017 class, but at other times it looked like they may stall. One thing that is a reality is that the coaching staff will not slow down their tenacious efforts in the state, which has already resulted in 2018 commitments from four-star athlete Eric Fuller and four-star wide receiver Manuel Allen. These efforts have been helped with the hiring of assistant coach Donte Williams, who is known as a top-level recruiter in California. Recent commitment Brendan Radley-Hiles is also from California, but counts toward the Huskers' Florida number since he's at IMG Academy. Nebraska has landed eight four-star or higher signees from California since 2012, and that number continues to grow into the 2018 class.
Farrell's take: I was skeptical at first even after the success in 2016, but the Calibraska movement is real and growing stronger. Nebraska has some great recruiters working the area, Mike Riley has many great connections in the state and the more kids that head to Lincoln from the Golden State, the more that will follow. This is a massive key to Nebraska's success over the next few years.

HONORABLE MENTION
Others Of Note: Arizona leads the way here with seven four-star or higher signees since 2012 followed closely by Utah with six. Washington State, Miami and Michigan each have four.
Farrell's take: Arizona's number, like that of Arizona State, needs to improve for them to compete regularly, and I thought they'd take the next step prior to last season's disaster. Utah is interesting here because they have quietly become a big factor in the state. I expect Michigan and Miami to add to their numbers now that they have big-time recruiters at the helm.