R100 RB Michel sets official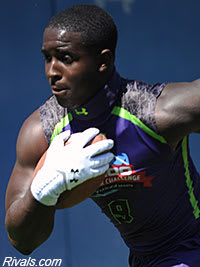 Since that time the hardest part for Michel has been respectfully telling coaches he is no longer interested in their programs and deciding on a date for his official visit to Athens.
"Nothing really," remarked Michel. "I'm just going to enjoy myself. They (Gurley and Marshall) will do big things."
His mother and father will accompany the Rivals100 presented by Under Armour athlete on his trip to the Classic City.
During his prep career, Michel has rushed for 4,498 yards and 55 touchdowns. He missed his sophomore year with a leg injury.

[rl]