QB Week: Highest-ranked QBs to ever sign with Big Ten teams
It's Rivals.com QB Week so we thought it would be interesting to take a look back at the highest-ranked quarterbacks signed by each Power Five conference. Today we start with the Big Ten and a former No. 1 overall prospect, who is now starring in the NFL at wide receiver.
Mark Pszonak contributed to this report.
RIVAL.COM QB WEEK: Big Ten teams with most QB success | NFL QB breakdown | Polarizing QBs
The skinny: Pryor definitely followed his own path during recruiting, deciding to wait until after National Signing Day to decide between Ohio State and Penn State. He finally signed with the Buckeyes, where he experienced his fair share of success, which included a Rose Bowl victory. However, his time ended prematurely as allegations of selling merchandise led to a five-game suspension, which ultimately led to his early exit to the NFL. After failing to make a name for himself in the NFL at quarterback, Pryor has revitalized his career at wide receiver. Finishing with 77 receptions in 2016, Pryor signed a one-year deal with Washington during the off-season.
Farrell's take: Back in high school, many felt Pryor's best position would be wide receiver or tight end so it's interesting to see him have so much success now in the NFL as a wideout. Pryor was the consensus No. 1 for us in 2008 because of his size, amazing athleticism and ability to keep defenses off-guard because he could throw the ball adequately as well. I still think he would have led Ohio State to a national title had he not been suspended and packed it off for the NFL. His career has lived up to his lofty ranking.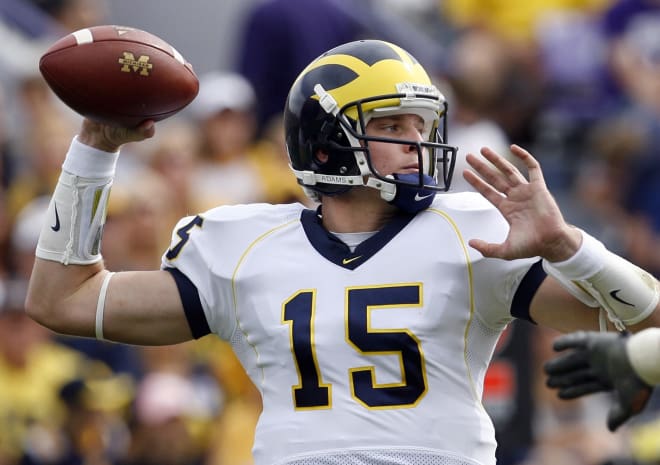 The skinny: Mallett made an early commitment to Michigan and never wavered. However, after spending one season with the Wolverines, the hiring of Rich Rodriguez, who is known for his spread option offense, led to his transfer to Arkansas. Mallett enjoyed two very successful seasons with the Razorbacks before declaring for the NFL Draft. Selected in the third round by New England, he spent three seasons with the Patriots before being traded to Houston. After two seasons with the Texans, he has found a home in Baltimore, where he will likely be the backup to Joe Flacco for the 2017 season.
Farrell's take: Mallett was known for his strong arm out of high school, one of the biggest arms I've ever seen for a prospect that age. He could throw the ball through a brick wall but, unlike many others with big arms, he also had some touch and accuracy. His size, arm strength and downfield touch led to his lofty ranking and a mini-debate between Mallett and Jimmy Clausen for the No. 1 overall ranking that year. Michigan wasn't a fit but he found one at Arkansas. His attitude, evident out of high school as well, has held him back in the NFL. He's still a pro quarterback, but he fell a bit short of this lofty ranking.

The skinny: Growing up in the Pittsburgh area, Morelli originally committed to the hometown Panthers, but a late change of heart saw him sign with in-state rival Penn State. Morelli took over the starting job as a junior at Penn State and had two successful-yet-unspectacular seasons. Going undrafted, he bounced around the NFL, and then the Arena and United football leagues before ending his playing career in 2011. He is currently training quarterbacks in Indiana.
Farrell's take: Morelli was the best 7-on-7 quarterback I have ever seen. He was tall, had a great delivery and he could put the ball wherever he wanted. His career at Penn State obviously didn't go as planned, but you can't draw them up any better looking than Morelli out of high school. His biggest issue in college and beyond was handling the pass rush, something he didn't have much trouble with out of high school. He obviously fell short of expectations especially compared with the next guy on this list who was his in-state competition in 2004.

The skinny: Henne trimmed his list to Michigan, Penn State and Miami before committing to the Wolverines. At Michigan, Henne passed for 9,715 yards and 87 touchdowns during a successful career. Drafted in the second round by Miami in 2008, Henne spent four seasons with the Dolphins before moving to his current home, Jacksonville. With the Jaguars he has become Blake Bortles' backup, which should be his role during the 2017 season.
Farrell's take: Henne was more mobile than Morelli as we debated the two in 2004 but wasn't as polished a passer. Obviously his career in college was better than Morelli's and he's still cashing an NFL paycheck so you could argue he's lived up to his ranking based on his success at Michigan and second-round draft status. I remember Henne being a cocky kid, almost arrogant, but he backed it up with some amazing play especially on the run.
The skinny: With offers from coast-to-coast, Hackenberg committed to Penn State, mainly due to Bill O'Brien's history of developing quarterbacks. Throughout the Jerry Sandusky scandal and sanctions at Penn State, he stayed firm with his commitment. Hackenberg's time at Penn State started off well, but he never seemed to improve from his freshman campaign. Even with this, he was still drafted in the second round by the New York Jets, where after a season on the sidelines, he is currently battling for the starting job this summer.
Farrell's take: Hackenberg, even out of high school, was a high risk/high reward guy who tended to lock on receivers and make some bad decisions, but could also make any throw needed, moved a little bit and had great size. It took him awhile to earn his fifth star on Rivals.com, but his play during his senior year on an outmatched FUMA high school team impressed us greatly. We knew there would be some growing pains and the guy we saw at Penn State under O'Brien was the five-star we expected while the last year under James Franklin was what we feared. He's still a polarizing talent.