QB Week: Breaking down where NFL QBs come from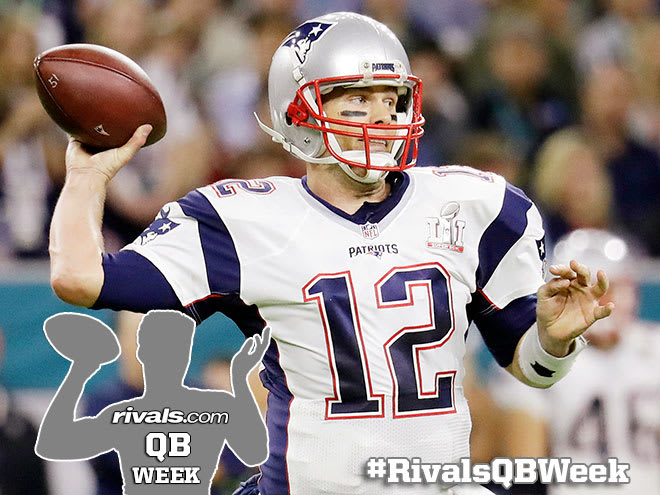 QB WEEK: Most QB success in Big Ten | Highest-ranked Big Ten QBs | Polarizing QBs
The Pac-12 has more active starting quarterbacks in the NFL than any other conference, but the NFL's 32 starters are generally spread out among the Power Five schools and even schools outside of those five conferences are well-represented in the league.
With seven of the 32 projected starters in the NFL this season – Kansas City's Alex Smith (Utah), Cleveland's Cody Kessler (USC), Indianapolis' Andrew Luck (Stanford), Tennessee's Marcus Mariota (Oregon), Los Angeles Rams' Jared Goff (Cal), Arizona's Carson Palmer (USC) and Green Bay's Aaron Rodgers (Cal), the Pac-12 leads the way.
The ACC, the Big Ten and non-Power Five teams all have six starting quarterbacks. The SEC has five and only the Big 12 significantly lags with just two starters from that conference – Cincinnati's Andy Dalton (TCU) and Minnesota's Sam Bradford (Oklahoma).
Only four college programs have two active starting quarterbacks and those are NC State, USC, Michigan State and Cal. The Wolfpack have the most of any school with three in Seattle's Russell Wilson, Los Angeles Chargers' Phillip Rivers and Chicago's Mike Glennon.
"The Pac-12 leading is not a big surprise," Rivals.com National Recruiting Director Mike Farrell said. "Everybody talks about the talent in the SEC and now the ACC but California is still known for quarterbacks. A lot of those kids stay there. There is better quarterback coaching and training there than anyplace in the world.
"NC State is a surprise because you don't think of that. But I'll give you the name of a guy who has a lot to do with that – Dana Bible. A lot of people don't know who Dana Bible is but he's the guy who worked with a lot of talented quarterbacks – Matt Ryan when he was young at Boston College and Glennon and Wilson at NC State, all under Tom O'Brien.
"They had a very direct approach to quarterback development. They didn't want to rush kids in, they wanted them to take their time in developing, they made them throw at summer camps live before they'd offer them, a lot of the things you see at schools now when it comes to offering quarterbacks."
As for where those NFL quarterbacks played in high school, California leads the way with seven QBs, followed by Texas with five. The only other state with more than two quarterbacks in the NFL is Virginia with three.
Florida, Louisiana, Ohio, Pennsylvania and Alabama have two quarterbacks each in the NFL. Indiana, North Dakota, Oklahoma, Hawaii, Michigan, Georgia and New Jersey have one each.
NFL STARTING QUARTERBACKS BY CONFERENCE
| Conference | No. of NFL Starting QBs |
| --- | --- |
| ACC | 6 |
| Big 12 | 2 |
| Big Ten | 6 |
| Pac-12 | 7 |
| SEC | 5 |
| Non-Power Five | 6 |
AFC EAST
BUFFALO BILLS
MIAMI DOLPHINS
Jay Cutler - Vanderbilt - Lincoln City (Ind.) Heritage Hills
NEW ENGLAND PATRIOTS
Tom Brady - Michigan - San Mateo (Calif.) Serra
NEW YORK JETS
Josh McCown - Sam Houston State - Jacksonville, Texas
AFC WEST
DENVER BRONCOS
KANSAS CITY CHIEFS
LOS ANGELES CHARGERS
Phillip Rivers - NC State - Athens, Ala.
OAKLAND RAIDERS
AFC NORTH
BALTIMORE RAVENS
CINCINNATI BENGALS
CLEVELAND BROWNS
PITTSBURGH STEELERS
Ben Roethlisberger - Miami (Ohio) - Findlay, Ohio
AFC SOUTH
HOUSTON TEXANS
INDIANAPOLIS COLTS
JACKSONVILLE JAGUARS
TENNESSEE TITANS
NFC EAST
DALLAS COWBOYS
NEW YORK GIANTS
Eli Manning - Ole Miss - New Orleans (La.) Newman
PHILADELPHIA EAGLES
Carson Wentz - North Dakota State - Bismarck (N.D.) Century
WASHINGTON REDSKINS
NFC WEST
ARIZONA CARDINALS
Carson Palmer - USC - Rancho Santa Margarita (Calif.) Santa Margarita Catholic
LOS ANGELES RAMS
SAN FRANCISCO 49ERS
SEATTLE SEAHAWKS
NFC NORTH
CHICAGO BEARS
DETROIT LIONS
GREEN BAY PACKERS
MINNESOTA VIKINGS
NFC SOUTH
ATLANTA FALCONS
CAROLINA PANTHERS
NEW ORLEANS SAINTS
Drew Brees - PURDUE - Austin (Tex.) Westlake

TAMPA BAY BUCS