Pro Impact 7v7: 10 new names to know in Florida
The Pro Impact 7-on-7 team based in Jacksonville, Fla. produces top talent on a yearly basis, with past stars including Tyreke Johnson (2018), Shaun Wade (2017), Chauncey Gardner (2016), Kevin Toliver II (2015) and several more. On Saturday the team held its annual tryout event, with a large group of hopefuls looking earn a spot on this year's squad. Today we breakdown 10 players who caught our eye and could be the next names to turn into high-level prospects.
Recruiting Wrap: Davis has early offers from Alabama, Miami, South Carolina and others.
Performance: Pro Impact is known for tall, long defensive backs and Davis is well on his way to being the next truly special prospect at the position for the squad. He moves like a much smaller prospect and his long arms combined with his physicality make him a matchup nightmare for wide receivers of all sizes. Before it's all said and done Davis will have his share of offers from coast to coast.
Recruiting Wrap: Smith has an early offer from Arkansas State.
Performance: Smith was the day's breakout star, as he started with the 15-under group and only improved as he hung around to workout with the older players later in they. Smith is still growing, but what was special about his game was his footwork, which he flashed both in position drills and during one-on-ones. Smith already carries himself like a much older player and has the "it" factor when it comes to not only hanging with, but sticking out, against elite competition.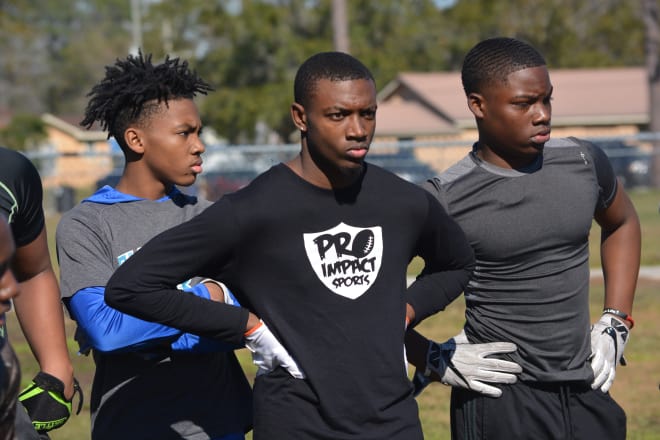 Recruiting Wrap: Brooks has early offers from UCLA and Virginia Tech.
Performance: It's still early in Brooks recruitment but it won't be long until schools from around the country realize that the tall, lengthy defensive back is worthy of more attention. At Saturday's event he showed good coverage skills and the ability to run with smaller receivers, along with the signature physicality that Pro Impact defensive backs are known for.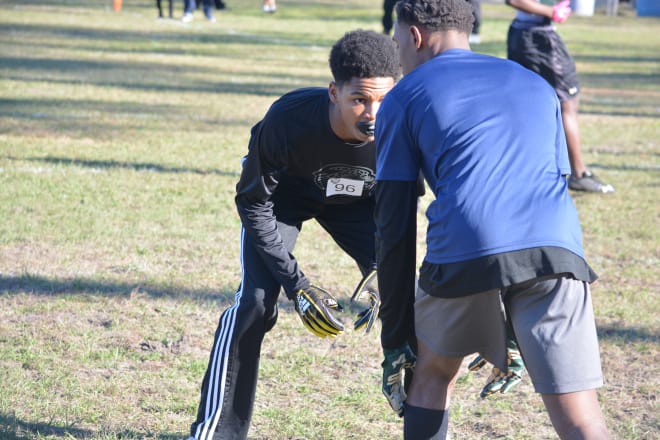 Recruiting Wrap: Washington has early offers from Southern Miss, Cincinnati and Connecticut.
Performance: Washington is a tall, rangy receiver who showed a nice ability to get open and more importantly use his size to go up and make tough catches. Some programs have already caught on to his ability but as the spring moves along wide receivers with his size and hands aren't exactly easy to find so expect his offer list to keep growing.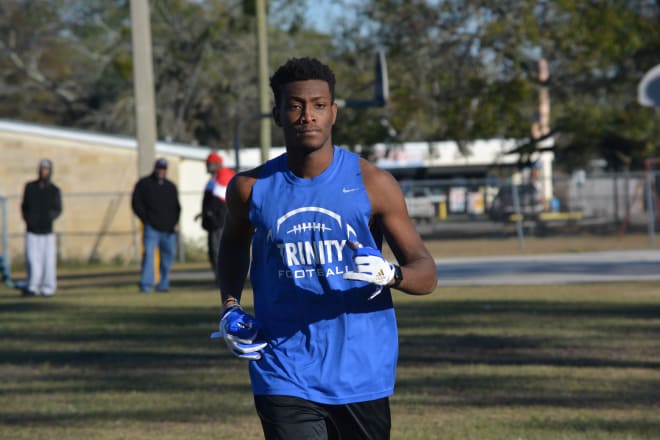 Recruiting Wrap: Johnson claims an early offer from Miami.
Performance: Johnson started the day by trying out for the 15-under team but had a good enough showing that he stuck around when the older players took the field as well. Viewed as many as a future tight end, he showed great ball skills, especially when it came time for the red zone drill. Johnson's showing at Miami's camp last summer earned him an offer and it will likely be the first of many.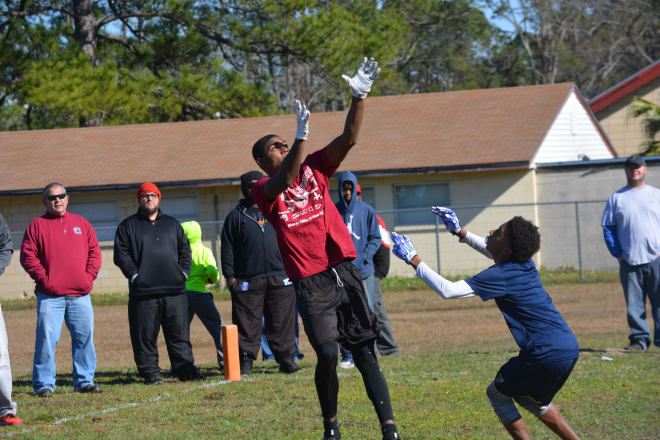 Recruiting Wrap: Myers is waiting on his first offer.
Performance: Myers has earned the nickname "Worm" from his friends and teammates and on Saturday he had no problem slipping away from opposing defensive backs. He showed consistent hands and his size is a problems for smaller defenders and his game looks like it will translate well to the next level.
Recruiting Wrap: Talbott is waiting on his first offer.
Performance: Talbott had the best day of any of the quarterbacks in attendance, throwing a very catchable ball and showing good accuracy. Talbott has ideal size (6-3, 190) and looks like he could be the type of quarterback that can catch the eye of coaches during throwing sessions in the spring and summer.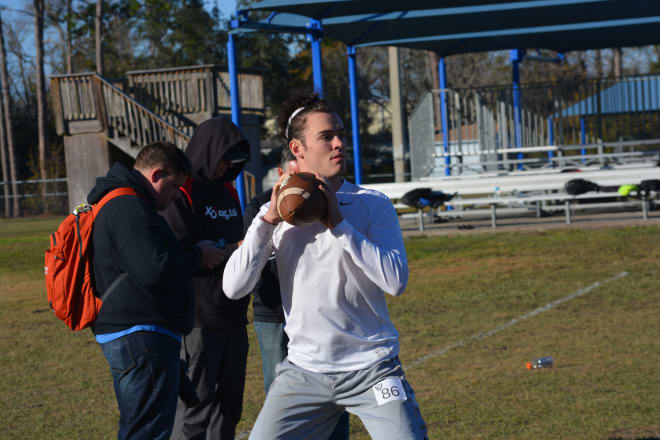 Recruiting Wrap: Lewis has an early offer from Mississippi State.
Performance: Lewis didn't get as many reps as some of the other offensive players in attendance but when he did get his chances he wowed. He's a smaller, shifty wide receiver and his speed combined with his ability to make cuts without slowing down makes him a tough cover one-on-one.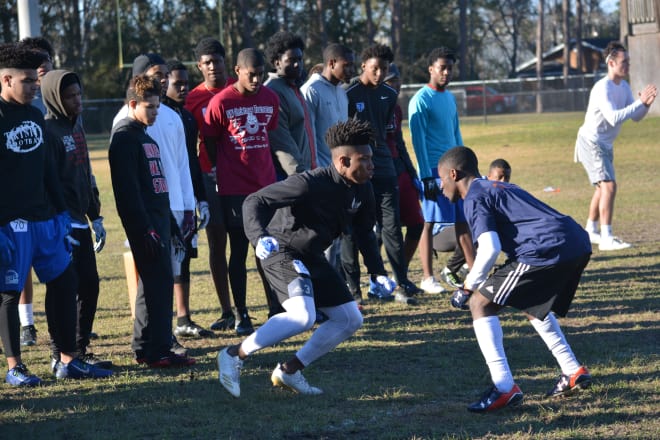 Recruiting Wrap: Jennings is waiting on his first offer.
Performance: Jennings just finished up his freshman season of high school and is just starting to make a name for himself in the recruiting world. But considering his father Bradley Jennings was an All-American linebacker at Florida State and his older brother Bradley Jr. just finished his first season on campus at Miami, it's clear football in in his genes. Jennings moves well in space and looks to have the frame to grow into quite the prospect.
Recruiting Wrap: Kinsey is waiting on his first offer.
Performance: Kinsey's day go off to a slow start as he showed some inconsistency catching the ball. But as things moved along and as the competition got better, he seemed to kick things up a notch. By the end of the day he was flashing his hands and ability to highpoint the ball in end zone and looked like he might have a future as a tight end. Depending on how he grows, Kinsey could also potentially play as a defensive end or outside linebacker.