Pre-combine rankings: Running backs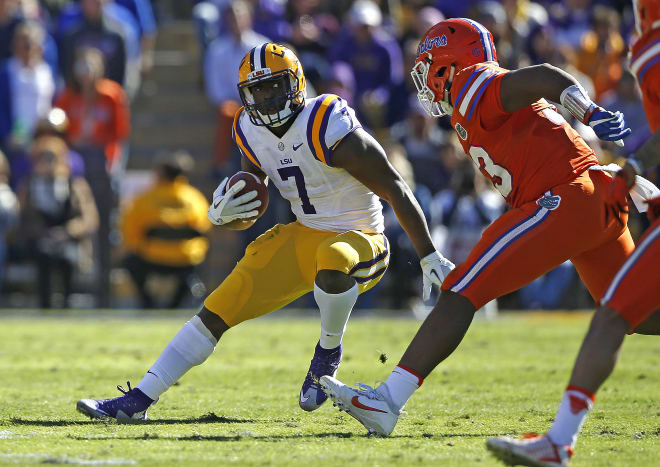 With the Super Bowl over and spring football a little bit away for most programs, this is officially NFL Draft season. And with the NFL Combine set for the end of the month, it's time to take a look at each position and how they rank heading into the big event and, in Rivals tradition, how they ranked out of high school.

Today we look at our top running backs.
RELATED: Top quarterbacks

The skinny: At the Under Armour All-America Game, Fournette picked LSU over Alabama. The Tigers were considered the favorite for a long time. He rushed for 843 yards and eight scores in an injury-plagued season last year after rushing for 2,206 yards as a sophomore.
Interesting note: Fournette's ranking out of high school never dropped below No. 6 overall and was as high as No. 3 overall. The furthest he fell in any rankings cycle was three spots and the furthest he rose was also three spots.
Farrell's take: We were obviously taken with Fournette as he was the highest-ranked running back since Bryce Brown was No. 1 in 2009. I didn't like all the comparisons to Adrian Peterson out of high school and I still don't see that many similarities as Fournette isn't as upright or shifty, but is more powerful. He's been dominant for the most part and has the rare size/speed combination that NFL scouts love, so he will likely be taken first off the board, but the struggles against Alabama in big games will be questioned. But the bigger question is this – can he fall into a great situation like Ezekiel Elliott did with the Cowboys or will he struggle behind a bad offensive line in the NFL?

The skinny: Cook originally committed to Clemson, and one main reason was because he liked how the Tigers utilized C.J. Spiller. After attending the Florida spring game, Cook switched his commitment to the Gators. His final decision came at the Under Armour game when he picked –- and stuck with -– Florida State. Cook rushed for 1,765 yards and 19 scores last season and caught 33 passes for 488 yards and another score.
Interesting note: Cook shared time in the backfield in high school with former Miami running back Joseph Yearby, who is also entering the draft. In fact, Yearby had more career yards and touchdowns than Cook, although Cook didn't play his freshman season.
Farrell's take: Cook has a ton of talent and was a guy who proved to us he was a five-star talent the more we watched him during that 2014 rankings cycle. He earned that fifth star during the last ranking and showed signs of living up to it early with his solid first season. He's one of the most versatile backs I've covered in high school and he is arguably the most versatile in this draft. He could be a safer bet than Fournette in the eyes of some, especially after Fournette's injury-plagued season, but Cook falls right behind him just outside the top 10.
The skinny: In May before his senior season, McCaffrey committed to Stanford, the same school where his father, Ed, played college football. McCaffrey's mother, Lisa, played soccer for the Cardinal. Michigan, Ohio State, Florida State, Oregon and many others were also involved. He rushed for 1,603 yards and 13 scores last season and caught 37 passes for 310 yards and 3 more touchdowns.
Interesting note: McCaffrey's father at one point held the record for most receptions in a season (101) for the Denver Broncos. He is fifth all-time in Broncos history in receptions and yards and fourth in receiving touchdowns.
Farrell's take: No one saw such dominance coming from McCaffrey out of high school. That being said, we loved his versatility, although we expected him to be more of a slasher/third down guy instead of the workhorse he had been up until this season. He's sneaky strong and physical, elusive and fast, but the injuries last season will bring his durability as an every-down back into question and skipping his team's bowl game to prep for the NFL will have some question his team focus. I'm happy with our ranking here of a kid from Colorado who played against average competition, and he could fall right into range here after all at No. 77 overall if he slides to the second round.

The skinny: Foreman and his brother, Armanti, committed to Texas in the summer before their senior seasons, although it was a hectic time as Armanti considered some official visits before making a decision. However, the Foreman Bros. got it done in June. D'Onta was a two-star athlete who also had offers from Houston, Illinois, Missouri, UTSA, Texas State, Utah State and Washington State. He rushed for 2,028 yards and 15 touchdowns last season.
Interesting note: Foreman rushed for more than 2,000 yards in his last season of high school football (2,102) and in his last season of college football (2,028).
Farrell's take: In high school, Foreman was not the beast you saw crushing opponents and leading the Big 12 in rushing. In fact, he was thought to be a bit of a throw-in to secure the commitment of his brother. My, how times have changed. The 6-foot, 198-pounder we had as a two-star athlete turned into a 250-pound monster who has sneaky speed, light feet and can bowl anyone over. As a high school running back, Foreman put up monster numbers as a senior, but there were concerns about his speed and change of direction and stats in high school don't always tell the tale. We will look very bad on this ranking in the end as he pushes his way towards the first round
The skinny: Mixon took all five official visits to Oklahoma, Wisconsin, Florida State, Cal and Washington before committing to the Sooners in the end. He rushed for 1,274 yards and 10 scores and caught 37 passes for 538 yards and five more touchdowns last season.
Interesting note: Mixon was the MVP at our first Rivals Camp Series in Los Angeles in 2013, mostly working at wide receiver against cornerbacks and safeties, showing his versatility early.
Farrell's take: Mixon will be remembered, at least for the next few years, for his assault on a woman that led to a one-year suspension, but his talent was off the charts out of high school and he still has a great future in the NFL if he can keep himself in line. Mixon was a big, upright runner who could catch the ball like a wide receiver, so his versatility is really what stood out to me. He has the speed, athleticism and agility to be a superstar in the NFL and, at least to me, he's the most talented back in this draft if there weren't character concerns. If that assault wasn't on his resume, he'd be No. 1 on this list, so it will be interesting to see which NFL team looks past it and if lands as high as round one.