Pre-combine rankings: Quarterbacks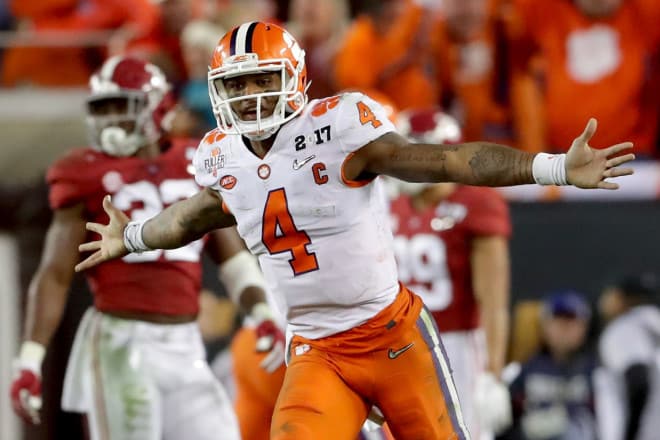 With the Super Bowl over and spring football a little bit away for most programs, this is officially NFL Draft season. And with the NFL Combine set for the end of the month, it's time to take a look at each position and how they rank heading into the big event and, in Rivals tradition, how they ranked out of high school.
Today we look at our top quarterbacks.
RELATED: Top one-two 2017 QB duos | Top QB classes for 2017

The skinny: Watson committed to Clemson about a year before National Signing Day and stuck with the Tigers despite pressure from many programs. Ohio State, Auburn, LSU, USC, Oregon and Georgia were a few that stayed involved until the end. He threw for 4,593 yards and 41 touchdowns against 17 picks last year in leading his team to a national title. He also rushed for 629 yards and nine more scores.
Interesting note: Rivals.com was the only site to have Watson ranked as a five-star out of high school.
Farrell's take: We loved Watson's run-pass ability in high school, obviously, based on his ranking, and he has grown into a solid decision-maker overall who makes some head-scratching mistakes at times. But what overcomes the turnovers in my mind is how clutch he can be in leading comeback victories and playing his best in the fourth quarter. We saw that once again in the national title game. That can't be taught. He's a high character kid, has the ability to extend plays and is a pure leader. He showed all of that in high school.

The skinny: Trubisky committed to North Carolina over Tennessee, Michigan State, Ohio State, Cincinnati, Minnesota, Northwestern and others shortly after a visit to Chapel Hill in the spring before his senior season. He threw for 3,748 yards and 30 touchdowns against only six picks last season.
Interesting note: Trubisky threw for more than 9,000 yards as a high school quarterback in the state of Ohio but never received a committable offer from Ohio State because they had an early commitment from JT Barrett. He was set to throw for Buckeyes coaches in the summer but committed to UNC beforehand.
Farrell's take: Trubisky's high school career was epic as he was Mr. Football for Ohio and as a mid-range three-star quarterback, we took a lot of abuse from North Carolina fans who felt his high school numbers should have translated to a higher ranking. As a big dual-threat, he could also move around, extend the play and gain yardage when he tucked and ran, but his throws could be erratic. What I like is that he picked a school, was patient in the system and is being rewarded with a first-round grade for that patience.

The skinny: Less than 48 hours after visiting Notre Dame and landing his offer, Kizer committed to the Irish. Prior to that offer, Kizer had Tennessee, LSU and Alabama as his three favorites, and he was also keeping a close eye on whether Ohio State would offer as well. Kizer threw for 2,925 yards and 26 touchdowns against nine interceptions last season. Kizer has a record of 3-10 as a starter in games decided by eight points or less the last two seasons, so he did not show a penchant for pulling out tight games in the fourth quarter at Notre Dame.
Interesting note: Ohio State was all-in on DeShaun Watson in Kizer's recruiting year, making him another in-state quarterback to commit out of state without a Buckeyes offer.
Farrell's take: Kizer was big and athletic coming out of high school but also very raw, which is why he was a four-star but didn't make our Rivals250. He was clearly a work in progress out of high school, sometimes throwing a perfect ball and other times wobbling it down the field. Accuracy was a big issue. He was a big boom-or-bust guy to us out of high school, and I can still see a lot of that at the NFL level. But he has the size, arm strength and ability to move around that will have scouts interested. To me there's a huge drop off from the top two down to Kizer. Some of the guys behind him could rise ahead of him with good workouts.

The skinny: Mahomes was a high three-star prospect who put up big-time numbers in high school. He picked Texas Tech over Houston, Rice and others. He threw for 5,052 yards and 41 touchdowns against only 10 interceptions last year.
Interesting note: A big-time baseball prospect as well, Mahomes once threw a no-hitter in high school with 16 strikeouts.
Farrell's take: Mahomes was a big, dual-threat QB who was in the national top 12 at his position, just shy of a fourth star. He put up amazing numbers in high school, but his recruiting never really took off and was local in general. Perhaps we should have seen a bit more from him out of high school as he's out-playing his ranking and was the nation's most productive passer from a yardage standpoint. He has a huge arm, can move around a bit but has been labeled as a "system" quarterback by some because of the offense Texas Tech runs. Throwing the ball nearly 60 times a game actually hurts him in the eyes of scouts who want to see improved ball handling and how he would be in a balanced offense and who wonder if he's another spread-only signal-caller, but his size and arm strength are too much to ignore.

The skinny: Kaaya committed to Miami in May before his senior season, but a late push by Boise State definitely made things interesting. UCLA and USC also stayed involved for a long time, but in the end it was a two-horse race for Kaaya between the Hurricanes and the Broncos. He threw for 3,532 yards with 27 touchdowns and only seven interceptions last year.
Interesting note: Kaaya's mother, Angela Means, is a former actress who played Felisha in the movie "Friday". Means was dismissed by Ice Cube with the now-famous phrase "Bye Felisha" (now popularly spelled "Felecia"), used to dismiss a mooch or taker.
Farrell's take: Kaaya made our Rivals250 and was No. 8 at the pro-style position in 2014, but what has really helped him has been his ability to develop under fire. There had been many reasons to compare Kaaya to last year's No. 1, Jared Goff, out of high school, as both hailed from California, had tall frames that needed filling out and were smart decision-makers. But while Goff raised his game from a freshman to a junior, Kaaya has flat lined and even regressed a bit. I have never been as high on him as others, whether it was out of high school or now in college, but he's still one of the better pro-style options in this draft, showing the lack of depth in the quarterback class. I just don't see it like many others do and feel he should have stayed another year.